John Plender
Financial Times; Jul 15, 2002
So you think this bear market is rough? It is positively limp-wristed when compared with the depths of the mid-1970s.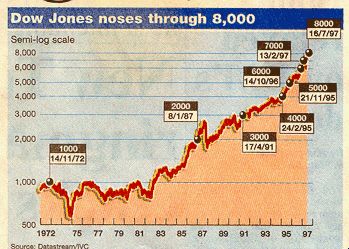 Back then UK manufacturing was going bust because there was no corporation tax relief against the impact of inflation on inventory. Deposits were draining away from almost every secondary bank. Dividends were statutorily capped and rents were controlled.
Burmah Oil went bust and Commercial Union made a distress rights issue on a yield of 17 per cent. (Under the guise of CGNU the same company has already made one rights issue in this bear market; with its new name Aviva maybe it hopes no one will remember when it comes back for more.)
Then there was the political uncertainty. Cecil King, boss of the Mirror newspaper group, tried to enroll the Queen's cousin Lord Mountbatten in a coup to oust Harold Wilson's Labour government. Colonel David Stirling, right-wing founder of the SAS commando force, planned a private army to preserve order in the event of the collapse of the state.
On the stock market everyone seemed to know someone who was retiring to a Welsh mountain with a shotgun and a ton of baked beans. Prudential, Legal & General, Commercial Union and Sun Alliance became so worried they secretly organised a buying sortie to put a floor under the collapsing market. Yet the market continued to fall.
And that is just the stuff I still remember. So are we too worried today about a spot of old-fashioned window dressing in company accounts? Probably. But the bear will remain lively.
Markets that overshoot and turn into a bubble on the way up invariably overshoot on the way down. We have yet to see the downwards overshoot.
---
John Plender: No heroes to save the day
July 19 2002 16:09
---
The worst of times again
By David Kynaston Published: July 19 2002 19:41
" 'Never were such times,' cried many of the oldest on 'Change, while others exclaimed, 'If this state of things continues, we must ask not Who is gone, but Who stands? for unless something is done to relieve the pressure, and to restore confidence, few can resist so overwhelming a torrent of distrust'."
After the City of London's latest febrile, doom-laden week, this Morning Chronicle report from December 1825 is a salutary reminder that we have been here before.
---
New York Times: Looking back at the crasch of ´29
Seven decades later, the crash of 1929 is remembered as an unnecessary disaster, a market event that need not have led to economic collapse. What is not recalled is that people then, too, were confident about many of the same things that seem so reassuring today.