Worrals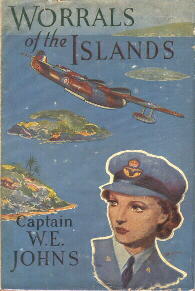 ---
The Worrals Home Page, I guess
---
As from October 1940 Biggles has a female colleague! Because it is 'all hands on deck' for the RAF at the outbreak of World War II, the air force decides to recruit female as well as male war pilots. So there is a need for war flying propaganda aimed at young, adventurous women. Because the popularity of Johns' fighter pilot Biggles in the thirties had not escaped the attention of the British Ministry of War, this organization called upon Johns to create a female war pilot as well. This is how Worrals was 'born'.
read more at biggles.nl
---
In reality women never flew with the W.A.A.F., but they did with the Air Transport Auxiliary (A.T.A.). Worrals was immensely succesfull and the W.A.A.F. could stop looking for volunteers just a few weeks after her arrival.

The WAAF re-formed into the WRAF in 1949, and fully integrated into the RAF in 1994.
---
Worrals and the School from Austria
Lara Croft - Worrals of today?