Rolf Englund IntCom internetional
---
Home - Index - News - Krisen 1992 - EMU - Economics - Cataclysm - Wall Street Bubbles - US Dollar - Houseprices
---
Homes purchased in 2004 and beyond are now at risk of turning upside down – negative equity
some 25 million or so
---
Homes purchased in 2004 and beyond are now at risk
some 25 million or so
Bill Gross, August 2008
US homes are market valued at over 20 trillion dollars with nearly half of the value supported by mortgage finance of one sort or another.
At first blush that appears to be reasonably levered, but at the margin, homes purchased in 2004 and beyond are now at risk of turning upside down – negative equity – and there are some 25 million or so of those.
The "upsidedownness" in many cases results in foreclosures, or outright abandonment and most certainly serves as an example of what not to do for millions of twenty-somethings or new citizens choosing between homeownership and renting. The dominoes fall month-by-month, forcing prices ever lower as shown in Chart 1 provided by Case-Shiller.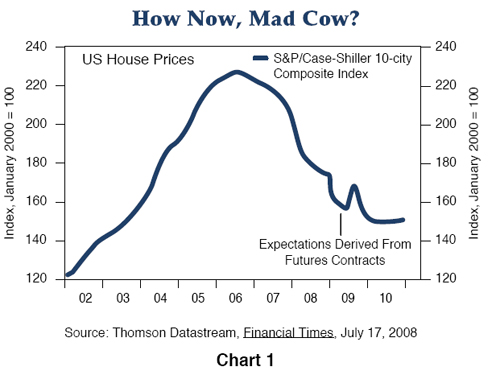 Make no mistake, the current conundrum that must be solved is: how to make the price of 120 million US barns stop going down in price and then to make them go up again.
As Chart 2 points out, the yield on a 30-year agency mortgage-backed loan has actually risen since the Fed somewhat unexpectedly began to lower Fed Funds in early September of 2007.
---
More than 10m would have negative equity in their homes and
more than 2m foreclosures would take place over the next two years.
Lawrence Summers, Financial Times February 24 2008
---
The housing correction - and related credit crunch - appears to be at or near its low point in America
My view has been - and remains - that this episode is likely to be remembered as one of those extremes of panic or euphoria in financial markets when market prices turn out to be simply wrong.
Anatole Kaletsky, The Times July 28, 2008
---