---
---
---
Kronan kollapsar
Euron steg till 11:79, drygt 40 öre högre.
Enligt analytiker är det sannolikt gårdagens Moody´s-rapport om

det svenska banksystemet som pressar den svenska valutan.

DI 2009-03-06
---
- Most mainstream macroeconomic theoretical innovations since the 1970s
(the New Classical rational expectations revolution associated with such names as Robert E. Lucas Jr., Edward Prescott, Thomas Sargent, Robert Barro etc, and the New Keynesian theorizing of Michael Woodford and many others)
have turned out to be self-referential, inward-looking distractions at best.
Rolf Englund agreeing with Willem Buiter, blogging at Maverecon, 5/2 2009
---
The Great Recession
"We are in an automotive depression amid 'the Great Recession,' "
Standard and Poor's analyst Efraim Levy said in a sobering report Tuesday.
FREE PRESS BUSINESS WRITER • MARCH 4, 2009
---
Det är Kontantinsatsen, Stupid!
Det var en gång för länge sedan vanligt med gammalmodiga bankkamrerare som sade
åt hugade fastighetsspekulanter att det nog gick att låna till villaköpet men att man skulle ha en egen kontantinsats på 25 procent.
Rolf Englund blog 18/2 2009
---
Vår slutsats blir att euron är bra för både näringsliv och konsumenter i Sverige, skriver Klas Eklund, Carl Johan åberg och åtta andra nationalekonomer /däribland således Karolina Ekholm/.
- Den räntepolitik som förs av ECB i normalfallet kommer att stabilisera även den svenska ekonomin, skrev de.
Inte ens det är väl riktigt sant, men den viktiga frågan är vad som händer när läget inte är normalt, som t ex om världen skulle råka in i en Finanskris.
Rolf Englund blog 14/2 2009
---
The statement that systemic breakdowns are surprisingly rare
in the free-wheeling Anglo-Saxon model is false.
Martin Wolf February 9, 2009
---
---
Nu gör han en pudel igen
- Jag visste att derivaten fanns,
men trodde inte att systemet var så bräckligt och komplext
Klas Eklund i Veckans Affärer print 22/1 2009
---
The Great Depression seared some life lessons into my parents' generation
What lessons, I wonder, will the great downturn of 2008 teach our children?
"In America, loans have gone from 'something to be repaid' to 'something to be refinanced.' "
David Ignatius, Washington Post, January 1, 2009
---
It's the end of an era. We know that 2008, much like 1932 or 1980, marks a dividing line for the American economy and society. But what lies on the other side is hazy at best.
The great lesson of the past year is how little we understand and can control the economy.
Robert J. Samuelson, December 29, 2008
---
Drivkrafterna bakom dagens amerikanska kris och den svenska 90-talskrisen är i stort sett identiska.
På grund av den fasta kronkursen kunde Riksbanken inte driva en självständig penningpolitik riktad mot bubblan.
Lars Jonung, kolumn, DN 25/11 2008
---
This is the endgame for the global imbalances
If the surplus countries do not expand domestic demand relative to potential output, the open world economy may even break down.
As in the 1930s, this is now a real danger.
Martin Wolf, Financial Times, December 2 2008
---
One might not expect much from economists, but one would surely expect them to warn us of a crisis on this scale.
Speech given by Martin Wolf, chief economics commentator, at the FT's annual economists' drinks party in London
Financial Times, 27/11 2008
---
"Why didn't we see this coming?"
"What do you mean 'we,' white man?"
Paul Krugman, årets nobelpristagare, New York Times, 27/11
Highly recommended
---
The vision thing
Her Majesty's question ("If these things were so large, how come everyone missed them?")
Chris Giles, FT, November 25 2008
---
The Subprime Credit Crunch: One Year Old - Kreditkrisen Ett år - "Nyliberalerna tysta så det dånar"
Finankrisen – därför hände det, och så blir följderna för dig
SvD Näringslivs Lars-Georg Bergkvist och Leif Petersen förklarar finanskrisens bakgrund och följder.
Det är dags att putsa upp nygamla ord som kontantinsats och amortering.
SvD 10 oktober 2008
---
Questions abound over a $700 billion rescue plan for Wall Street
Mr Paulson's plan is stunning in its brevity (two-and-a-half pages) and audacity.
It would authorise him to purchase any "residential or commercial mortgages and any securities, obligations, or other instruments that are based on or related to such mortgages," implying the right to take over derivative positions.
Economist.com Sep 22nd 2008
---
Jackson Hole 2008
Papers presented at the Federal Reserve Bank of Kansas City's economic policy symposium,
"Maintaining Stability in a Changing Financial System,"
held Aug. 21 - 23 in Jackson Hole, Wyo
---
Stefan Ingves:
– När det här är över skulle det inte förvåna mig om krisen som Sverige upplevde i början av 1990-talet, visar sig vara värre än det som vi idag ser i USA.
I det svenska fallet krympte ekonomin under tre år i rad och det var den största krisen som vi hade haft sedan 1930-talet.
Ekot 16/9 2008
---
Varför stoppade ni inte den vansinniga utlåningen?
- Vi hade inte någon glaskula att titta i. Och vi hade blivit utskrattade.
- Det är svårt att vara olyckskorp när allt går som smort, sade en av hans högre medarbetare Stig Danielsson.
Bankinspektionens tidigare chef Hans Löwbeer, intervjuad i Aftonbladet 13/10 1992
---
America's house price time bomb
Some American home-owners are taking radical action;
they are choosing to walk away from homes and their mortgages.
Roubini: "You could have most of the US banking system wiped out, so this is a total disaster."
BBC, 29 July 2008
Highly Recommended
---
The current financial crisis in the US is likely to be judged in retrospect as
the most wrenching since the end of the second world war.
It will end eventually when home prices stabilise and with them the value of equity in homes supporting troubled mortgage securities.
Alan Greenspan, Financial Times, March 17 2008
---
The true balance sheet of US Investment banks
There are two sides of the balance sheet: the left side and the right side.
On the left side, there is nothing right.
And on the right side, there is nothing left.
Unknown originator, somewhere on the internet, october ? 2008
---
US can ride out financial turbulence if it follows lessons of Swedish crunch
Carl Bildt, Arab Times 27/9 2008
---
John McCain: (not Naomi Klein)
"Wall Street has betrayed us.
They've broken the social contract between capitalism and the average citizen"
John McCain, September 16, 2008
---
The end of American capitalism as we knew it
There is a long-standing argument that "there is no real case for private ownership of deposit-taking banking institutions
Willem Buiter, Financial Times September 17, 2008
---
These are historic moments for the world economy.
First and most important, what is happening in credit markets today is
a huge blow to the credibility of the Anglo-Saxon model of transactions-orientated financial capitalism.
A mixture of crony capitalism and gross incompetence has been on display in the core financial markets of New York and London.
Martin Wolf, FT 12/12 2007
---
How to solve the financial crisis?
Let me tell you a little secret, folks.
Play for time, pray for markets to turn.
Allan Sloan, senior editor CNN, August 18, 2008
---
The /banking/ insolvency crisis will come to an end only as home prices in the US begin to stabilise
Home prices will stabilise only when the absorption of the huge excess of single-family vacant homes is much further advanced
Alan Greenspan, Financial Times, August 4 2008
---
---
---
Consider the insights gained during this crisis.
First, supervision has to focus on containing systemic risk rather than on avoiding individual bank defaults.
Second, early warning signals need to be backed up by reliable information on all financial markets, including derivatives.
Both aspects have been neglected in the past and continue to be neglected today.
Otmar Issing and Jan Krahnen, Financial Times, February 18 2009
---
Regeringen föreslår åtgärder för att stärka bankernas kapitalbas och därmed öka utlåningen
"För att förbättra möjligheterna för svenska företag att få krediter vill regeringen möjliggöra för bankerna att stärka sin kapitalbas genom statliga kapitaltillskott."
PRESSMEDDELANDE, 3 februari 2009, Finansdepartementet
---
Why the bank bailouts are doomed
The entire system is simply insolvent
Jon Markman, 1/29/2009
The US is not strong enough to rescue the world economy on its own.
The US have, at present, structurally deficient capacity to produce tradable goods and services.
Martin Wolf, Financial Times, January 6 2009
Highly recommended
---
The End of the Financial World as We Know It
Good God, the world seems to be saying, if they don't know what they are doing with money, who does?
Michael Lewis and David Einhorn, New York Times January 3, 2009
---
How to stop the recession
Too much recent commentary has treated the current recession as if it were preordained and unstoppable. Recessions are not Acts of God.
What must policy-makers now do? The answer is that they must raise the growth rate of bank deposits in the hands of genuine non-bank agents, such as companies and households
Tim Congdon and Gordon Pepper, Daily Telegraph 07 Jan 2009
---
It is suddenly fashionable to suggest we are in the throes of a fresh investment bubble - this time in government bonds.
Gilts have been bid up to dizzy levels as investors buy into the notion that deflation is coming and is here to stay.
David Wighton, Business Editor, The Times January 7, 2009
---
Protectionist dominoes are beginning to tumble across the world
The riots have begun.
Dominique Strauss-Kahn, the head of the International Monetary Fund, is worried enough to ditch a half-century of IMF orthodoxy, calling for a fiscal boost worth 2pc of world GDP to "prevent global depression".
Ambrose Evans-Pritchard, 20 Dec 2008
---
In a guest article, Alan Greenspan says banks will need much thicker capital cushions than they had before the bust
The Economist print edition, December 18th 2008
---
I don't say this to pat myself on the back, but to offer specific examples that these problems were knowable well ahead of time.
So if the problems were knowable to so many people -- including me, a regular guy here in San Diego with no letters behind his name or anything -- then how is it that the people in charge of running the world's largest economy were absolutely blindsided by them?
Rich Toscano, Voice of San Diego, 12/10 2008
Rolf Englund: I could not agree more
---
For most readers, the commercial paper market is something you don't think about.
But it is the lifeblood of business.
We have seen this market drop by almost 30% in a year and by 10% in just the last three weeks!
I simply cannot overstate how serious this is.
John Mauldin, The Curve in the Road, 3/10 2008
---
Så här uppstod finanskrisen
LJUD & BILD | Lars-Georg Bergkvist ger bakgrunden och förklarar vad som hänt fram till i dag.
SvD 16/10 2008
---
---
The banking system needs another $500 billion to survive
beyond the $700 billion rescue plan being contemplated by Congress, said Pimco founder Bill Gross.
CNBC.com 25 Sep 2008
---
Ireland leads euroland into recession as property crashes
Ireland has become the first country in the eurozone to slide into recession as the torrid housing boom of recent years turns into a deep slump.
Construction was 21pc of GDP at the peak last year, which is even worse than Spain (18pc) and far worse than America (11pc) at the height of the bubble,
Ambrose Evans-Pritchard Daily Telegraph 25 Sep 2008
---
"Det var en väldigt stökig dag. Ingen har velat hålla i Swedbankobligationer,
så handeln med dessa har pajat ihop"
DI 2008-09-24
---
It was two years ago that Nicholas Taleb wrote those words in his book The Black Swan:
The increased concentration among banks seems to have the effect of making financial crisis less likely, but when they happen they are more global in scale and hit us very hard. We have moved from a diversified ecology of small banks, with varied lending policies, to a more homogeneous framework of firms that all resemble one another. True, we now have fewer failures, but when they occur ….I shiver at the thought.
James Quinn, September 22, 2008
---
Hitler och kronkursförsvaret
I finansbranschen slås de ut som tagit störst risker på en marknad som fullständigt tappat kontrollen över sin egen riskhantering.
Girigheten har fått härja fritt på närmast regellösa marknader.
Ragnar Roos, signerat, DN 2008-09-19
---
I botten ligger att bostadslån har getts hejdlöst till hushåll som inte hade råd med dem.
Under Bill Clintons år som president pressades det halvstatliga Fannie Mae och Freddie Mac, som svarat för cirka hälften av alla huslån i USA, att frångå sedvanliga lånekriterier i syfte att hjälpa låginkomsttagare till egna hem.
Hans Bergström, kolumn DN 2008-10-09
---
Det handlade inte om att banken skulle ha vägrat att ge afroamerikanska familjer lån för att köpa hus,
utan tvärtom att den beredvilligt gett dem för stora lån.
år 1976 var en husköpare i USA tvungen att lägga minst 20 procent av köpesumman i handpenning. år 2006 var genomsnittet 2 procent.
Håkan Forsell, DN Kultur, 23/8 2008
äVEN OM WELLS Fargo slår undan anklagelserna som befängda, visar stadens egna analytiker att 65 procent av de svarta husägarna sitter på avsevärt dyrare lån än vita som köpt hus vid samma tillfälle, och att hus utmäts eller säljs på exekutiv auktion fyra gånger så ofta i stadsdelar som har svart majoritet.
Håkan Forsell är urbanhistoriker vid Stockholms universitet och gästforskare vid Johns Hopkins universitetet i Baltimore
David Freund, "Colored Property. State Policy and White Racial Politics in Suburban America", University of Chicago Press
---
---
Den amerikanska bolånekrisen är en social tragedi. Offren finns bland låginkomsttagare, ofta svarta eller spansktalande, som har lockats att ta krediter för att köpa bostäder på skenbart goda villkor. Men många av dem har inte klarat stigande räntor, utan står nu som förlorare.
Johan Schück, DN Ekonomi 13/8 2007
---
For years, liberal Democrats in Congress and some Republicans pushed for banks and other institutions to make home loans to unqualified borrowers, and suddenly we find many of these people cannot repay their loans.
A Chicago "public interest" lawyer named Barack Obama was active in this movement.
Richard W. Rahn, Washington Post, September 23, 2008
---
---
---
Planning to announce the decision as early as Sunday, before the Asian markets reopen
Senior officials from the Bush administration and the Federal Reserve on Friday called in top executives of Fannie Mae and Freddie Mac
and told them that the government was preparing to place the two companies under federal control
New York Times, September 5 2008
---
Fannie and Freddie
That is capitalism at its worst:
it means shareholders and executives reap the profits,
but the taxpayer bears the losses.
The Economist, editorial, August 28th 2008
---
Jackson Hole 2008
Papers presented at the Federal Reserve Bank of Kansas City's economic policy symposium,
"Maintaining Stability in a Changing Financial System,"
held Aug. 21 - 23 in Jackson Hole, Wyo
---
It is not just about putting $25 to $50 billion into Fannie and Freddie (assuming that would be enough).
If that's all it was, just issue preferred shares and wipe out the current shareholders
But. What do you do with the current preferred shares?
A significant portion is held by banks in their capital base.
John Mauldin, August 30, 2008
---
The risk of a downward spiral of house prices is the primary danger facing the American economy.
Because of the structure of securitised mortgage finance, this risk has the potential to cause a global financial crisis.
Both of these problems will remain until a new policy brings stability to house prices.
Martin Feldstein, Financial Times, August 26, 2008
Very Important Article
---
"The topic du jour is Fannie and Freddie.
Clearly, the market is looking for a solution that is permanent, clear and definitive. That dwarfs everything."
Financial Times, August 24 2008
---
Banksocialisering i USA och roffarkapitalism i Ryssland och Kina
- Så det kan bli
Rolf Englund blog 22/8 2008
---
Fannie Mae and Freddie Mac were down 19% and 18%, respectively.
A Barron's article this weekend suggested the takeover is inevitable and would wipe out existing shareholders; even holders of the companies' $19 billion in subordinated debt would suffer losses.
MSN 18/8 2008
---
How U.S. banks sold home equity loans
International Herald Tribune, August 15, 2008
---
AIG offered investors an 8.25% yield for $3.25 billion of 10-year notes, and
Citi offered 6.5% for $3 billion of five-year notes.
CNN 18/8 2008
---
Nearly 25% of all homes sold nationwide fetched less than sellers originally paid,
CNNMoney August 13, 2008
---
Prime mortgages are starting to default
at disturbingly high rates
CNNMoney August 12, 2008
---
The /banking/ insolvency crisis will come to an end only as home prices in the US begin to stabilise
Home prices will stabilise only when the absorption of the huge excess of single-family vacant homes is much further advanced
Alan Greenspan, Financial Times, August 4 2008
---
8 who saw the crisis coming... and 8 who didn't
One year after the credit crunch began, Fortune looks back at who saw trouble ahead, and who just ended up in trouble.
CNN/Fortune August 2008
---
Credit crunch a year on: The losers
However you look at them, the figures remain startling.
BBC 3 August 2008
---
Let's see. It's Friday, what bank(s) is the FDIC taking over this weekend?
According to this report in CNN/Money, it's Florida's First Priority Bank
Tim Iacono 1/8 2008
---
I går var det på dagen ett år sedan kreditkrisen började i USA.


Cirka 105 miljarder kronor om dagen har Fed pumpat in i bankväsendet den senaste veckan.
- Det visar att det fattas likviditet i systemet, säger Christopher Low, chefsekonom på FTN Financial i New York.

De så kallade "nödlånen", steg samtidigt till 534 miljoner för den förra veckan.
Alltså mer än dubbelt så mycket som veckan före.
---
Bankkollapser och krispaket i USA
DN/TT/Reuter 26/7 2008
---
Banks with federally insured deposits, which are limited in the risks they're allowed to take and the amount of leverage they can take on — have been pushed aside by unregulated financial players.
We were assured by the likes of Alan Greenspan that this was no problem: the market would enforce disciplined risk-taking
Paul Krugman 28/7 2008
---
The housing correction - and related credit crunch - appears to be at or near its low point in America
My view has been - and remains - that this episode is likely to be remembered as one of those extremes of panic or euphoria in financial markets turn out to be simply wrong.
Anatole Kaletsky, The Times July 28, 2008
---
The Homeownership Obsession
As a society, we overinvest in real estate. We build (and buy) too many extra-big homes and strive to make almost everyone into a buyer.
Robert J. Samuelson, July 26 2008
---
Nouriel Roubini predicts the worst financial crisis since the Great Depression and
the worst U.S. Recession in the last few decades.
July 15, 2008
---
The bail-out of Fannie Mae and Freddie Mac by the combined forces of the US Treasury and the Federal Reserve Board is the ugliest exercise of its kind I have ever observed outside early transition economies and mature banana republics
Willem Buiter, Financial Times, July 14, 2008
---
"Vi har nog underskattat krafterna i bolånekrisen."
Så säger SEB:s chefsekonom Robert Bergqvist
DI 2008-07-14
Robert Bergqvist räknar med påfrestningar på den amerikanska ekonomin en bra bit in på nästa år. Och Sverige, som hittills varit hyfsat skonad från bolånekrisens spridningseffekter, kommer nog få mer konkreta problem under hösten.
"Arbetsmarknaden kan komma att försämras, men vi håller fast vid vår majprognos om en BNP-tillväxt på 1,3 procent för 2009", säger Robert Bergqvist.
"Sverige har tre försvarslinjer under en lågkonjunktur. Den första är starka balansräkningar bland hushållen och företagen. Sedan kan lågkonjunkturen mötas med en expansiv finanspolitik
och Riksbanken kan sänka räntan", fortsätter han.
---
US taxpayers are about to find out what their long-standing and (strictly speaking) non-existent guarantee of Fannie Mae and Freddie Mac will cost them.
One way to think of it is this: take the US national debt of roughly $9,000bn and add $5,000bn.
Not bad for an obligation still officially denied.
Clive Crook. FT July 13 2008
---
Treasury Acts to Save Mortgage Giants
The Bush administration on Sunday asked Congress to approve a sweeping rescue package that would give officials the power to inject billions of federal dollars into the beleaguered companies through investments and loans.
New York Times 14 July 2008
---
With a stunning $32 billion in assets, this is by far one of the largest failure in decades.
Dr Housing Bubble 14/7 2008
---
The government keeps a private list of financial institutions at risk. Two years ago, there were 50 on the list, today it stands at 90. The government now acknowledges that IndyMac wasn't even on the list.
Oh dear.
Tim Iacono July 14, 2008
---
The operations of the Pasadena, Calif.-based thrift - once one of the nation's largest home lenders - were shut down at 3 p.m. PDT by the Office of Thrift Supervision and transferred to the Federal Deposit Insurance Corp.
About 95% of the $19 billion in deposits in the bank are insured, but that leaves $1 billion that was not covered by FDIC guarantees.
http://money.cnn.com/2008/07/12/
---
The California-based IndyMac Bank, has collapsed
Federal regulators seized the bank's assets
It is the second-largest financial institution to fail in US history
BBC, July 12 2008
---
"This is the third time in 100 years that support for taken-for-granted economic ideas has crumbled.
The Great Depression discredited the radical laissez-faire doctrines of the Coolidge era.
Stagflation in the 1970s and early '80s undermined New Deal ideas and called forth a rebirth of radical free-market notions.
What's becoming the Panic of 2008 will mean an end to the latest Capital Rules era."
---
It is unclear if current shareholders would see their holdings wiped out - leading to the pre-market sell-off.
Immediately after the market open shares of Fannie and Freddie were both off more 45% from their already battered close on Thursday.
In the first four trading days of the week, the shares of Fannie have lost 30% of their value, while Freddie shares have tumbled 45%.
For the year, Fannie is down 67% and Freddie 77% through Thursday's close.
CNNMoney July 11, 2008
---
Senior Washington officials on Thursday sought to to reassure the markets about the financial health of the nation's two largest mortgage finance companies
The rapid sell-off of shares of Fannie Mae and Freddie Mac came after comments from a former central banker that they may not be solvent
New York Times, July 11, 2008
---
How to see world economy through two crises
The financial crisis was an avoidable stupidity. Rising prices of energy are a bitter reality.
Martin Wolf, Financial Times, June 24, 2008
---
Call the latest banks-inspired stock market selloff whatever you want,
but don't call it a capitulation. That's wishful thinking
CNBC 20 Jun 2008
Capitulation is considered a point at which stocks are oversold and setting themselves up as bargains. That would be bad news in the short term as it would mean equities have fallen to perilously low levels, but good news in the long range in that it would signal a bottom and a point off which the market can rally.
---
Regional Banks Spiral Towards Zero
Mish, June 20, 2008
Why didn't Bank United raise capital at $31, $20, $14, or even $8?
It's market cap today is $68 million. Now it wants to raise $400 million which is 588% of what the market says it's worth.
If that dilution comes on top of the declines we have already seen, its share price will be something like 32 cents
---
How imbalances led to credit crunch and inflation
Martin Wolf, Financial Times, June 17, 2008
---
I have been staring in amusement
at Bernanke's latest proclamation: Danger of downturn appears to have faded.
Before we can say the worst is over or the danger has passed, the storm has to reach shore first.
With that in mind I thought it might be interesting to look at a few headlines of things that are going to happen but have not happened yet.
Mish 11/6 2008
---
---
Eager to put more low-income and minority families into their own homes, the agency required that two government-chartered mortgage finance firms purchase far more "affordable" loans made to these borrowers. HUD stuck with an outdated policy that allowed Freddie Mac and Fannie Mae to count billions of dollars they invested in subprime loans as a public good that would foster affordable housing.
---
---
Why It's Worse Than You Think
For months, economic Pollyannas have looked beyond the dismal headlines and promised a quick recovery in the second half.
They're dead wrong.
Daniel Gross, Newsweek Cover Story Jun 16, 2008
---
Bernanke believes that the danger of a "substantial downturn" in the US economy has abated over the past month,
but that inflation risks are increasing.
FT June 10 2008
---
Riksbanken fasar ut inflationsmåttet KPIX eftersom banken nu räknar med en varaktig skillnad i ökningstakten mellan KPI och KPIX.
2008-06-09
---
We are in the process of deleveraging
the most leveraged economy in history.
Of course, if the U.S. doesn't recover there will be no worldwide recovery
We, however, don't believe that the U.S. massive stimulus programs and money printing can solve a problem of excess debt generation that resulted from greed and living way beyond our means.
Comstockfunds, August 6, 2009
This excess debt actually resulted from the same money printing and easy money that we are now using to alleviate the pain.
We wrote a special report in January of this year titled "Substituting Debt for Savings and Productive Investment". We stated in the report that it took $1.50 of debt to generate $1 of GDP in the 1960s, $1.70 to generate $1 of GDP in the '70s, $2.90 in the '80s, $3.20 in the '90s, and an unbelievable $5.40 of debt to generate $1 of GDP in the latest decade.
---
The most urgent issue is how to contain the destructive power of deleveraging.
Mortgages and mortgage-backed securities account for about $23,000bn of the $48,000bn of total debt owed
by the financial and non-financial private sectors.
George Magnus, FT, September 29 2008 16:05
The focus on the mortgage sector only misses the point that debt destruction and asset deflation are generic. The shrinkage of balance sheets is occurring equally in banks and in the non-financial sector.
Full crisis management must provide, therefore, for the re-capitalisation of the banking system by the state in exchange for equity participation that could be sold back at a later date. This could be bolstered by a more robust change in accounting standards, so that some types of losses can be absorbed over time and reported in the income statement, rather than appear in immediate capital destruction.
How much capital do US banks need? It is impossible to be precise, but using a loan loss rate of about 5 per cent (roughly 3 per cent historically), a top-down estimate suggests there may be about $2,000-2,500bn of mark-to-market losses in the economy. Assuming a 50 per cent recovery rate and allowing for the $300bn or so of capital that has been raised since August 2007, the banking system may now be undercapitalised to the tune of roughly $700bn. It might have been better to use the EESA authority for this purpose, rather than to purchase bad assets
---
"We are still in this process of deleveraging and that always implies downward pressure on asset prices," said Mr Knight
---
The next administration - whether it's McCain or Obama - will be forced to restore the Resolution Trust Corp., which was created in 1989 to dispose of assets of insolvent savings and loan banks.
The effects on the dollar, however, will be catastrophic.
Mike Whitney 6 June 2008
---
European banks harder hit by credit crunch
Of the $387bn in credit losses $200bn was suffered by European groups and $166bn by US banks,
according to Institute of International Finance
Gillian Tett, FT June 5 2008
The data also show that European institutions have raised only $125.5bn of capital to compensate for the losses compared with nearly $141bn raised by their US rivals.
Institute of International Finance
The European Commission ran an exercise in which it pretended
a commercial insolvency was threatening to bring down two banks
Read more here
---
även om de svenska bankerna hittills lyckats stå emot den finansiella oron relativt väl innebär den att sårbarheten för andra risker ökat.
Bankernas utlåning till företag och hushåll i de baltiska länderna utgör en fortsatt källa till oro.
Riksbankschef Stefan Ingves, 2008-06-03
---
Ambac and MBIA swooned after Moody's said it might downgrade the struggling bond insurers
Fortune June 4, 2008
---
I see nothing in the present situation that is either menacing or warrants pessimism. . . . I have every confidence that there will be a revival of activity in the spring and that during the coming year this country could make steady progress. Andrew W. Mellon, U.S. Secretary of the Treasury, December 31, 1929
John Makin, False Dawn, May 30, 2008
---
Behovet av ett starkare regelverk för hantering av banker i kris
I många fall tycker jag ärligt talat inte att våra nuvarande ordningar för att hantera svaga banker räcker till.
Riksbankschef Stefan Ingves 2008-05-19
---
Senate Banking Committee Approves Housing Bill
Washington Post 20/5 2008
---
Stocks looked set for a sharp decline at Friday's open as AIG's big loss raised credit jitters and soaring oil prices fanned inflation concerns.
CNN 2008-05-09
Less than three hours before the open, Nasdaq and S&P futures were lower and pointing to heavy losses at the start for Wall Street.
Insurer AIG reported a quarterly $7.8 billion loss after the market close Thursday. The dismal results raised fears about the impact of the credit crunch on financial firms. Shares of the Dow component tumbled 7.4% in after-hours trading following the report.
---
Because US mortgages are "no-recourse" loans (lenders have no recourse to the house's owner beyond the value of the house), individuals with negative equity have an incentive to default.
Martin Feldstein, FT May 7 2008
---
There are signs that the mix of policies and economic circumstances that gave a protracted laisser-passer to the rich and to business is coming to an end
Income inequality in the US is at its highest since that most doom-laden of years: 1929.
Throughout the main English-speaking economies, earnings disparities have reached extremes not seen since the age of The Great Gatsby.
John Plender, FT 7/4 2008
Highly Recommended
---
How well can an economy long characterised by soaring house prices, exploding debt
and a dynamic financial sector adjust to a new world?
Martin Wolf, Financial Times May 1 2008
---
Why this crisis is still far from finished
The writer is co-chief executive and co-chief investment officer of Pimco
Mohamed El-Erian, Financial Times April 24 2008
---
Consumer sentiment hits 26-year low
MSN Money 25/4 2008
Hm... 2008 - 26 = 1982
---
How do we persuade citizens that the rise of the emerging countries, the brightest story of our era, is to be welcomed, rather than resented or even resisted,
when what they experience is financial disarray, falling house prices, recession and soaring costs of essential commodities?
Martin Wolf, Financial Times, April 22 2008
---
Hillary Clinton is one of several prominent figures to warn that the US "might be drifting into a Japanese-like situation".
Three factors distinguish Japan's long malaise from the present US crisis:
the source of the problem, the size of the problem and the response of policymakers.
Richard Katz, Financíal Times April 21 2008
---
First, anybody who thinks it is a duty of the state to help keep housing expensive is crazy;
second, policymakers should respond only to clear market failures; and,
third, with a floating exchange rate and an independent central bank, the UK can weather the storm if it keeps its head.
Martin Wolf, Financial Times April 17 2008
---
A plan to loan billions of pounds to British banks is needed to stop the UK's financial crisis worsening, the chancellor has said.
to swap about £50bn worth of government bonds for British banks' mortgages.
BBC 20/4 2008
---
Citigroup cutting 9,000 jobs - $12bn of write-downs for sub-prime mortgages and other risky assets.
BBC 18/4 2008
---
Policy makers have slowly recognised the Minsky Moment followed by the unfolding Reverse Minsky Journey.
But I want to emphasise "slowly,"
Part of the reason is human nature: to acknowledge a Reverse Minsky Journey, it is first necessary to acknowledge a preceding Forward Minsky Journey
Paul McCulley, April 2008
---
Wachovia joins the list of chronic anemics along with Citigroup (C), Washington Mutual (WM), Merrill Lynch (MER) and Countrywide Financial (CFC).
That price represents a discount of more than 15 per cent to Wachovia's share price
Mish April 14, 2008
---
G7 försäkrade att deras centralbanker ska fortsätta att samordna åtgärder för att lindra kreditkrisen.
Penningpolitiken måste vara den första försvarslinjen, enligt IMF.
Samtidigt har IMF-chefen Dominique Strauss-Kahn efterlyst en plan för samordnade finanspolitiska stimulanser världen över.
Sådana megakeynesianska övningar bör man vara försiktig med.
DN-ledare 14/4 2008
---
The Inflation Solution to the Housing Mess
John Makin, Wall Street Journal April 14, 2008
---
The collapse of the housing bubble in the United States is mutating into a global phenomenon,
with real estate prices swooning from the Irish countryside and the Spanish coast to Baltic seaports
New York Times 14/4 2008
---
Back in April 1999, didn't the Chairman of the Federal Reserve, the Chairman of the SEC, The Secretary of the Treasury and the Chairperson of the CFTC jointly prepare a 140 page report on the Lessons of LTCM in which they stated that:
The principal policy issue arising out of the events...is how to constrain excessive leverage...
Mark Wenzel, April 13, 2008
---
Trillion Dollar Meltdown:
Easy Money, High Rollers, and the Great Credit Crash, by Charles R Morris
thought-provoking for experts and a readable primer for the layperson
Review by Gillian Tett, FT, September 23 2007
---
What Exactly Is The G7 plan?
Mish, April 12, 2008
---
Misslyckat försök göra en pudel
The world's leading banks – represented by the Institute of International Finance – concurred with a conclusion long ago reached by the rest of the world:
they screwed up, the credit crisis is largely their fault, and everybody else is suffering for their errors.
The admission may not be enough to prevent a dangerous backlash.
Financial Times editorial April 11 2008
---
Internationella media tycks nu fyllas av mer eller mindre beundrande beskrivningar av den svenska modellen.
Nu är det hanteringen av finanskrisen.
att det nu internationellt ses som en stor framgång finns ju anledning att notera.
Carl Bildt, wordpress blog 11/4 2008
Policymakers are studying how Sweden managed to rescue four of its biggest banks when its own credit boom turned to bust in the early 1990s.
House prices had slumped, the currency was out of control, and unemployment and bankruptcies were rising rapidly.
The state aid was skilfully targeted, so none of the cash went to the bank's shareholders
BBC 9/4 2008
Comment by Rolf Englund
In fact, the Swedish government bailed out the shareholders of Nordbanken.
Read more about in swedish at
www.internetional.se/re95nb.htm
---
Riksbanken får beröm för att dom ljög
The International Monetary Fund last week gave central banks some wicked advice.
They should no longer ignore residential property prices when setting interest rates.
At the same time, the IMF recommends central banks should retain their inflation-targeting frameworks.
It all sounds very plausible. Unfortunately the two goals are inconsistent.
Wolfgang Münchau Financial Times April 6 2008
---
The International Monetary Fund (IMF) has warned that potential losses from the credit crunch
will reach $945bn and could be even higher.
"losses are spreading" - "collective failure"
BBC 8/4 2008
---
Bear Stearns' bailout has echoes of 1907 panic
In my opinion, the private credit markets have forfeited their privileged right to operate relatively autonomously because of incompetence, excessive greed, and in minor instances, fraudulent activities.
Bill Gross, April 2008
---
I am puzzled why the remarkably similar housing bubbles that emerged in more than two dozen countries between 2001 and 2006 are not seen to have a common cause.
The dramatic fall in real long term interest rates statistically explains, and is the most likely major cause of, real estate capitalization rates that declined and converged across the globe. By 2006, long term interest rates for all developed and major developing economies declined to single digits, I believe for the first time ever.
Alan Greenspan, Financial Times April 6, 2008
---
Many today are complaining about Alan Greenspan's monetary stewardship - "serial bubble-blower" is the most polite phrase that I have heard.
But would the world economy really be better off today under an alternative monetary policy that kept unemployment in America at an average rate of 7% rather than 5%?
Would it really be better off today if some $300 billion per year of US demand for the manufactures of Europe, Asia, and Latin America had simply gone missing?
Brad DeLong April 05, 2008
---
Banks are overwhelmed by the U.S. housing crisis
The number of borrowers at least 90 days late on their home loans rose to 3.6 percent
April 4 2008 Bloomberg
---
-Denna kris börjar redan utmana nedgången 1989/90,
som var den allvarligaste av de fem finanskriser som varit de senaste 20 åren.
Den ser också allvarligare ut än Dot Com-krisen och krisen i Mexiko 1994/95, skriver Morgan Stanley
E24 1/4 2008
---
One way of measuring how perilously close the U.S. financial system came to melting down in mid-March 2008
is to look at how low the rate on one-month Treasury bills fell at the depths of the crisis.
That number is 12 basis points. 0.12%.
Michael Lewitt, at John Mauldin, 2008-03-31
---
UBS seeks $15.1B in new capital
Switzerland's largest bank, expects writedowns of $19 billion
just as Deutsche Bank AG, Germany's largest bank, announced similar writedowns of about $4 billion.
CNN 1/4 2008
---
Government sponsored enterprises
Capital infusions to date fall far short of prospective losses. Without new capital, the financial sector will operate with too much risk and leverage or will put the economy at risk by restricting the flow of credit.
Lawrence Summers, FT March 31, 2008
---
Jim Grant of Grant's Interest Rate Observer on Bloomberg
"What manner of incompetence - both at the public policy level and at the so-called financial professional level -
led to this mess?"
And the people who are paying are the savers, among others.
March 26, 2008
---
The mismanaged collapse of Northern Rock before it collapsed into public hands.
Before the crisis, the Bank did not have oversight of individual institutions, and there was no mechanism for banks at risk of failure.
Telegraph 7 January 2015
A month before the start of the financial crisis,
the Bank of England was apparently unaware of the impending danger, new documents reveal.
In a unique insight into its workings, the Bank has published minutes of top-secret meetings of its governing body, the Court, between 2007 and 2009.
BBC 7 January 2015
---
The Financial Services Authority, the City watchdog,
has admitted to a catalogue of errors in its handling of the Northern Rock crisis,
which saw the first run on a British bank in more than a century.
Daily Telegraph 26/03/2008
---
US house prices have fallen at the sharpest rate in more than 20 years, and
American consumers are now at their most pessimistic since Richard Nixon was in the White House
Fed stopped derivatives implosion
Daily Telegraph 25/03/2008
---
Iceland shows cracks as the krona crashes
Moody's downgraded ratings of the top three banks - Kaupthing, Lansbanki and Glitnir
Daily Telegraph 23/03/2008
---
Contrary to popular belief, the stock market crash of 1929 wasn't the defining moment of the Great Depression.
What turned an ordinary recession into a civilization-threatening slump was the wave of bank runs that swept across America in 1930 and 1931.
This banking crisis of the 1930s showed that unregulated, unsupervised financial markets can all too easily suffer catastrophic failure.
As the decades passed, however, that lesson was forgotten — and now we're relearning it, the hard way.
To grasp the problem, you need to understand what banks do.
Paul Krugman, New York Times 21/3 2008
---
I dagsläget har Fed inte mycket att välja på. Alltför stora värden står på spel.
Men att ständigt skyndsamt agera räddare i nöden, när marknadens aktörer misskött sig eller blåst upp bubblor som spricker, leder också fel. Det är ingen bra uppfostringsmetod - det är lika illa som att vara curlingförälder.
Det skapar grogrund för aktörerna att ta större risker än vad de annars skulle göra. Till slut kan riskbeteendet ha blivit så stört att inte ens "storpappa" Ben Bernanke kan reda upp saken.
Vems är det direkta felet till att kreditmarknaden krisar?
DN huvudledare 17/3 2008
---
It is déjà vu for those who remember previous emerging market crises:
imploding balance sheets, a bank run, disorderly falls in the currency
Yet there is a huge difference: this is happening in the US
Mohamed El-Erian, FT March 18 2008
---
The Federal Reserve, struggling to prevent a meltdown in financial markets,
cut the rate on direct loans to banks and became lender of last resort to the biggest dealers in U.S. government bonds.
March 17 2008(Bloomberg)
``It is a serious extension of putting the Federal Reserve's balance sheet in harm's way,'' said Vincent Reinhart, former director of the Division of Monetary Affairs at the Fed and now a scholar at the American Enterprise Institute in Washington. ``That's got to tell you the economy is in a pretty precarious state.''
---
The bailout was nothing more than an
agreement by the ratings agencies to pretend that the
monolines were still worthy of AAA
How could MBIA - which recently had to pay 14% to borrow money ever possibly be considered AAA?
Fleck CNBC 3/3 2008
---
A key cause of the present slowdown and potential recession was not a tightening of monetary policy but the bursting of the house-price bubble
The Fed therefore will not be able to end the recession as it did previous ones by turning off a tight monetary policy.
Martin Feldstein, Wall Street Journal, February 20, 2008
---
The credit crunch has forced Peloton Partners, a $3bn (£1.5bn) hedge fund run by former Goldman Sachs star traders, to liquidate its two investment funds, leaving its founders millions of pounds out of pocket.
Daily Telegraph 29/02/2008
---
The financial system is a subsidiary of the state.
A creditworthy government can and will mount a rescue.
That is both the advantage – and the drawback – of contemporary financial capitalism.
Martin Wolf, Financial Times February 26 2008
Highly recommended
---
More than 10m would have negative equity in their homes and
more than 2m foreclosures would take place over the next two years.
Lawrence Summers, Financial Times February 24 2008
It appears house prices are down by 5-10 per cent from their peak, with derivatives markets predicting further declines of about 20 per cent.
Price falls of this magnitude are likely to mean more than 10m would have negative equity in their homes and more than 2m foreclosures would take place over the next two years.
Foreclosures are extremely costly. Between transaction costs that typically run at one-third or more of a home's value and the adverse impact on neighbouring properties, foreclosures can easily dissipate more than the total value of the home being repossessed. They also inflict collateral economic damage, as reduced wealth and diminished borrowing capacity in homes reduces consumer spending, increases credit market fragility and depresses local tax bases.
Remarkably, bankruptcy laws currently provide that almost every form of property (including business property, vacation homes and those owned for rental) except an individual's principal residence cannot be repossessed if an individual has a suitable court-approved bankruptcy plan. The rationale is the prevention of costly and inefficient liquidations. It is hard to see why similar protections should not be prudently extended to family homes.
---
The monoline insurers, as the news goes, will be split up into bad company/good company entities,
and this "magic wand" will save the day.
It will not
Fleckenstein, February 25 2008
---
Stage I is to provide liquidity to the banking system at high interest rates. We passed out of Stage I at the end of last year.
Stage II is forgetting about punishing feckless financiers. We are now in Stage II.
Now Alan Blinder says that it is time to move on to Stage III: nationalization.
Brad DeLong's Weblog February 24, 2008
---
A group of banks is preparing to inject $2bn to $3bn into the troubled bond insurer Ambac,
which is racing against time to come up with fresh capital to avoid a sharp cut in its triple-A credit
rating that could trigger wider financial market turmoil.
Financial Times February 22 2008
---
Like a 1930s bank run
There are now plans to split up the companies
that insure bonds and derivatives based on mortgages and buyout loans.
Jim Jubak 22/2 2008
---
America's economy risks mother of all meltdowns
The connection between the bursting of the housing bubble and the fragility of the financial system
has created huge dangers, for the US and the rest of the world.
Martin Wolf, Financial Times, February 19 2008
---
Defaults in the US housing market are spreading from sub-prime
to the much larger stock of top-grade housing debt.
The Mortgage Bankers Association says default rates on all outstanding home loans in the US
have reached 7.3pc, the highest level since modern records began in the 1970s.
Ambrose Evans-Pritchard, International Business Editor, Daily Telegraph 13/02/2008
While sub-prime and close kin "Alt A" total $2,000bn of debt, the prime market in all its forms is roughly $8,000bn.
US house prices have fallen by 7.7pc over the past year, according to the Case-Shiller index of the 20 biggest cities.
The slide is likely to gather pace as 2.2m mortgages taken out at the height of the credit bubble adjust upwards by 250-300 basis points.
Goldman Sachs says house prices may fall by as much as 25pc from peak to trough - creating the worst slump since the Great Depression.

Over 40pc of all mortgages issued from late 2005 to early 2007 are on adjustable rates - a break with the US tradition of fixed-rate borrowing.
---
Spanish banks doubled their share of the ECB's weekly funding auctions, taking their borrowing up to €44bn.
Financial Times February 11 2008 22:01
---
Speaking after the meeting of Group of Seven finance leaders, Peer Steinbrück, German finance minister,
said the G7 now feared that write-offs of losses on securities linked to US subprime mortgages could reach $400bn.
FT February 10 2008
---
Six of the nation's largest mortgage lenders have temporarily stopped foreclosure proceedings
Legal efforts to oust seriously delinquent borrowers from their homes will be postponed for 30 days.
CNNMoney February 12 2008
---
The Rising Risk of a Systemic Financial Meltdown:
The Twelve Steps to Financial Disaster
by Nouriel Roubini, February 11, 2008
at John Mauldin
---
Warren Buffett to the rescue?
Stocks jump after the Oracle of Omaha
offered help to troubled bond insurers by reinsuring $800 billion worth of municipal bonds
CNBC 12/2 2008
---
If Citigroup could have borrowed reserves from the Fed at 3-4%
wouldn't it had done so instead of raising $7.5 billion from Abu Dhabi
at an interest rates of 11%?
Reuters is reporting Dozens of U.S. banks will fail by 2010.
Mish 9/2 2008
---
The Credit Crisis is Simply Getting Worse
John Mauldin's Weekly E-Letter February 8, 2008
Highly Recommended
RE: Probably the monst frightening I have read so far
---
Visst finns det likheter mellan dagens ekonomiska läge och 90-talskrisen. Men skillnaderna är större.
I början av 1990-talet gick Sverige in i den värsta ekonomiska krisen på många decennier.
Värdet av produktionen – BNP – sjönk tre år i rad och arbetslösheten steg till nivåer Sverige knappt sett sedan 1930-talet.
Då hade Sverige fast växelkurs, en politik som hade stöd både av socialdemokratiska och borgerliga regeringar.
Det tvingade upp räntorna på nivåer som förvärrade ett redan allvarligt läge.
Dan Lucas, DN Ekonomi 7/2 2008
Pia Gripenberg intervjuar Handelsbankens vd Pär Boman:
Är vi på väg in i något som kan vara lika allvarligt som finanskrisen i början av 90-talet?
-Absolut, ... När vi tittar på vad som sker på grossistmarknaden för pengar, och affärerna som sker banker emellan,
ser jag definitivt ett scenario som är mer bekymmersamt än den situation vi hade under första halvan av 90-talet.
DN Ekonomi 7/2 2008
I början av 90-talet ökade räntorna, konkurserna blev betydligt fler och 1994 var arbetslösheten över 13 procent.
"Perssons påstående att han tog Sverige ur krisen är inget annat än en myt."
Den förkättrade "marknaden", valutaspekulanterna, "räddade" alltså Sverige genom att pressa fram en rörlig kronkurs i november 1992
Lars Jonung, kolumn DN 8/2 2008
Highly Recommended
---
Fears about corporate and commercial property debt reached new heights in the US and Europe on Friday
as investors liquidated holdings in a sign of spreading credit turmoil.
Financial Times 9/2 2008
The markets were gripped by worries that economic weakness would affect corporate profits, leveraged buy-outs and commercial property. This represents an escalation of the crisis that began with concerns about US subprime mortgages.
Hedge funds that bet on the likelihood of buy-out deals happening have been among the casualties. The turmoil has also put pressure on banks and other investors who are holding $200bn (£103bn) of leveraged loans that they had been hoping to sell.
---
The recession of 2008 will be a longer, "U-shaped" affair, driven by an unusual, persistent drop in consumption and investment.
Underlying is an "endogenous" risk appetite cycle, one that is tied to the fundamental problem facing the U.S. economy:
the build-up and subsequent implosion of the housing bubble.
John Makin, American Enterprise Institute (Timbros storasyster) January 28, 2008
Highly Recommended
---
A recession is a normal part of the business cycle.
It takes a major policy mistake by a government or central bank to create a depression.
John Mauldin, February 2, 2008
---
It's the housing market, stupid.
Mest på svenska
Rolf Englund blog 28/1 2008
---
The intensifying credit crunch is so severe that
lower interest rates alone will not be enough
Dominique Strauss-Kahn, managing director of the International Monetary Fund.
Reported by Chris Giles and Gillian Tett, FT January 27 2008
---
2007 nearly $4.50 of credit was being generated per $1 of GDP growth.
It is too late to stop the US recession and the slowdown under way in Europe and Japan
George Magnus, senior economic adviser at UBS Investment Bank, FT
---
Leading US banks are under pressure from New York state's insurance regulator to provide as much as $15bn to support struggling bond insurers.
FT
---
The apparatus of the US government is now in rescue mode.
The Federal Home Loan Bank system has quietly slipped mortgage banks $750bn since the crunch.
It injected $210bn in November alone, with taxpayer guarantees. Citigroup gobbled $95bn.
God bless socialism.
Ambrose Evans-Pritchard, Daily Telegraph, January 21 2008
We know that rates on $1,500bn in adjustable mortgages will jump by 300 basis points over 18 months.
The White House is crafting the Bush bail-out, an instant helicopter drop worth 1pc of GDP. Congress is not going to get in the way. "Everyone should put their ideological baggage aside and try to pump money into the economy to get things going," said Charles Schumer, Senate Banking chairman.
Yet if the storm is peaking in the US, it has hardly begun in Europe. Bernard Connolly, global strategist at Banque AIG, says euro-losses may surpass the US debacle.
"The next really big shock to financial markets is likely to be the risk of collapse in the EMU credit bubble: the private sector credit consequences are likely to be catastrophic," he said.
Budget deficits must stay below 3pc of GDP, on pain of fines. Germany once breached this with impunity, but that was before Angela Merkel appeared. Virtuous again, Germany now demands rigour.
Since France and Italy are already nearing the 3pc buffer, they may have to tighten into a downturn.
Monetary bail-outs are not allowed either, at least not until the German bloc gives a green light to the European Central Bank.
We are a decade into EMU. The outcome is what Bundesbank sceptics feared. Interest rates have been far too low for Club Med and Ireland, fuelling property booms.
These have burst, are bursting, or will burst. The victims are beached with current account deficits of 10pc of GDP in Spain, 13pc in Greece. The "Nordics" have surpluses, at Club Med expense.
Italy and Spain have lost 30pc in labour competitiveness against Germany under EMU. France has lost 20pc. An attempt to deflate these countries back to balance will run into revolt.
Hedge funds are already circling.
"While tensions can be camouflaged during economic upswings, they surface during downswings. All failed currency unions were abandoned during times of economic stress," said BNP Paribas.
We are nearing the moment when the ECB must decide whether it is a bank or the political guardian of the EU Project.
It cannot be both.
The monetary crunch needed to restrain German wage deals after the rail workers won 11pc will crucify Spain.
Over 40,000 estate agents closed doors in Spain last year. Property prices are dropping in Madrid, Barcelona, and Seville.
Spanish banks are issuing mortgage bonds to use as collateral at the ECB's window, without even trying to sell them on the open market. La Gaceta said this "abuse" has reached €40bn.
---
The owners of WestLB are to inject up to inject 2.90 bn dollar into the troubled German public sector bank
FT January 21 2008
January 20 2008:
Owners of WestLB were on Sunday evening meeting over the future strategy of the German public sector bank, which has been hit by a trading scandal as well as the global credit squeeze.
WestLB refused to comment on the details of the gathering, which was also attended by Axel Weber, president of the Bundesbank. But the banks' owners were expected to discuss a possible capital increase as well as restructuring plans.
German media reported that the capital injection could be as large as €2bn.
---
Carnegie Mellon economist Allan Meltzer, who is finishing the second volume of his history of the Federal Reserve,
warns that Bernanke is risking a disastrous replay of the 1970s
CNN
---
Stagflation. Plain and simple.
Asset prices simply cannot be justified relative to consumer prices.

FakeBen
---
/The rating agency/ Fitch disclosed as recently as March 2007 that
their model for rating CDOs assumed low to single digit home price appreciation forever into the future.
Michael Shedlock, December 31, 2007
---
De fem största amerikanska investmentbankerna har betalat bonusar om totalt 39 miljarder dollar,
motsvarande 256 miljarder kronor, för 2007.
Det rapporterar Bloomberg News som utifrån bolagens bokslut har tagit fram uppgifterna.
DI 2008-01-17
---
Merrill Lynch reported a loss for 2007 after a $14.1bn write-down related to sub-prime mortgages.
Nice table with "MAIN SUB-PRIME LOSSES SO FAR"
BBC 17 January 2008
The US consumer is on the precipice of experiencing the first recessionary phase since 1991
David Rosenberg, chief North American economist for Merrill Lynch, FT November 14 2007
---
Efforts ineffective, aimed at containing a subprime credit crisis,
not a rapidly spreading prime-credit, solvency crisis
that is leading the U.S. economy into recession.
John Makin January 3, 2008
---
Is the 2007 US Sub-Prime Financial Crisis so Different?
(Different from the Debt Crisis of the 80's?)
Martin Wolf, FT January 8 2008
---
The collapse of the auction-rate security market
Why has a crisis that began with loans to a limited group of home buyers ended up disrupting so much of the financial system?
Because, ultimately, it's more than a subprime crisis; indeed, it's more than a housing crisis.
It's a crisis of faith.
Paul Krugman New York Times 15/2 2008
People no longer trust assurances that fancy financial instruments will function the way they're supposed to — after all, they know what happened to people who thought their subprime-backed securities were safe, AAA-rated investments.
One simple measure of the seriousness of the credit problem is this: although the Federal Reserve has sharply cut the interest rate it controls over the past few weeks, the borrowing costs facing many companies and households have actually gone up.
---
There was a definite Hirohito feel to the explanation Ben Bernanke gave Krugman
When announcing Japan's surrender in 1945, Emperor Hirohito famously explained his decision as follows: "The war situation has developed not necessarily to Japan's advantage."

Ben Bernanke: "Market discipline has in some cases broken down, and the incentives to follow prudent lending procedures have, at times, eroded."
Banks Gone Wild Paul Krugman NYT Nov 23 2007
This slump was both predictable and predicted.
"These days," I wrote in August 2005, "Americans make a living selling each other houses, paid for with money borrowed from the Chinese. Somehow, that doesn't seem like a sustainable lifestyle."
It wasn't.
---
Crisis may make 1929 look a 'walk in the park', Ambrose Evans-Pritchard
RECESSION 2008 » DEPRESSION 2009, Aubie Baltin
Aubie Baltin
House Prices - Monetarism
---
Most estimates put the eventual tally for defaults by America's subprime borrowers at $200 billion-300 billion, The Economist
Merrill Lynch & Co Inc may get up to $5 billion in a capital infusion from Singapore state investor Temasek Holdings, MSN
US bond insurer MBIA has disclosed it guarantees $30.6bn in complex debt investments
linked to the US housing slump, BBC
---
The financial crises of capitalism
The beginning of wisdom is to recognise that financial booms and busts have been a feature of capitalism from the very start.
Indeed they are as deep-rooted as human gullibility and greed.
Samuel Brittan, FT May 8 2008
Crises succeeding each other at intervals of about a decade so beloved by old-fashioned business cycle theorists, but others coming hot on the heels of their predecessors after only a couple of years.
Their frequency tempts one to parody Churchill: capitalism is a bad system, but the others are worse.
Comment by Rolf Englund:
But they are too frequent and now and then too dangerous
Crises succeeding each other
---
Fed bailout of Bear Stearns
Remember Friday March 14 2008
it was the day the dream of global free-market capitalism died.
Martin Wolf, Financial Times, March 26 2008
---
Bear Stearns' bailout has echoes of 1907 panic
In my opinion, the private credit markets have forfeited their privileged right to operate relatively autonomously because of
incompetence, excessive greed, and in minor instances, fraudulent activities.
Bill Gross, April 2008
---
There are signs that the mix of policies and economic circumstances that gave a protracted laisser-passer to the rich and to business is coming to an end
Income inequality in the US is at its highest since that most doom-laden of years: 1929.
Throughout the main English-speaking economies, earnings disparities have reached extremes not seen since the age of The Great Gatsby.
John Plender, FT 7/4 2008
Awash with easy money, Wall Street became hooked on what the economist J.K. Galbraith in that subsequent seminal work on the period – The Great Crash – called "the magic of leverage": the ability to increase returns through borrowing.
From a political perspective the notable feature of the inegalitarian, free-market era that began in the 1980s is how little backlash there has been against the stagnation of ordinary people's earnings in such a large portion of the developed world economy.
Yet there are signs that the mix of policies and economic circumstances that gave a protracted laisser-passer to the rich and to business is coming to an end.
This is potentially dangerous territory. For as Bill Gross, managing director of Pimco, the world's biggest bond fund, has argued: "When the fruits of society's labour become maldistributed, when the rich get richer and the middle and lower classes struggle to keep their heads above water as is clearly the case today, then the system ultimately breaks down; boats do not rise equally with the tide; the centre cannot hold."
http://en.wikipedia.org/wiki/The_Great_Gatsby
Början på sidan - Top of page
---
These are historic moments for the world economy.
First and most important, what is happening in credit markets today is
a huge blow to the credibility of the Anglo-Saxon model of transactions-orientated financial capitalism.
A mixture of crony capitalism and gross incompetence has been on display in the core financial markets of New York and London.
Martin Wolf, FT 12/12 2007
Second, these events have called into question the workability of securitised lending, at least in its current form.
Full text
Martin Wolf
Paul Krugman, a fundamental problem of solvency
Början på sidan - Top of page
---
Up to 110 bn dollar in loans will be made available to world money markets by central banks
Analysts say the unprecedented move is a sign of the severity of the problems.
BBC 13/12 2007
Portal
---
This isn't just a mortgage or housing crisis.
At the center of this still-unfolding disaster is the collateralized debt obligation, or CDO.
Steven Pearlstein, Washington Post, December 10, 2007
---
Goldman Sachs, began reducing its inventory of mortgages and mortgage securities late last year.
Even so, Goldman went on to package and sell more than $6 billion of new securities backed by subprime mortgages.
IHT 6/12 2007
---
Saving Face (SIV Rescue Edition) Events have overtaken the SIV rescue plan
brokered by the Treasury Department and sponsored by Citigroup, Bank of America, and JP Morgan.
We said early on that this plan looked to be for the benefit of Citi, and that is turning out to be the case.
Nakedcapitalism 6/12 2007
---
Companies in Britain and Europe have failed to place a single high-yield bond
since the credit crunch kicked off in August,
and may now have to wait until next year before the credit market reopens for business.
Will Europe survive the euro?
Ambrose Evans-Pritchard, Daily Telegraph, 29/11/2007
---
"What is happening right now suggests that the moves by the Fed and ECB just haven't worked as we hoped,"
"The interbank lending business has broken down almost completely
Gillian Tett, Financial Times September 5 2007
Time to nationalise Northern Rock?
Financial Times editorial November 16 2007
---
"The reasons why the massive liquidity injections and policy rate cuts by central banks have miserably failed are clear,"
"We are facing a credit/insolvency problem in addition to a liquidity crunch and central banks' monetary policy is impotent in dealing with credit problems."

NOURIEL ROUBINI, November 26th, 2007
---
The Next Dominos:
Junk Bond And Counterparty Risk
one of the more important editions of Outside the Box this year. This is a must read. You absolutely need to understand the nature of the systemic risk we are facing, and Ted does a great job of explaining in very clear terms the nature of the risks that we have created in our modern markets.
Ted Seides at John Mauldin 26/11 2007
---
Wake up to the dangers of a deepening crisis
The odds now favour a US recession that slows growth significantly on a global basis.
There is the risk that the adverse impacts will be felt for the rest of this decade and beyond.
Lawrence Summers, FT November 25 2007
---
It is only halfway through November but I think we can already declare the winner of the 2007 Quote of the Year competition. It is Chuck Prince, the former chairman and chief executive of Citigroup.
As Mr Prince departs, however, it should be noted that his statement was not, as history will record it, idiotic.
His offence was not that he misunderstood or misstated how banks have operated over the past few years but that he blurted out the truth rather too openly.
Note that he did not say "if" the music stops but "when".
John Gapper, FT November 14 2007
---
I think the really interesting question to be asked to which extent central banks have contributed to, or even caused, this crisis.
This is not about Mr Greenspan, or a single monetary policy decision at a particular time, or whether US interest rates were raised too late in the last cycle.
This question relates to the longer-term impact of monetary policy during the age of global disinflation,
which started in the early 1990s, and which has just ended.
The ECB, the Fed, and the Credit Crisis, Wolfgang Münchau. 07.11.2007
---
Financial companies' losses due to the US sub-prime crisis could be as much as $400bn
The estimate by Goldman's chief economist Jan Hatzius is higher than that of the Federal Reserve but in line with some recent independent forecasts.
Mr Hatzius predicts leveraged investors may have to reduce their lending by $2 trillion as a result.
"The macroeconomic consequences could be quite dramatic," Mr Hatzius said.
BBC 16/11 2007
Raised eyebrows
Last week, RBS, Royal Bank of Scotland, the British banking group, raised eyebrows when it was widely reported that one of its highly respected credit analysts had predicted that subprime losses could eventually rise to between $250bn and $500bn – or twice previous estimates.
Gillian Tett, Financial Times, November 15 2007
---
- What the heck's happening to our financial system?
That will be a question many people will be asking after Washington Mutual shares plunged 17 percent in a single day.
This after all is an industry-leading bank with over $320 billion in assets.
CNN Fortune 2007-11-08
---
World stock markets are braced for further turmoil, amid reports that a US Treasury plan to stabilise troubled credit markets may have stalled.
The $75bn scheme, designed to buy debt of questionable value to avoid panic selling, has been thrown into doubt by problems at Citigroup
BBC 2007-11-07
There are also concerns that downgrades of some packages of debt will lead to discount sales of some assets. At the same time, the shortage of cash to fund takeovers is biting, with buyouts worth $202bn (£97m) having failed this year.
Risk of securities fire sale mounts
FT November 7 2007
---
What we saw this summer is something we've seen before and will undoubtedly see again. The sell-off was predictable and avoidable.
Some people were apparently shocked to learn that gambling was occurring at Rick's Cabaret.
Speech by Michael E. Lewitt, made at the The Bank Credit Analyst Conference
Mauldin's Outside The Box 2007-11-05
---
A mere 5.4% decline in the value of Citigroup's assets would make Citigroup insolvent.
Michael Shedlock, November 01, 2007
---
Aided and abetted by the explosion of new financial instruments
- especially what is now over $440 trillion of derivatives worldwide -
the world embraced a new culture of debt and leverage.
Yield-hungry investors, fixated on the retirement imperatives of aging households,
acted as if they had nothing to fear.
Stephen S. Roach 2007-10-22
---
The wolf packs are circling. Hedge funds target currency pegs
Fifteen years after George Soros smashed the sterling and lira pegs of Europe's Exchange Rate Mechanism, central banks have invited hedge funds to pounce again. This time on a global scale.
Ambrose Evans-Pritchard, Daily Telegraph 15/10/2007
The global M3 money supply is growing at 10.6pc as stimulus from America, Europe – and Japan, through the carry trade – leaks out to the vibrant parts of the world economy... With the usual lag, inflation has at last hit.
The easiest prey are in the Baltics and Balkans, where EU newcomers have let rip by importing an ECB monetary policy designed for the slow barges on the Rhine. All are overheating.
Inflation is now 11pc in Latvia, and 7pc in Estonia and Lithuania. Property prices in the capitals of all three are more expensive than Berlin. Inflation is 12pc in Bulgaria and 6pc in Romania.
The ECB has now invited the wolves to kill.
---
The shadow banking system of hedge funds and CDOs, CLOs, PIPES, etc.
I'm sure that Bernanke, Paulson, and their cohorts understand this, but...
Bill Gross 1/10 2007
---
Shares in E-Trade, the online broker that has seen its expansion into the mortgage market backfire, plunged nearly 59 per cent on Monday amid fears that its dependence on uninsured deposits could force it to sell assets at fire sale prices.
FT 2007-11-12
Prashant Bhatia, Citigroup analyst, cut his rating to "sell" and said there was a significant chance of E-Trade winding up in bankruptcy.
---
Central banks keep throwing in sticks of dynamite until the ocean finally disgorges a huge dead whale
the Rock would have to turn to the BoE for a loan of at least £30-£40 billion
Anatole Kaletsky, September 17, 2007
For almost a year now, we have been driving our clients crazy with Charles's tired old metaphor about the global liquidity contraction, in which the central banks keep throwing in sticks of dynamite until the ocean finally disgorges a huge dead whale. However much it annoyed our clients, we just couldn't stop using this metaphor for two reasons:
* Firstly because, on past experience, the long-awaited appearance of the whale - Continental Illinois, Chrysler, Brazil, Drexel Burnham, Kidder Peabody, Mexico, LTCM/Russia, Enron/MCI/Argentina - would announce the beginning of the end of the liquidity crunch.
* Secondly, because we started thinking in the middle of 2006 that our whale was overdue for an appearance, but it never quite turned up. In February we finally realised what species of a fish we were looking out for - a mortgage lender, with a specialty in high-risk loans - but still the damn creature refused to show. But this weekend, a whale finally surfaced, though somewhere totally unexpected.
The bottom line is that the Bank of England, the media and the markets have no idea of the force which could be about to hit them - a situation uncannily reminiscent of the days before Black Wednesday, exactly 15 years ago.
With essentially all its liquidity already exhausted, the Rock would have to turn to the BoE for a loan of at least £30-£40 billion. This would probably be the biggest single loan ever advanced by a government to any private company anywhere in the world. What would be the political reaction to such a loan, especially after Mervyn King's long lecture last week against bank bailouts?
---
How the banks can win back confidence
Josef Ackermann (Deutsche Bank), Financial Times July 30 2008
One step towards this goal is the wide dissemination of the final report of the Institute of International Finance's committee on market best practices (CMBP).
The industry recognises that strengthening practices in many areas is now essential to rebuild confidence in the global banking system and make markets more efficient.
---
Deutsche Bank gör ytterligare en nedskrivning på 3,6 miljarder dollar, motsvarande drygt 21 miljarder kronor
Totalt har banken tvingats skriva ned sina tillgångar med 11 miljarder dollar.
DI 31/7 2008
---
Deutsche Bank's shares fell 2.9% Thursday after Chief Executive Josef Ackermann said he expects results to be negatively affected because
the bank will have to reassess investments of EUR29 billion
that now look risky in light of the ongoing financial crisis.
20/9 2007
Fotnot
29 miljarder euro är 9,22 ggr så mkt i kronor, drygt 267 miljarder kr.
---
The Financial Services Authority, the City watchdog, has admitted to a catalogue of errors in its handling of the Northern Rock crisis,
which saw the first run on a British bank in more than a century.
Daily Telegraph 26/03/2008
Northern Rock fuelled its rapid growth by borrowing most of its cash for lending in wholesale money markets rather than relying on customers' savings deposits.
---
Northern Rock to be nationalized
CNN 17/2 2008
Treasury chief Alistair Darling said Sunday that struggling bank Northern Rock PLC will be nationalized after the government rejected two private takeover bids.
Darling told a news conference that the ailing mortgage lender would be placed under temporary public ownership because both bids had failed to meet the government's demands.
He said neither a proposal from Richard Branson's Virgin Group nor an in-house management team delivered "sufficient value for money to the taxpayer."
The government had said more than 25 billion pounds (U.S. $49 billion) in government loans must be paid back within three years.
Kommentar av Rolf Englund
Socialisterna har alltid velat förstatliga bankerna, och inte bara bankerna:
Den allvarligaste kritiken som framkommit när det gäller förslaget till nytt partiprogram, är att programkommissionen vill ta bort de allmänna grundsatserna. Många har i diskussionen framförallt velat slå vakt om skrivningen att bestämmanderätten över produktionen skall läggas i hela folkets händer.
http://www.socialisten.nu/arbr/sap/partiprogram_historia_53.shtml
Att så många inom (s) hatar Göran Persson beror nog på att han strök socialismen ur partiprogrammet.
Den urgamla formuleringen i det socialdemokratiska partiprogrammet - "Socialdemokratin vill så omdana samhället, att bestämmanderätten över produktionen och dess fördelning läggs i hela folkets händer"... fanns kvar ännu i det som antogs efter Murens fall på partiets 31:a kongress år 1990.
Göran Persson kommer att gå till den ideologiska historien som den partiledare som på partikongressen år 2001 strök detta mål om socialismen ur partiprogammet.
Rolf Englund 8/5 2005
That the latest government rescue package will allow IKB Deutsche Industriebank
shareholders to walk away with money in their pockets is a disgrace,
Financial Times editorial 15/2 2008
---
Time to nationalise Northern Rock?
Financial Times editorial November 16 2007
Timeline: Northern Rock bank crisis
BBC
Let us call a spade a spade.
The blame for the vulnerability of Northern Rock lies with its management
Would it not be better to let mismanaged institutions go under, while protecting small depositors effectively?
Answer: yes, it would.
Martin Wolf, Financial Times November 15 2007
What is now needed is better and more effective deposit insurance and bankruptcy provisions. If these had existed, Northern Rock would now be in some form of public administration and that is exactly where it should be today.
---
BoE blames laws for Northern Rock crisis
Daily Telegraph 20/09/2007
Credit turmoil:
How Goldman steered clear
IHT 18/11 2007
---
Mr King told them it would have been "irresponsible" to have intervened earlier to save the Northern Rock bank.
But he admitted that he might have got the balance wrong when the run started.
BBC 20/9 2007
To be prepared for the unexpected has long been the unwritten motto of the International Monetary Fund,
says Michel Camdessus, its former head.
Sadly no one seems to have been prepared for the latest turmoil shaking the international financial system.
Financial Times September 19 2007
---
"Värsta krisen på 20 år"
Det är nervöst i London. Skulder på närmare 800 miljarder kronor ska refinansieras i veckan.
Ledande brittiska banker varnar nu för den värsta krisen på 20 år på penningmarknaden. Den enorma refinansieringen är till och med större än den som skapade kreditkrisen i mitten av augusti,
skriver Times Online.
Dagens Industri 10/9 2007
---
If a week is a long time in politics, it is an eternity during a financial crisis.
The credit market crisis is entering its second month and growing worse.
Friday's US employment report was a reminder, if any was needed, that the risk of an American recession is non-trivial and rising.
Wolfgang Munchau, Financial Times September 10, 2007
There is a further risk, that an economic slowdown could reverberate back to the credit markets through an increase in defaults on segments of consumer debt and corporate loans. As defaults in these other areas rise, one set of investors would demand compensation from another set, which optimistically agreed to provide this assurance through credit default swaps.
Another channel of potential global contagion is the exchange rate. If US interest rates fall over the next few months, so might the dollar.
---
Questions and answers on the debt crisis
Martin Wolf, September 5 2007
We are living through the first crisis of our brave new world of securitised financial markets.
It cannot be blamed on "crony capitalism" in peripheral economies, but rather on irresponsibility in the core of the world economy.
Financial crises are always different in detail and the same in their essence. This one is no exception. It showed the normal pattern of rising prices of assets, expanding credit, speculation, excess, then falling prices, default and finally panic.
---
The problem is not a liquidity problem but a credibility problem.
There is plenty of cash, and central banks around the world are adding to it daily.
The problem is that no one wants to buy debt that they do not completely understand.
John Mauldin's Weekly E-Letter, 7/9 2007
If you are a bond buyer for an institution, it is a career ending decision to buy an asset backed investment grade bond even rated AAA if it goes bad. You might be able to explain buying such assets last spring. Buying a problem bond today and it is now your fault, not to mention your job.
And commercial paper from another financial institution? How much subprime debt do they have hidden on off-balance sheet vehicles? Why loan anyone money for just a few extra basis points when you can't be 100% sure? Especially if you are looking at your own exposure and you see how easy it might be to hide a few problems here or there.
---
Central banks face a liquidity trap
Central banks have always drawn a line between illiquidity and insolvency.
Raghuram Rajan, Financial Times, September 7 2007
---
Många banker har sålt delar av sin kreditrisk till andra institutioner.
De senaste veckorna har det visat sig att kreditriskerna inte i så hög utsträckning som förväntat
hamnat hos placerare som verkligen har kapital för att bära dem.
Vice riksbankschef Lars Nyberg, 2007-09-05
Många banker har under senare år på olika sätt sålt delar av sin kreditrisk till andra institutioner.
Investmentbanker har paketerat krediter i särskilda portföljer eller företag och sedan finansierat dessa genom att ge ut obligationer på räntemarknaden.
Marknaden för olika former av "Collateralised Debt Obligations, CDO", har vuxit snabbt och stora kreditvolymer har flyttat ut från bankerna till andra aktörer.

I den utsträckning som kreditrisken förts över till placerare med stort eget kapital, till exempel försäkringsbolag och pensionsstiftelser, har detta varit positivt. Det har ökat marknadens stabilitet, det vill säga dess motståndskraft mot oväntade störningar. Men problemet har varit att ingen varit riktigt säker på var kreditriskerna slutligen har hamnat. De nya instrumenten för att paketera och sedan tranchera och sälja kreditrisk på olika delmarknader har gjort det svårt att få en bild av i vilka balansräkningar riskerna verkligen befinner sig."
---
Danger: Steep drop ahead
Even if the credit crunch passes without a major catastrophe,
the prices of stocks, bonds and real estate have a long way to fall.
By Jeremy Grantham, CNN/Fortune September 5 2007, 9:27 AM EDT
---
Existing home sales drops to lowest level since 9/11 attack.
CNN 5/9 2007
---
Daily Telegraph Special Report
The crisis in America's subprime mortgage market, which lends to people with patchy credit histories, has shaken financial markets across the globe.
A rise in defaults by borrowers in the US has forced central banks to inject cash, hit equity markets and raised fears that global economic growth will slow.
Click here
---
A perfect example of one of these fallacies recently exposed is the widespread report in August that the
Fed had "injected" billions of dollars worth of "money" into the "system" by "buying" "sub-prime mortgages."
In fact, all it did was offer to stave off the immediate illegality of many banks' operations
by lending money against the collateral of guaranteed mortgages,
but only temporarily under contracts that oblige the banks to buy them back within 1 to 30 days.
The typical duration is 3 days.
Prechter, August 30 2007
1. The Fed did not give out money; it offered a temporary, collateralized loan.
2. The Fed did not inject liquidity; it offered it.
3. The Fed did not lend against worthless sub-prime mortgages; it lent against valuable mortgages issued by Fannie Mae (the Federal National Mortgage Association), Ginnie Mae (the Government National Mortgage Association) and Freddie Mac (the Federal Home Loan Mortgage Corporation).
The New York Fed is also accepting "investment quality" commercial paper, which means highly liquid, valuable IOUs, not junk
---
Is A Subprime Recession Inevitable?
John Mauldin 28/8 2007
Recession in 2007?
Click here
---
Central banks should not rescue fools
Martin Wolf, Financial Times, August 29 2007
---
Over the past 20 years major financial disruptions have taken place roughly every three years
Financial crises differ in detail but, just as there are plot cycles common to literary tragedies, they follow a common arc.
Lawrence Summers, Financial Times August 27 2007
---
Macho men crying 'Mommy'
The financial world: It's populated with rich, hypocritical whiners. Wall Street, the hedge-fund community and their lap dogs in the news media continually brag about how much they love capitalism and free markets.
Yet when the creative-destruction component of capitalism rears its ugly head, they want the central planners to bail them
Bill Fleckenstein, CNBC 27/8 2007
---
The central banks have been forced to pump in billions of dollars to oil the wheels of lending.
But what happened in previous financial crises, and what are the lessons for today?
BBC 26/8 2007
---
Rating agencies badly misjudged default rates in subprime mortgages and are
now having to downgrade reams of securities linked to them.
The Economist 23/8 2007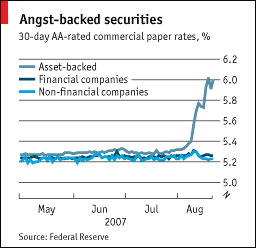 With the credibility of ratings in tatters, investors have been left without a compass. Rather than trust in their own analysis of credit risk they are staying on the sidelines because they can't work out what securities are worth, not because they don't have the money to buy them.
Even if stability returns to the markets, the repricing of risk is likely to continue.
How far it goes will depend largely on the state of the mortgages that serve as collateral for many of the newfangled instruments that were, until recently, hawked with glee on Wall Street.
The outlook is not good.
---
Nu är det värsta över
Gissa om jag får äta upp den här rubriken om jag får fel.
Gunnar örn, DI 2007-08-24
That question may be the key to the future actions of the Federal Reserve.
One estimate of "How Low Will Housing Go?" comes from Jan Hatzius, Chief Economist of Goldman Sachs:
The Big Picture 23/8 2007
Bill Gross, who runs the world's largest bond fund,
has called on President George W. Bush rather than the Federal Reserve
to bail out American homeowners struggling with sub-prime mortgages.
Daily Telegraph 23/8 2007
---
Will the money market crisis of the past two weeks come to be known as the Countrywide Crunch?
Originating 17 per cent of all mortgages in the US, mostly not in the troubled subprime sector,
and relying on money markets for its funding, it made sense for the company's fortunes to preoccupy markets.
John Authers, Investment Editor, Financial Times August 23 2007
---
"There's a little bit of nervousness that another shoe might drop,"
Arthur Hogan, managing director at Jefferies, told CNBC.com.
23 Aug 2007
Stocks traded lower as nervousness about tightening in the credit markets offset earlier enthusiasm over a $2 billion investment in Countrywide Financial.
Bank of America's decision to throw a $2 billion lifeline to Countrywide Financial is far more than BofA telling Countrywide "here's some money, pay us back when you can." Countrywide is paying dearly for the injection.There are big strings attached to the deal which only serve to highlight the desperate position that Countrywide faces. In exchange for the $2 billion, Bank of America is receiving non-voting preferred stock that yields a whopping 7.25% and can be converted into Countrywide Countrywide Financial Corp common stock at $18 per share.
---
Länge trodde de flesta - däribland jag själv - att effekterna skulle begränsas till subprime-marknaden.
Men vi hade fel. Smittspridningen har blivit värre.
Klas Eklund, DN Debatt 23/8 2007
---
The Fed can indeed be accused of being a serial bubble-blower.
But this is not because it has been managed by incompetents.
It is because it has been managed by competent people responding to exceptional circumstances.
Martin Wolf, August 22 2007
---
Axel Weber, president of Germany's Bundesbank, may rue his choice of words eight days ago.
The bail-out of IKB, a previously little-known listed bank that had been caught in the fallout from the US subprime mortgage crisis earlier in August, was an "isolated, institution-specific incident", he said.
By late last Friday night, it had happened again.
Financial Times 22/8 2007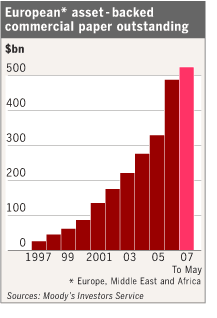 Sachsen LB and IKB may have been small players but the impact of their downfall and the embarrassment faced by the Bundesbank has spread far beyond Germany. Financial markets and policymakers have been left worrying whether further bank crises are lurking and whether banking regulators are really in command of the facts. In turn, that has complicated the task of central bankers, including the Frankfurt-based European Central Bank, as they aim to restore order to short-term credit markets battered by the turmoil of recent weeks.
ECB är varken systemets gemensamma centralbank eller ens en sann centralbank.
Den har därför varken förmågan att utjämna inflationsskillnader inom EMU eller att verka som "lender of last resort".
Otto Steiger, Ekonomisk Debatt nr 2/2007
---
Bank of England has said it lent money directly to a financial instiution from its emergency lending facility,
as the flight to quality assets by investors gathered pace again today.
Daily Telegraph Tuesday 21/8 2007
The Bank, which has stood back from the liquidity crisis that has gripped financial markets, said it lent £314m to an unidentified institution through its facility on Monday. The facility, which allows banks to borrow unlimited amounts of money at about one percentage point above the base rate, was last tapped on July 17.
Ambrose Evans-Pritchard points the finger at the central banks that created the credit bubble: Capitalism not to blame
---
The process that turned subprime mortgages into triple AAA rated securities is, by now, pretty well known.
Rich Bookstaber (his blog is here) describes the process nicely.
Brad Setser Aug 20, 2007
Here's the recipe for a CDO: you package a bunch of low-rated debt like subprime mortgages and then break the package into pieces, called tranches. Then, you pay to play. Some of the pieces are the first in line to get hit by any defaults, so they offer relatively high yields; others are last to get hit, with correspondingly lower yields. The alchemy begins when rating agencies such as Standard & Poor's and Fitch Ratings wave their magic wand over these top tranches and declare them to be a golden AAA rated. Top shelf. If you want to own AAA debt, CDOs have been about the only place to go; hardly any corporation can muster the credit worthiness to garner an AAA rating anymore.
---
Nouriel Roubini and Marc Faber Are Not Impressed
naked capitalism blog 20/8 2007
---
Panic eases, credit woes persist
The Federal Reserve's move to encourage bank lending last week has helped ease some of the panic in financial markets, but the underlying problems that led to the seizing up of credit markets are still there - and won't disappear overnight.
Grace Wong, CNNMoney.com staff writer August 20 2007
---
Although the writing is on the wall, it seems that it is only Daniel that can read it.
What do sub-prime mortgages have to do with Private Equity Hedge Funds and Corporate Takeovers?
NOTHING; except that all credit has virtually disappeared overnight.
Aubie Baltin 17/8 2007
This Market, including stocks, bonds, real estate and commodities have all been built on a massive amount of credit and "out of thin air" monetary creation.
But unlike all previous massive printing press monetary inflations, this one has been based on a combination of huge amounts of easy credit combined with completely unrealistic low interest rates world wide: Beginning with ZERO interest rates in Japan to negative 4% ( 1% interest - 5% inflation) in the USA.
Well my friends, unless you are deaf, dumb and blind, this game is over. "IT" has begun almost exactly as predicted with the trigger being the realization that there were no bids for the attempted sale of CMOs by the Bear Sterns Hedge Funds. The problem was NOT as stated; that they were junk bonds based on sub-prime mortgages, after all they were rated AAA. The real problem is that the world has reached its limit on how much debt can be absorbed.
Suddenly, the whole world realized that the Emperor Had No Clothes and credit virtually dried up everywhere.
Full text of this and other excellent articles by Aubie Baltin
---
Anybody who has borrowed to buy securities – a category that includes a lot of banks – has a problem.
Lenders want their money back, but selling assets is difficult, so there is a squeeze on cash.
That, in a nutshell, is what has been happening in the past couple of weeks and what may continue.
Financial Times editorial 18/8 2007
---
Prudent Bear's Doug Noland has for years been pointing out that one of the drivers of the credit bubble has been the ever-broadening definition of money.
As the global economy expanded without a hic-up, more and more instruments came to be used as a store of value or medium of exchange or even a standard against which to value other things—in other words, as money. Thus mortgage-backed bonds and even more exotic things came to be seen as nearly risk-free and infinitely liquid. In Noland's terms, credit gained "moneyness," which sent the effective global money supply through the roof. This in turn allowed the U.S. and its trading partners to keep adding jobs and appearing to grow, despite debt levels that were rising into the stratosphere. For a while there, borrowing actually made the world richer, because both the cash received and the debt created functioned as money.
John Rubino, Dollarcollapse.com 19/8 2007
---
Nobody quite knows exactly where the subprime losses truly lie
Nobody knows the real value of these instruments either
Gillian Tett, Financial Times August 23 2007 17:07
Common sense would suggest the best way to deal with these two problems would be to take two steps: namely inject more transparency into the system, by encouraging institutions to reveal their exposures – and then encourage financial institutions to create a proper market to trade the assets, and thus determine a price. That, after all, was how America's savings and loans mess was sorted out two decades ago.
Right now, it is probably relatively easy to guess at what a simple subprime loan might be worth.
However, working out the values for associated derivatives, or derivatives of derivatives, of these loans, is far harder. And when other assets have been chucked into the mix, to create the type of diversified asset pools that are now so widespread, the valuation task becomes truly nightmarish.
No wonder investment banks say it can take entire weekends for their computers to value instruments such as collateralised debt obligations.
*
During times of market turmoil it helps to simplify and get basic
– explain things to a public and even yourself in terms of what can be easily understood.
Goodness knows it's not a piece of cake for anyone over 40 these days to understand the maze of financial structures that now appear to be unwinding.
Bill Gross, September 2007
RE: Even more excellent than usual
---
Raised eyebrows
Last week, RBS, Royal Bank of Scotland, the British banking group, raised eyebrows
when it was widely reported that one of its highly respected credit analysts had predicted
that subprime losses could eventually rise to between $250bn and $500bn
– or twice previous estimates.
Gillian Tett, Financial Times, November 15 2007
For behind the scenes – and occasionally in public view – the credit analyst community remains distinctly divided about just how big the final hit might be, let alone what write-offs to expect from banks. Thus while some observers project a $100bn hit, others talk about $500bn.
Perhaps there are even bigger numbers in ultra-ultra private reports I have yet to see.
This feels wearily familiar. A decade ago, I covered the Japanese bank crisis and became embroiled in a bad-loan guessing game that continued for many years. The tally of Japanese bad loans was estimated to be about $100m at the start of the 1990s, but by 1999 had risen to 1,000 times that size. I am told that a similar game occurred during the Latin American debt crisis in the 1980s and the Savings and Loans crisis – or indeed in almost every other recent banking shock.
Worse still, the losses are emerging with unusual speed. That is partly because instruments such as collateralised debt obligations tend to have a shelf life of three years or so, which means that losses crystallise faster than on, say, a Japanese corporate loan.
But this mark-to-market process is not being applied in a uniform way: though parts of the financial world are using it, others are not. Thus, senior bankers currently find themselves in the worst of all worlds: investors have just enough knowledge about the losses to feel scared but not enough information to think the worst is past. In this situation, partial transparency can actually be worse than no transparency at all.
---
Financial companies' losses due to the US sub-prime crisis could be as much as $400bn
The estimate by Goldman's chief economist Jan Hatzius is higher than that of the Federal Reserve but in line with some recent independent forecasts.
Mr Hatzius predicts leveraged investors may have to reduce their lending by $2 trillion as a result.
"The macroeconomic consequences could be quite dramatic," Mr Hatzius said.
BBC 16/11 2007
---
If the Financial Times' Gillian Tett were hit by a bus, I'd be in a lot of trouble.
With all due respect to her colleagues, she is the best source of financial news.
naked capitalism blog, August 13, 2007

Today, in "Structured investment vehicles' role in crisis,"
Tett probes what went wrong in the credit markets last week.
As others have pointed out, the problem was that the commercial paper market, a short-term (typically under 90 day) market for corporate IOUs dried up.
As these IOUs mature, they are often rolled (i.e., paid out of the proceeds of new IOUs) rather than repaid.
Since commercial paper issuers are high quality creditors, this usually isn't a problem.
Comment by Rolf Englund:
I checked my own website for articles by her and this is what I found:

Why the yen borrowing game could end in players taking a tumble
Peter Garnham and Gillian Tett, Financial Times 15/2 2007

"I don't think there has ever been a time in history when such a large proportion of the riskiest credit assets have been owned by such financially weak institutions . . . with very limited capacity to withstand adverse credit events and market downturns."
Gillian Tett, FT 18/7 2007
"What is happening right now suggests that the moves by the Fed and ECB just haven't worked as we hoped,"
"The interbank lending business has broken down almost completely
Gillian Tett, Financial Times September 5 2007
It appears that the prospect of receiving new liquidity demands has prompted banks to rush to raise funds – and, above all, hoard any liquidity they hold. The high demand from banks to secure liquidity for the next three months, coupled with their desire not to lend out what liquidity they have, has made it virtually impossible to execute trades – even at the official prices quoted for such borrowing.
Yes, she is very good.
---
Next week, Bo Lundgren, the head of Sweden's debt office who played a central role in resolving his country's banking mess in the early 1990s, will embark on a striking mission.
Washington's Congressional Oversight Panel has summoned Mr Lundgren and others to explain how they fixed Sweden's banks – presumably to glean tips on what Washington should do next.
Gillian Tett, Financial Times March 12 2009
---
---
Floyd Norris posted a fabulous take down of the report from Goldman Sachs entitled "The Quant Liquidity Crunch."
The annotations are by a hedge fund manager who sent me a copy of the report to Norris.
The Goldman quotes from the report are in italics, while the fund manager's commentary is on regular type.
The Big Picture, August 18, 2007
---
The subprime-mortgage-market meltdown is a classic example of the way small fry get devoured,
but the whales of Wall Street get rescued.
Here's the deal:
Allan Sloan, Fortune senior editor-at-large, August 17 2007
---
The doubts burst into the open on August 9th when central banks were forced to inject
liquidity into the overnight money markets because banks were charging punitive rates to lend to each other.
The Economist print 16/8 2007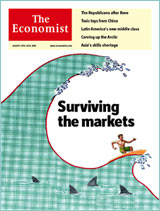 At first, the problems appeared more serious among European banks. The pain in America was concentrated in the largest hedge funds, including those run by Wall Street's biggest name, Goldman Sachs. Increasingly, however, analysts worry about the exposure of American, Canadian and Asian banks.
Collateralised-debt obligations (CDOs), made up of clumps of those securities and laced with leverage, have become almost impossible to trade. So none of the players really knows how much he has lost. While this uncertainty lasts, investors are taking it out on the banks that peddled the securities by dumping their shares; and the banks are taking it out on those they sold them to by demanding more collateral on their loans. The banks have even grown cagey about lending to each other.
5 ways to know if the bull is over
Before it keels over, a bull market typically leaves a few road signs.
Here's what to keep an eye on - from Money Magazine.
CNN 16/8 2007
---
Moodyå½s varnar nu för att oron på kreditmarknaden kan få en större hedgefond att gå omkull,
en utveckling som skulle skapa ytterligare oroligheter på världens finansmarknader.
Det skriver Dow Jones Newswires. Chris Mahoney, vice ordförande för Moodys, tror att risken för en kollaps av en större hedgefond kommer att finnas kvar under de kommande tre till sex månaderna.
2007-08-16: Nyhetsbyrån Six/DI
---
Fear makes a welcome return
This is not new. It is as old as financial capitalism itself.
The late Hyman Minsky, who taught at the University of California, Berkeley, laid down the canonical model.
Martin Wolf, Financial Times 15/8 2007
---
Central bank intervention last Friday to inject liquidity into the global financial system did not mark the beginning of the end of financial market turmoil.
It was merely the end of the beginning.
Liquidity injections will not deliver lengthy respite. The next phase of market volatility will be more vicious than before, led by downgraded ratings on credit instruments and followed by further dislocation in the credit markets that will spill over to equity markets.
Avinash Persaud, Financial Times 16/8 2007
---
No. 1 mortgage lender Countrywidetumbles as traders worry about financing
rumors that the mortgage lender was not able to raise money in the commercial paper market.
CNN 15/8 2007
---
A Temporary Power Outage
Wall Street remains caught in a tizzy over a power outage in the credit markets.
But Main Street is in fine economic shape, according to the latest reports out of Washington.
Lawrence Kudlow 15/8 2007
Subprime bailout? $120 billion
More than 1 million borrowers may be at risk of defaulting on their mortgages.
CNN 13/4 2007
---
Varför betalade ECB 1.800 miljarder kronor för att rädda euron?
Rolf Englund blog 15/8 2007
---
The euro slipped to a six-week low against the U.S. dollar on Wednesday and
high-yielding currencies stayed weak as investors continued to unwind risky positions
on concerns that fallout from the U.S. subprime problems is spreading to other countries.
CNBC/Reuters August 14, 2007
---
The banks are currently holding (roughly) $300 billion in collateralized debt obligations (CDOs) and
another $225 billion in collateralized loan obligations (CLOs)
Mike Whitney, Atlantic Free Press, 13 August 2007
---
Is the worst over?
10-point guide to understanding two harrowing weeks - and what's likely to happen next.
Fortune's Peter Gumbel, CNN August 14 2007
Why did America's subprime mortgage woes have such a big impact on world financial markets?
Because these mortgages were lumped together in packages and sold as asset-backed securities all over the world, particularly in Europe. Often the initial securities were themselves put into new packages, leveraged up and resold as so-called collateralized debt obligations (CDOs). They are a sort of derivative play on the underlying mortgages, just as futures and options are a play on stocks and commodities. Big banks have whole securitization departments who create these instruments. They do so to profit from the difference between the long-term returns these investment vehicles produce and their more plain vanilla short-term borrowing, and to earn fees.
Who bought them?
Everyone, and that's the problem. The CDO market has exploded in recent years: More than $100 billion worth of structured cash CDOs were issued in the fourth quarter of last year alone, according to CreditFlux Data+, a London firm that tracks them (and that doesn't include the even more arcane "synthetic" CDOs). Banks, institutional investors and hedge funds have been the main customers, but some retail investors have also bought into them through the asset-backed securities, or ABS, funds that some of the biggest European banks sell to the public. Everyone who bought these securities was given the same pitch, namely that they were a relatively safe bet, since much of the paper had AAA ratings, but offered higher returns than regular corporate bonds.
---
Japan's Finance Minister Koji Omi said the worst of the U.S. housing-loan crisis may be over
thanks to steps taken by the world's largest central banks.
Aug. 15 (Bloomberg)
Central banks injected $290 billion into money markets last week
as concern that U.S. subprime mortgage losses will curtail lending drove up short-term borrowing costs.
---
Q&A: World stock market falls
BBC 10/8
---
Five reasons why this is a crash, not a correction
Wolfgang Münchau blog 05.03.2007
This is a market crash, make no mistake.
There are those who talk about a technical correction, an intermezzo.
Don't believe a word.
......
So here are five reasons why this is a crash, not a correction. This does not mean that the price may not go up at some point this week. I am making no prediction about the timing, except to say that last week was the begin of a long bear market.
---
Long Term Capital Management
"The world does not understand how close we came to a total meltdown of the markets."
vice-chairman of one of the largest insurance firms in the world
cit. by John Mauldin 10/8 2007
It turns out that he was vice-chairman of one of the largest insurance firms in the world, and was a real financial insider, seemingly knowing every big name on Wall Street personally. After he had a few drinks (he was clearly somewhat stressed), he began to talk about the Long Term Capital Management fund and the problems in the markets. He had had a ring side seat at the Fed-sponsored bailout proceedings."We came to the edge of the abyss in the financial markets this week,' he told me, "and then we looked over. The world does not understand how close we came to a total meltdown of the markets."
Wednesday night's bailout of Long-Term Capital Management, a highflying hedge fund, has the smell of $3.5 billion worth of moral hazard.
Here we have the Federal Reserve Bank of New York parading all the big securities houses to pony up so that the fund's investors don't take a bath in 1998 after having earned 17.1% last year, 40.8% in 1996 and 42.8% in 1995.
Wall Street Journal 1998-09-25
---
It is very obvious to us that the most extreme credit boom in history is already in the process of unwinding, as investors are reassessing risk.
The only question is whether it will unwind orderly or not. We tend towards the latter interpretation
Eurointelligence, 1/8 2007
We tend towards the latter interpretation because of some of the extreme exposures that have been built-up; the overuse, and abuse, of some modern credit market instruments, such as CDOs, which are not fully understood by many investors; systemic flaws in the credit ratings for senior tranches of CDO debt; excessive optimism by investors about correlation risks; and deep flaws in some modern risk management methods, such as VaR, as they provide market participants with a false sense of security.
This is going to be an interesting summer.
Full text
---
Financial Times:
Stefan-Michael Stalmann, an investment banking analyst at Dresdner Kleinwort, coined the term "the great unwind" in a in a research note.
In February of 2007 he wrote a report examining the relationships between the investment banking industry and the hedge fund community in which he warned of the risk posed by leveraged hedge funds should positions unwind.
"The great unwind" has now become part of everyday market terminology to refer to the implosion of a number of leveraged funds triggered by exposure to the subprime mortgage market in the US. The report, written five months before the collapse of two Bear Stearns hedge funds, contains a frighteningly accurate picture of how things may, and some would argue, have turned out.
---
The Economist:The interbank lending market is an essential corner of the financial system that keeps cash flowing where it is most needed—from banks that have a glut of deposits, to banks that are temporarily short.
The price that banks charge is closely aligned with (if not always identical to) the interest rate set by the central bank, the ultimate font of cash.
Towards the end of last week the cost of interbank lending suddenly shot up. Rates for overnight borrowing spiked to nearly 6% in America, well above the Federal Reserve's target rate of 5.25%.
In the euro area rates rose to 4.7%, compared with the central bank's benchmark rate of 4%.
---
The European Central Bank on Monday injected another 47.67 billion euros ($65 billion) into the banking system
13 Aug 2007 08:06 AM ET
---
Speculation is mounting that the European Central Bank will seek to arrange a currency swap
with the US Federal Reserve that would allow it to lend dollars to
European banks struggling to meet short-term dollar funding needs.
Financial Times, August 13, 2007
---
From June 2006
ECB warns of hedge funds risk to stability
in the same category as a possible bird flu pandemic
Financial Times 2/6 2006
---
Fed joined ECB adding temporary cash to the banking system for a second day,
aiming to stem a collapse in credit markets.
Fed is providing reserves to "facilitate the orderly functioning" of markets,
in a statement unprecedented since the aftermath of the Sept. 11, 2001
Aug. 10 (Bloomberg)
---
ECB in effect assured European banks that they could borrow from it whatever they needed to address their short-term cash needs.
The Economist August 9, 2007
Immediately, the pressure on overnight interest rates eased, but not before stockmarkets once again started to dive, gripped by a resurgence of fears about the fallout from America's subprime-mortgage crisis.
The catalysts for the latest sell-off were just the sort of "Frankenstein-finance" vehicles that have come to haunt the markets lately. They are complex, held off the banks' balance sheets and pop up in surprising parts of the world—the most troublesome to date has been that of IKB Deutsche Industriebank, a small German lender which has required a messy bail-out by German banks.
The European Central Bank made a second move to boost liquidity in the financial market Friday, putting 61.05 billion ($83.6 billion) into the euro money markets,
having already injected 94.8 billion euros Thursday.
CNBC.com 10 Aug 2007 06:11 AM ET
Räntearbitrage förklarar kanske paniken
Rolf Englund blog, 10 augusti 2007
Skall 8/10 bli lika känt som 9/11 ?
Rolf Englund blog, 10 augusti 2007
---
The Hedge Fund Subprime Credit Crunch Explained
Nadeem Walayat 1/8 2007
---
"When the music stops, in terms of liquidity, things will get complicated. But as long as the music is playing, you've got to get up and dance. We're still dancing."
Citigroup chief executive Chuck Prince in July 9 interview in Tokyo with the Financial Times
cit. by John Makin, AEI, 26/7 2007, who writes that:
"the range of possible outcomes, both for the U.S. and global economies and for global financial markets, is wider than it has been for some time"
Makin writes:
Looking down at the world economy from 30,000 feet, the music is still playing, and investors--at least those outside the U.S. subprime mortgage sector and the housing industry--still feel a compelling need to get up and dance. Those who do not will underperform their competitors while the music is playing. Beyond that, at the center of the party, the U.S. stock market has, since 1982, always rewarded those who buy the dips associated with periodic crises like the 1987 stock-market crash, the 1990 Iraqi invasion of Kuwait, the 2000 bursting of the NASDAQ bubble, the 9/11 attacks on New York and Washington, D.C., and the 2005 Katrina shock.
To date, the subprime crisis has largely been confined to buyers who cannot even pay the teaser rates or who never even made the first payment on their undocumented mortgages. This has driven default rates on subprime mortgages to 8 or 9 percent, but that figure will rise rapidly as the subprime mortgages reset from the teaser rates to far higher market levels.
The key to the future direction of the world economy remains the U.S. economy and stock market. Most analysts are sanguine at present. Growth of demand for world goods is still driven largely by the U.S. consumer who, in turn, is driven by the path of wealth and income of U.S. households. The market capitalization of the U.S. stock market, at nearly $14 trillion, dwarfs that of China, which, even including Hong Kong, is about $2 trillion.
Continued support for U.S. consumption growth, the key to avoiding a U.S. recession in view of the persistent drag from housing, is questionable.
One thing is clear following the rapid flow of events over the past month tied to stresses in the U.S. housing and mortgage sector: the range of possible outcomes, both for the U.S. and global economies and for global financial markets, is wider than it has been for some time.
---
The recent sell-off in financial markets is good news.
It may, at last, have brought people to their senses.
The Economist 2/8 2007
---
Bear Stearns' sobering lessons
It raises questions about the exposure of market participants to risk, and the wisdom of aspects of the Basel II accords on bank capitalisation.
Sean Egan, Financial Times August 2 2007
The writer is a co-founder of the Alliance for Mortgage Securitization Reform and a managing director of the Egan-Jones Group
Investors in two hedge funds managed by US investment bank Bear Stearns were wiped out in June, which was surprising given that the securities in the funds were rated either AAA – the same level of safety as US Treasury bonds – or one notch lower at AA.
Within a couple of months, $1.5bn of capital was lost in only two funds.
One could argue that rating firms today are capable of assessing credit quality and halting the flow of garbage by withholding a rating. Unfortunately, in the ratings field, the tough rater is likely to be the underemployed rater. One of the major rating firms, Moody's, announced last week that it lost market share when it became less liberal than its competitors.
---
Next victims of the credit squeeze
Trouble in the credit markets threatens to push companies
already in poor health to the brink of bankruptcy.
Grace Wong, CNNMoney.com staff writer, August 3 2007
---
$43bn of deals pulled in a fortnight
Ambrose Evans-Pritchard:
Has Bear Stearns finally popped the great world bubble?
Tightening debt markets have forced some of the world's largest lending banks to pull $43bn worth of deals in the past fortnight
Daily Telegraph 3/8 2007
---
Some 46 financing deals representing $60 billion have been pulled from the market since June 22,
according to an analysis by Baring Asset Management.
By comparison, no deals were pulled in all of last year, according to the investment management firm.
CNN 3/8 2007
---
So the question is:
Are we in the midst of a credit crunch?
Jim Jubak, CNBC 3/8 2007
In the market for mortgage-backed bonds, leveraged-buyout loans and high-yield, or junk, bonds, yes, the crunch is upon us. The absolute paucity of buyers for those classes of assets -- what I described as a buyers strike in my July 31 column, "Stocks feel the pain of a buyers strike" -- has led lenders to cut way back on putting their capital at risk in leveraged loans or junk bonds. In these markets, not only have prices collapsed, but deals are being scrapped because of a lack of new credit.
But in the general economy where consumers live and spend, the credit crunch hasn't yet materialized. Banks are still lending, credit card issuers are still issuing, and mortgage lenders are still refinancing. Until a credit crunch hits the consumer, the damage will remain confined to the most leveraged sectors of the financial markets, and there the damage could be severe.
The junk-bond market - A massive re-pricing of risk was behind the huge swing in returns in the sector. What had been one of the narrowest risk premiums on record -- with the yield on junk bonds just 2.4 percentage points above the yield on safe Treasury bonds -- climbed to something like a more normal 4.1 percentage points. Fear usually doesn't stop at a "normal" spread, of course, and the market could see a 6-percentage-point risk premium if the pendulum keeps swinging. The average for the last decade is 5.4 percentage points, and the risk premium has been as high as 10.6 percentage points.
---
Bolåneföretaget American Home meddelar att det lägger ner det mesta av sin verksamhet redan i dag.
Företaget lånade förra året ut 59 miljarder dollar, närmare 400 miljarder kronor,
det mesta till personer med något bättre kreditvärdighet än de låneinstitut som drabbats tidigare.
DN/TT 3/8 2007
---
Some hedge funds that have suffered losses on investments are closing the gate on clients who want to pull money out,
a move that could further undermine confidence in already shaky financial markets.
Los Angeles Times 2/8 2007
---
KKR Financial, Kohlberg Kravis Roberts listed arm, said it had begun talks with creditors
after deferring payment of billions of dollars of debt for a second time.
It had borrowed money to invest in home loans
BBC 20/2 2008
KKR Financial had borrowed to invest in home loans - particularly the Alt-A category of loans that are riskier than mainstream borrowers, but safer than sub-prime loans, the Financial Times reported.
---
Det amerikanska riskkapitalbolaget, KKR, (Kohlberg Kravis Roberts & Company)
behöver låna 32 miljarder dollar för att finansiera en affär.
Banken Citibank ska ge krediten, men nu ryktas det om att den inte kommer att låna ut pengarna,
trots att banken då får böta 1 miljard dollar.
DN Ekonomi 1/8 2007
Top of page
---
German bail-out
Jochen Sanio, head of Germany's financial regulator, is said to have warned of the worst banking crisis since 1931
Financial Times 2/8 2007

German government rescue of a domestic lender that suffered heavy losses on subprime investments. The rescue of IKB, a specialist lender based in Düsseldorf, began on Sunday when Peer Steinbrück, German finance minister, called top banking executives to discuss a bail-out. According to people who took part in the conference call,

Jochen Sanio, head of Germany's financial regulator, is said to have warned of the worst banking crisis since 1931

.

KB surprised investors this week with a profits warning after a multi-billion euro fund it managed was hit by problems stemming from its US subprime exposure. The news sent its shares plunging and prompted KfW, the state-owned development bank, to step in with a pledge to guarantee obligations of more than €8bn ($10.9bn) – more than five times IKB's stock-market value.
---
The end of LBOs
Lex, Financial Times July 27 2007 13:44
Private Equity Intelligence provides an estimate for "dry powder" – committed equity as yet unspent – for buy-out funds. To this can be added the likely capital raised by private equity outfits on the road now to produce a total of $548bn. It is reasonable to assume that this money is spent on takeovers that are three-quarters debt-financed and occur at a one-third premium to the stock market price.
On this basis the total LBO takeover premium due to be paid to stock market investors is $506bn.
---
The end of the credit party
The once-endless stream of cheap credit is starting to dry up; buyouts, corporate deals take a hit.
CNN 27/7 2007
---
July 27 (Bloomberg) -- Deutsche Bank AG, JPMorgan Chase & Co. and six more banks delayed selling 1.75 billion pounds ($3.6 billion) of Alliance Boots Plc loans until next week, bankers involved in the deal said.
Read more here
The Wall Street Journal is reporting that the sale of $12 billion in debt related to the Cerberus Capital purchase of Chrysler Group from DaimlerChrysler (NYSE: DCX) has been postponed. Apparently the debt underwriters -- including J.P. Morgan Chase (NYSE: JPM), Citigroup (NYSE: C), Goldman Sachs Group (NYSE: GS), Bear Stearns (NYSE: BSC) and Morgan Stanley (NYSE: MS) -- have been unable to find buyers for the debt, which is part of a $20 billion loan package planned for Chrysler. The money will be used in Chrysler's production and finance operations.
Read more here
---
Wall Street's latest parlour game is to bet on who will be next to get caught in the storm. A fair few have placed their chips on the so-called monoline insurers
, an obscure but important bunch who guarantee the timely repayment of bond principal and interest when the issuer defaults.
The two largest monolines, MBIA and Ambac, both started out in the 1970s as insurers of municipal bonds. In recent years, much of their growth has come in structured products, such as asset-backed bonds and the now infamous collateralised debt obligations (CDOs). The total outstanding amount of paper insured by monolines reached $3.3 trillion last year.
---
A market correction is coming, this time for real
Today, hedge funds, private equity and those involved in credit derivatives play important, and as yet largely untested, roles. The primary worry of many who make or regulate the market is not inflation or growth or interest rates, but instead the coming adjustment and the possible destabilising effect these new players could have on the functioning of international markets as liquidity recedes.
William Rhodes, FT March 29 2007
---
A U.S. presidential panel said the current system of hedge-fund regulation is ``working well'' and market discipline remains the best way to protect investors and guard against risks to the financial system.
(Bloomberg) 22/2 2007
The panel, led by Treasury Secretary Henry Paulson and including his counterparts at the U.S. Federal Reserve, the Securities and Exchange Commission and the Commodity Futures Trading Commission, said in guidelines released today that the responsibility of maintaining discipline falls on hedge-fund managers, investors, creditors, trading partners and market regulators.
``Those who would believe that the role of regulators is to guard against any losses or somehow prevent losses or to prevent a hedge fund from having problems, they have a different philosophy about regulation than I do,'' Paulson said in an interview.
---
En hedgefond kan innebära att man placerar med större risk än vanliga fonder,
men det finns också de som har en minimerad risk.
Därför är det viktigt att undersöka vilken storts hedgefond det är man tänker placera i
Ragnhild Wiborg,intervjuad i DN Ekonomi 19/2 2007
Under de senaste åren har det funnits mycket pengar i omlopp på aktiemarknaden, delvis på grund av de låga räntorna. Ragnhild Wiborg är skeptiskt till Riksbankens besked häromdagen, att styrräntan (enligt prognosen) inte kommer att höjas till mer än 3,75 procent fram till 2010.Det är en farlig taktik för Riksbanken att ändra inriktning. Det är farligt att vara för släpphänt, även om de höjde räntan nu senast. Det finns en risk att man blåser upp ekonomin och får en fastighetsbubbla.
På 1990-talet fick vi betala dyrt för det i efterskott, säger Ragnhild Wiborg.
Hon ser även tendenser till att det kan bildas börsbubblor.
---
Hedge Funds: Origins and Evolution
John H. Makin, Monday, May 15, 2006
Everyone wants to invest in a hedge fund once they are convinced that the term is synonymous with 25 percent-plus annual returns. Regulators sometimes act as if they believe that any investment vehicle earning extraordinarily high returns must either be extraordinarily risky or crooked.
---
"Hedge funds now number 9,500 and are managing $1.3 trillion," Sonders says. "Their time horizons are often measured in minutes, not months, quarters or years like traditional institutions."
Charles Schwab's chief investment strategist Liz Ann Sonders,
San Francisco Business Time 15/6 2006
---
ECB warns of hedge funds risk to stability
in the same category as a possible bird flu pandemic
Financial Times 2/6 2006
---
Lastly, the global financial system, while fundamentally a source of strength, is also a source of weakness. The explosion of unregulated hedge funds and the widespread use of derivatives...
Perhaps that complacency is the greatest risk of all.
Kenneth Rogoff, Financial Times, January 2 2006
The writer is professor of economics at Harvard University and former chief economist at the International Monetary Fund
---
---