---
Home - Index - 1992 - EMU - Cataclysm - Huspriser
Dollarn - Stabiliserinspolitik - Doom - Finanskrisen 2007- - Factor price equalization - Contact
---
Marian Radetzki, unemployment and Stall Speed
---
Nobel Prize-winning economist Joseph Stiglitz
The U.S. economy must grow at least 3 percent to create enough jobs for new entrants into the labor force
CNBC 21 Dec 2009
---
Globaliseringen får mycket svårare konsekvenser än vad nästan alla ekonomer tror,
hävdar professorerna Mats Persson och Marian Radetzki
Johan Schück, DN 8/1 2006 med bra länkar
---
Ur Marian Radetzkis bok "Klarspråk om arbetslöshet" (SNS Förlag, 1996) sid 34 ff och 81 ff, utdrag.
Ett enkel, mekaniskt, men ändå lärorikt sätt att spalta upp arbetslöshetproblemet bygger på följande samband:
Tillväxt i BNP minus ökning i produktivitet minus ökning i arbetsstyrkan = förändring i arbetslösheten.
Om BNP stiger med 3,2 procent och produktiviteten samtidigt ökar med 2,2 procent och antalet personer i arbetskraften ökar med 0,5 procent minskar arbetslösheten med 0,5 procentenheter.
"Sambandet är just ett samband. Så måste det helt enkelt vara."
---
Globaliseringen har oåterkalleligen krympt världen och vid fronten konfronteras man med den rent fysiskt,
en front som går genom förorten eller på landsbygden, inte i storstaden.
Skulle invandrarna vara lika fysiskt påtagliga och närvarande i Stockholm som ute i landet hade SD förmodligen redan varit Sveriges största parti.
Richard Swartz, Kolumn DN 8 oktober 2016
---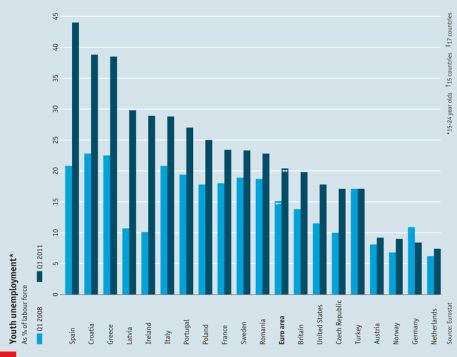 July 5th 2011, 14:07 by The Economist online
---
---
zc
Full-Time Jobs Tumble By 367,000, Biggest Drop In Three Years
Tyler Durden, zerohedge 2 June 2017
While on the surface, the payrolls report, the wage growth and the unemployment rate (which dropped for all the wrong reasons) were disappointing,
a quick look inside the underlying data reveals even more troubling trends, such as that in addition to the number of employed workers dropping by 233K according to the household survey,
the composition of these jobs raised even more red flags because in May the US lost 367,000 full time jobs offset by the gain of 133,000 part time jobs.
---
Although lots of jobs were created in the impressive recovery from the dark days of the global financial crisis,
other elements of the labor market did not respond as would be expected based on historical experience.

Mohamed A. El-Erian, Bloomberg 4 January 2017
Wage growth has remained rather anemic, even in the context of indicators of labor shortages.
In addition, the labor participation rate, at 62.7 percent in November 2016, has failed to bounce back from multidecade lows,
while the employment-to-population rate seems stuck at a rather low level of 59.7 percent.
We are starting only slowly to comprehend the extent to which the nature of work is in the process of changing, particularly as innovations enable new ways of doing things while outmoding others, sometimes quite abruptly.
---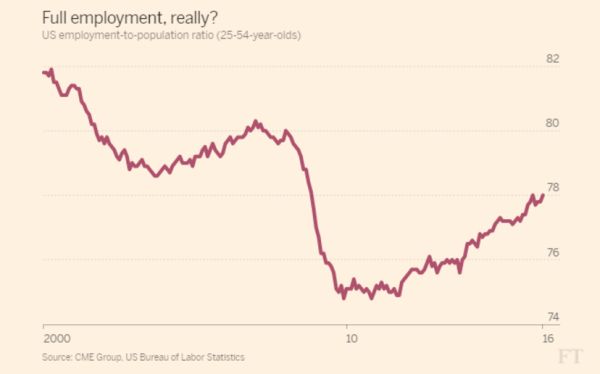 Even if unemployment — the share of workers who say they want a job but can't find one — is low,
the share of the prime-age (25-54-year-old) population in work is only 78 per cent.
That is two percentage points below the 2007 rate, and four percentage points
— some 5m missing jobs — below the 2000 peak.
Martin Sandbu 8 August 2016
---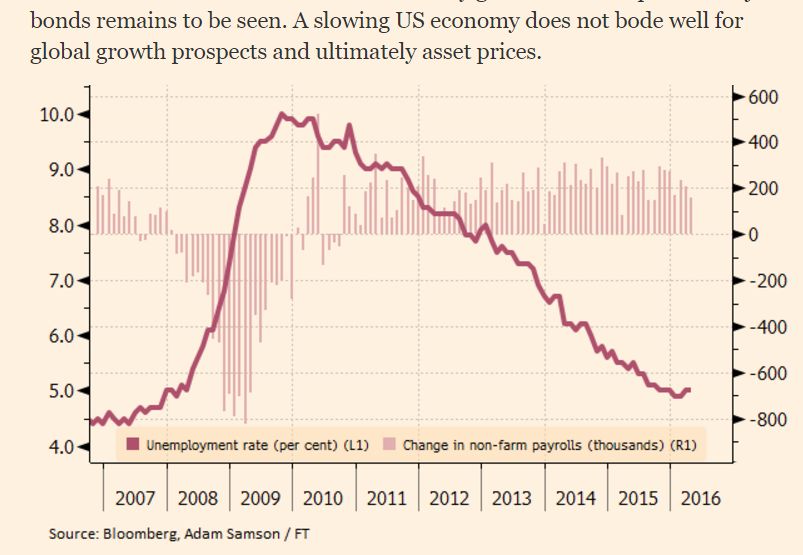 ---
It is the paricipation rate, Stupid
Rolf Englund blog 2016-02-06
---
According to the BLS, the US economy generated a miniscule 11,000 jobs in the month of December.
Yet notwithstanding the fact that almost nobody works outside any more,
the BLS fiction writers added 281,000 to their headline number to cover the "seasonal adjustment."
This is done on the apparent truism that December is generally colder than November
David Stockman, January 9, 2016
US Employment figures no Big Deal
Rolf Englund blog 2016-01-08
---
FT Jan 8, 2016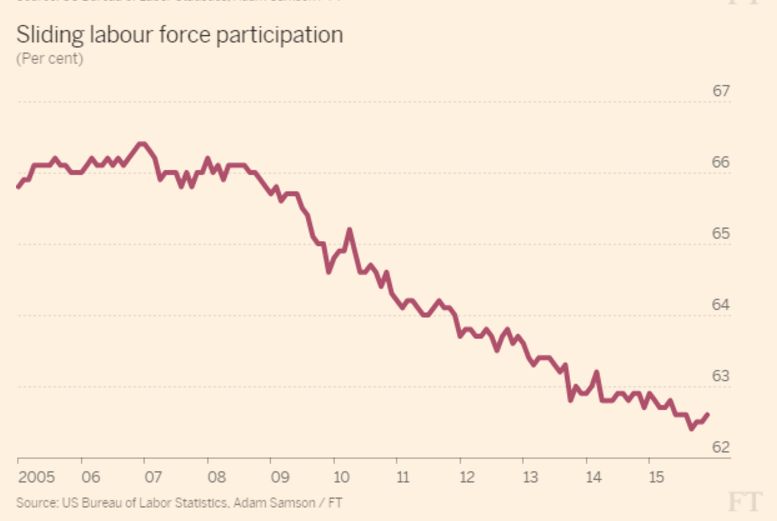 That said, economists focus equally on other, broader measures of slack in the labour force.
The participation rate, which has been driven lower by forces such as an ageing population, ticked up to 62.6 per cent from 62.5 per cent, as people were pulled off the sidelines and back into the labour force.
The U-6 measure of unemployment — which includes individuals marginally attached to the labour force and those working part time because they cannot find a full-time post — was unchanged at 9.9 per cent, compared with 11.2 per cent a year earlier.
---
Two up-to-date pictures of US labor market slack
September 1st, 2015 by JB and Ben Spielberg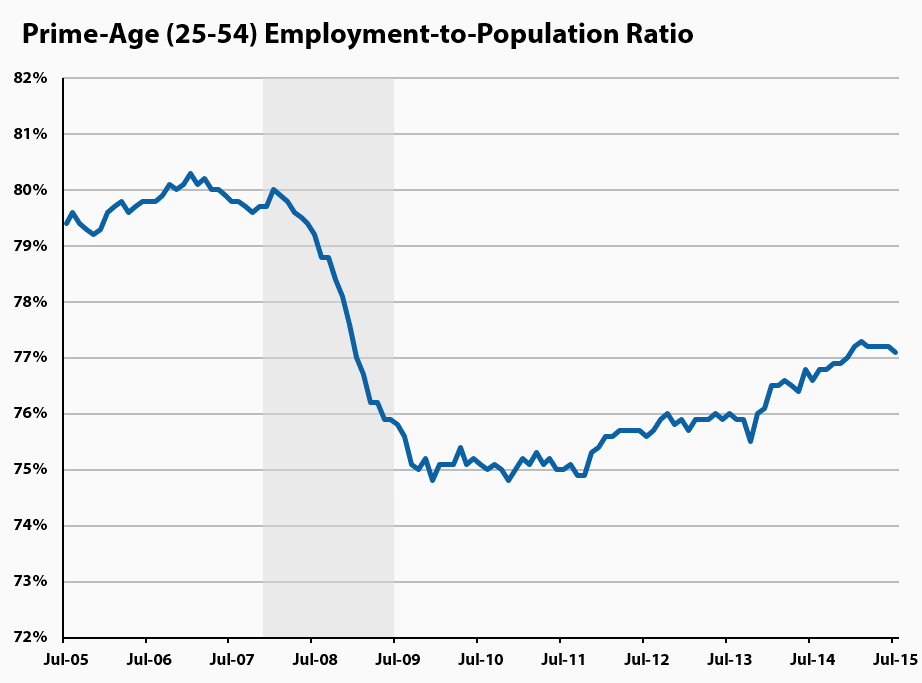 ---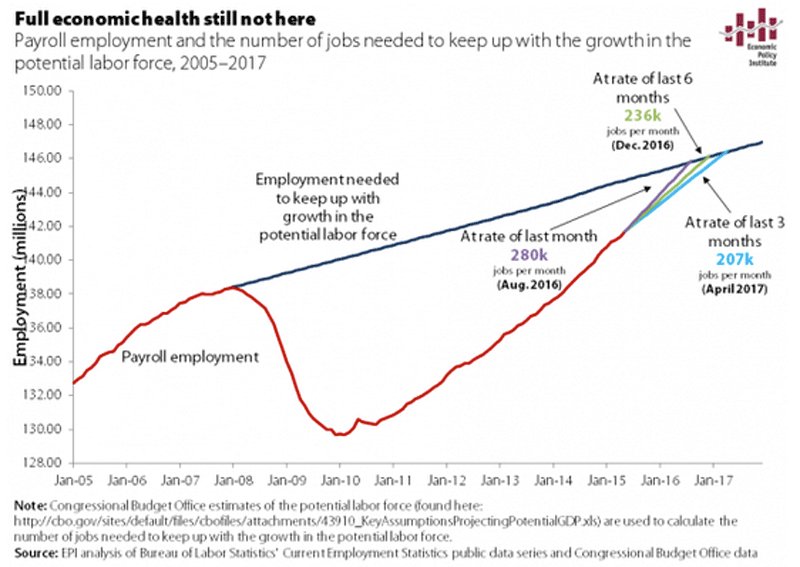 Wage growth is nowhere near strong enough to call for rate hikes
EPI's Working Economics Blog
ELISE GOULD, EPI'S WORKING ECONOMICS BLOG JUN. 6, 2015
Furthermore, it's important to remember that the 2007 labor market is still a low bar and that recovery is not just about jobs.
Nominal wage growth continues to be far below target. Yes, 2.3 percent wage growth is an improvement, but it's nowhere near strong enough to call for rate hikes.
The Fed should not feel comfortable raising rates in September—in fact, they shouldn't even begin to think about having a conversation about raising rates until 2016. Read more: http://uk.businessinsider.com/wage-growth-is-nowhere-near-strong-enough-to-call-for-rate-hikes-2015-6?r=US#ixzz3cHMYjHxZ
---
US hiring slows, adding 126,000 jobs in March
BBC 3 April 2015
Additionally, the job statistics for January and February were revised down by a combined 69,000 jobs.
Many Americans are out of the labour force, due in part to the large number of so-called "baby boomers" who are reaching retirement age.
In March, only 62.7% of Americans were working or looking for work - a figured tied with the lowest rate since 1978.
Cheaper gasoline and past job growth have not yet boosted consumer spending, and modest wage gains have burdened the US economy since the Great Recession ended nearly six years ago.
Factor-price equalization - Faktorprisutjämning - Globalisation
---
US Unemployment falls below 6% for first time since 2008
MarketWatch Oct 3, 2014

---
One of the United States' defining – and disheartening – economic trends over the last 40 years has been
real-wage stagnation for most workers.
Median full-time male worker earned $50,033 in 2013,
barely distinguishable from the comparable (inflation-adjusted) figure of $49,678 in 1973.
Laura Tyson, Project Syndicate, 26 September 2014
---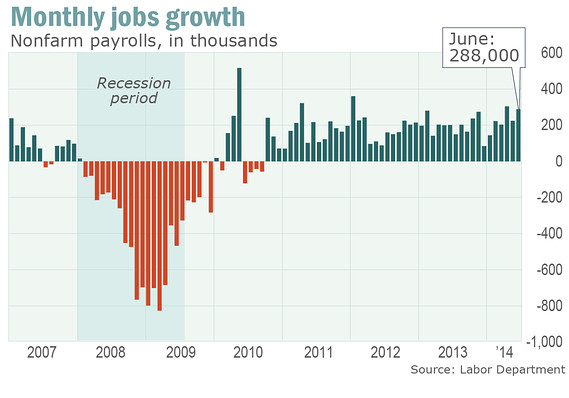 ---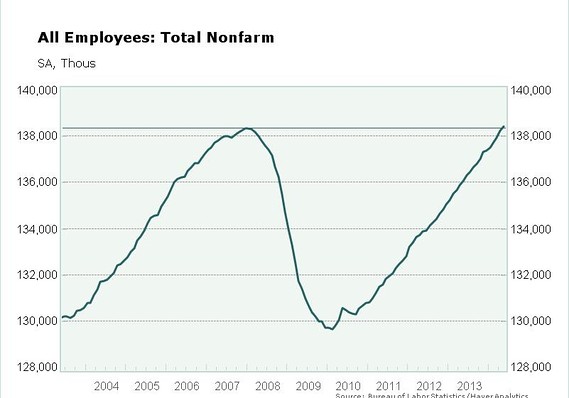 The 1980 recession took 44 months from the peak to recover; this one took 77 months.
Of course, the population is now bigger than it was before the recession,
so the state of the jobs market isn't as healthy as it was before the recession.

Plus, there are the people who have given up looking for work altogether or are just periodically doing so.
blogs.marketwatch.com 6 June 2014
Nobel Prize-winning economist Joseph Stiglitz
The U.S. economy must grow at least 3 percent to create enough jobs for new entrants into the labor force
CNBC 21 Dec 2009
---
---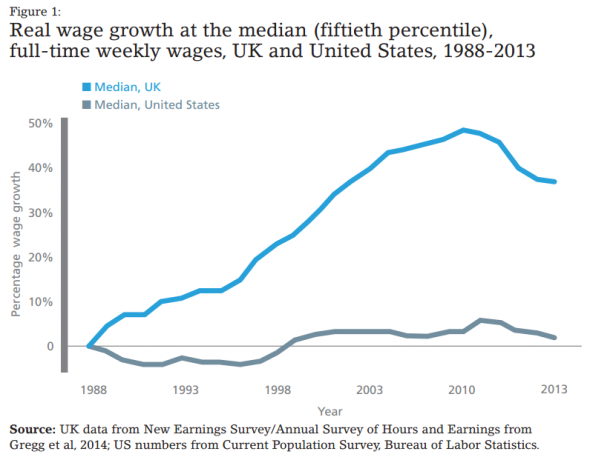 US vs UK median real wage growth since 1988
FT Alphavillle, 29 April 2014
---
Yellen said recovery still feels like a recession to many Americans,
which is why the central bank will keep its "extraordinary" support for the economy for "some time to come."
MarketWatch, 31 March 2014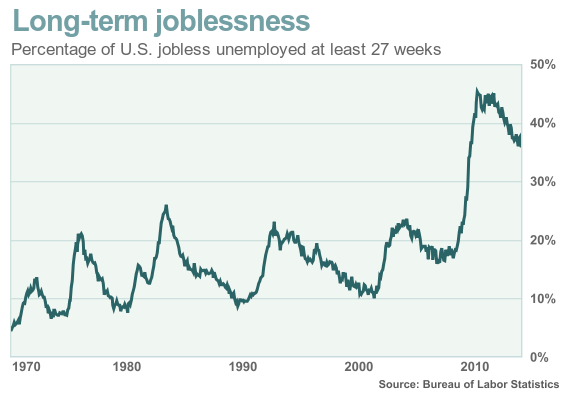 Yellen also provided evidence why there's still slack in the jobs market, and weighed in on the hot issue of why the participation rate is so low.
The speech may come as a bit newsier than the market expected.
Yellen expanded on the reasons she believes there are significant more people willing and capable to filling a job than there are jobs for them.
---
I'll eat my hat. The St Louis Federal Reserve – the last bastion of monetary orthodoxy in the Fed family –
has just published a paper that basically deems quantitative easing to be useless.
John Maynard Keynes was right all along.
The working paper by Yi Wen and Jing Wu cites China as the world's resounding success story post-Lehman
Ambrose Evans-Pritchard, March 28th, 2014
---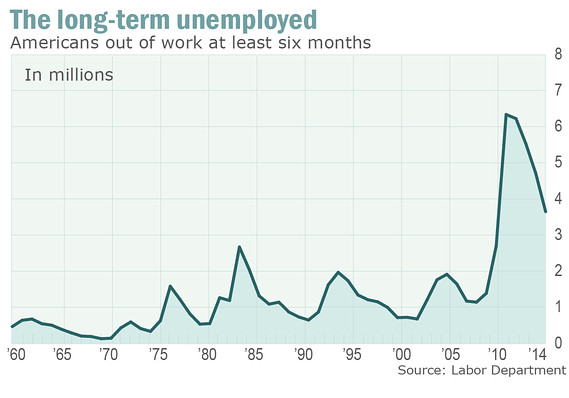 Some 3.65 million people /in the US/ have gone more than six months without a job.
While their ranks have thinned 53% from a record 6.77 million in 2010,
the number of long-term unemployed is still sharply higher compared to any time before the 2007-2009 recession (chart)
MarketWatch 11 February 2014
For all the talk of an improving U.S. labor market, millions of Americans still cannot find a decent full-time job.
What is the "stall speed" of an economy?
Unemployment tends to rise when GDP growth falls below about 2.5-3 per cent
Gavyn Davies blog June 15, 2011
---
Some 4.1 million Americans have been out of work for six months or longer
More than a million Americans will lose their unemployment benefits after an emergency federal programme expired on Saturday.
BBC, 30 December 2013
Former President George W Bush introduced the assistance plan in 2008 at the start of the recession.
Under the programme, jobless people received an average monthly stipend of $1,166 for up to 73 weeks.
The White House says the benefits have kept millions of families out of poverty, but many Republicans argue that the scheme's annual $25bn price tag is too expensive.
---
The participation rate, which indicates the share of working-age people in the labor force, increased to 63 percent in November.
A month earlier it fell to 62.8 percent, the lowest level since March 1978.
Bloomberg 6 December 2013
---
The percentage of the population in the US labour force fell to its lowest level since August 1978, at 63.2 per cent.
The lower number of Americans looking for work drove the unemployment rate down from 7.4 per cent to 7.3 per cent.
That leaves the Fed with a conundrum: unemployment is closer to its goal of a "substantial improvement in the labour market"
but for the negative reason that fewer people are seeking jobs.
Financial Times, September 6, 2013
Nice graph
An important graph is the employment-population ratio for the key working age group: 25 to 54 years old.
In the earlier period the employment-population ratio for this group was trending up as women joined the labor force.
The ratio has been mostly moving sideways since the early '90s, with ups and downs related to the business cycle.
The participation rate for this group declined to 81.0% in August.
The decline in the participation rate for this age group is probably mostly due to economic weakness
(as opposed to demographics) and this suggests the labor market is still very weak.
http://www.calculatedriskblog.com/2013/09/employment-report-comments-more-graphs.html#h1Efvd2hhYICfiJS.99
---
Yes, the unemployment rate has fallen.
But almost the entire reason it has fallen is the drop in the number of people in the labor force.
The share of adult Americans with jobs is essentially unchanged over the last three years.
David Leonhardt, New York Times, August 27, 2013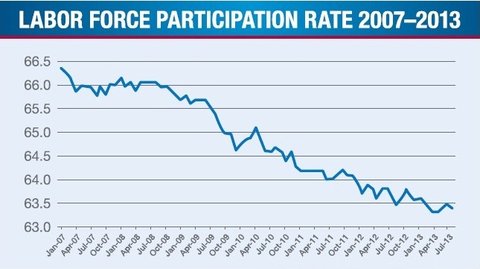 ---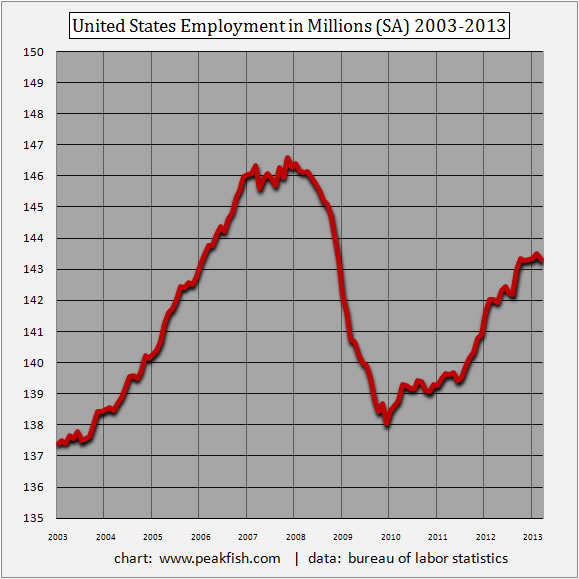 In previous postwar recoveries, the number of jobs was about 7 percent above its previous peak by this point, on average.

In other words, if this had been a typical recession and recovery, the U.S. economy would now have roughly 10 million more jobs than it did at the previous peak.

In fact, there are now three million fewer jobs.
The U.S. stock market rally has recently passed its fourth anniversary after the terrifying lows of March 9, 2009.

During that time, massive and unconventional reflationary policy from the Federal Reserve has managed to lift the S&P 500 by nearly 70%.

But perhaps even more improbably, it has finally (?) built a floor under U.S. residential real estate prices.
Gregor Macdonald, May 6, 2013, via Peak Prosperity
---
This is a bad employment report.
Twenty years from now, young whippersnapper economic historians will come to interview me.
They will ask: "Why don't you think Ben Bernanke was the worst Fed Chair since the Great Depression..?
What answer am I going to be able to give?
Brad deLong 5 April 2013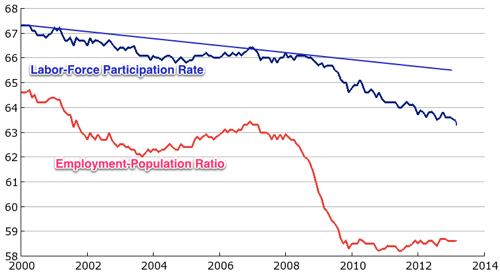 ---
88 000 nya jobb skapades i mars i USA
USA behöver över 200 000 nya jobb varje månad bara för att hålla jämna steg med befolkningsutvecklingen
Av befolkningen ingår nu bara 63,3 procent i arbetskraften. Den sämsta siffran sedan 1979
DANIEL KEDERSTEDT, SvD 5 april 2013
Närmare en halv miljon människor har övergett arbetskraften och därmed exkluderas ur beräkningarna.
Av befolkningen ingår nu bara 63,3 procent i arbetskraften. Det är ned från 63,5 procent en månad tidigare – och den sämsta siffran sedan 1979.
---
Nobel Prize-winning economist Joseph Stiglitz
The U.S. economy must grow at least 3 percent to create enough jobs for new entrants into the labor force
CNBC 21 Dec 2009
---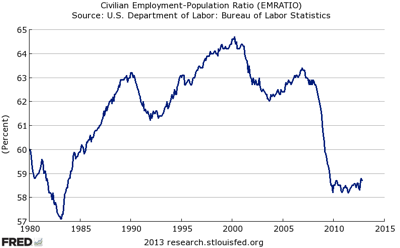 US Employment and unemployment
Panel Moderator: J. BRADFORD DELONG (University of California-Berkeley)
Panelists: CARLO COTTARELLI (International Monetary Fund), PAUL KRUGMAN (Princeton University), VALERIE A. RAMEY (University of California-San Diego), HARALD UHLIG (University of Chicago)
6 January 2012
---
While a majority of jobs lost during the downturn were in the middle range of wages, a majority of those added during the recovery have been low paying, according to a new report from the National Employment Law Project.
The disappearance of midwage, midskill jobs is part of a longer-term trend that some refer to as a hollowing out of the work force, though it has probably been accelerated by government layoffs.
"The overarching message here is we don't just have a jobs deficit; we have a 'good jobs' deficit," said Annette Bernhardt, the report's author and a policy co-director at the National Employment Law Project, a liberal research and advocacy group.
CNBC/New York Times, 31 augusti 2012
---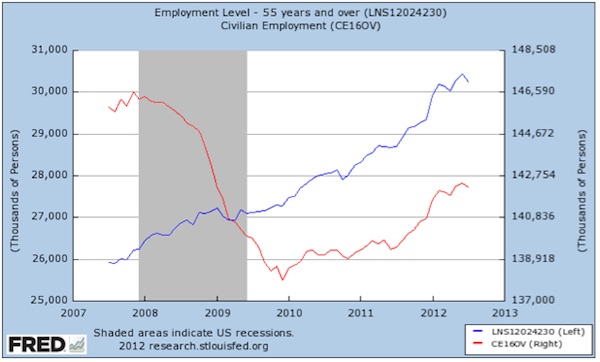 Note that the number of employed 55 and over has risen more or less steadily since before the beginning of the Great Recession, growing by over 4 million,
while the number of jobs for all workers has dropped by 8 million and is still down by over 4 million.
"About 1.5 million, or 53.6 percent, of bachelor's degree-holders under the age of 25 last year were jobless or underemployed, the highest share in at least 11 years. In 2000, the share was at a low of 41 percent, before the dot-com bust erased job gains for college graduates in the telecommunications and IT fields.
"Broken down by occupation, young college graduates were heavily represented in jobs that require a high school diploma or less.
"In the last year, they were more likely to be employed as waiters, waitresses, bartenders and food-service helpers than as engineers, physicists, chemists and mathematicians combined (100,000 versus 90,000). There were more working in office-related jobs such as receptionist or payroll clerk than in all computer professional jobs (163,000 versus 100,000). More also were employed as cashiers, retail clerks and customer representatives than engineers (125,000 versus 80,000).
---
May's payrolls number is… oh dear. +69,000
Consensus had been 150k.
A big revision downward in April's figure of 115,000 too
Alphaville Posted by Joseph Cotterill on Jun 01 13:35.
---
Ett av problement med den amerikanska ekonomin är att huspriserna inte vänder uppåt förrän köparna känner att arbetsmarknaden har förbättrats,
samtidigt som arbetsmarknaden inte vänder uppåt förrän huspriserna stiger igen så att amerikanarna kan fortsätta att, likt svenskarna,
köpa för de pengar de lånar på huset
Rolf Englund 3 juni 2011
Jag tycker det är skriande uppenbart att räntan världen över är för låg
och att en större del av stimulanserna borde ske via finanspolitiken.
Rolf Englund 6 december 2009
---
Minus 5.000 är inte så mycket att göra en rubrik på, väl?
Rolf Englund blog 23 mars 2012
---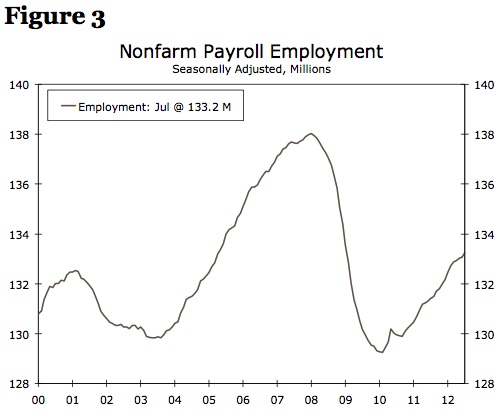 The U.S. economy lost 8.8 million jobs in the recession but has only recouped roughly 3.8 million of those lost jobs.
That leaves an "employment deficit" of roughly five million jobs.
---
The Not-So-Simple Arithmetic of Fiscal Policy in a Depressed Economy
Det här verkar enkelt, men vänta bara till jag har förklarat det
Brad DeLong 14 March 2012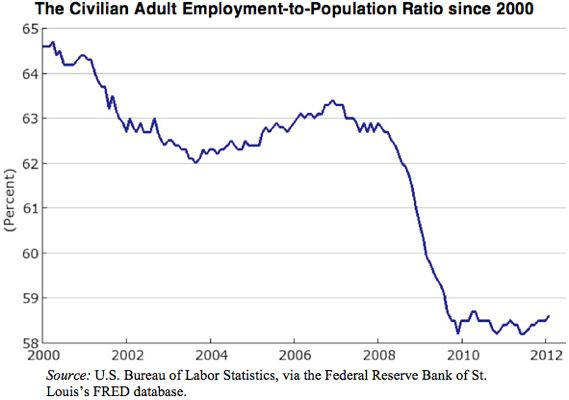 ---
While whites have experienced periods of high unemployment during the 1970s, early 1980s, and in the past few years,
their highest rates are in the range of the lowest unemployment rates for African Americans in the last 50 years.
Algernon Austin, Economic Policy Institute, February 22, 2012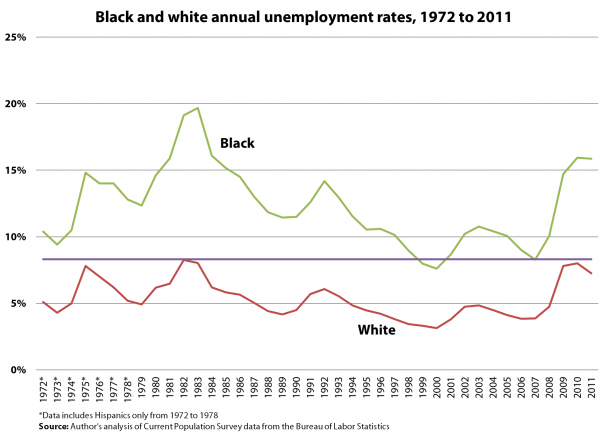 Thus, for African Americans, the last 50 years have been marked by extremely high unemployment occasionally interrupted by periods of merely high unemployment. At no point can we say that blacks have experienced a low unemployment rate.
African Americans will not be able to conquer poverty or the many problems that stem from poverty while experiencing high unemployment.
It takes about 125,000 new jobs just to keep up with population growth each month.
That means we created roughly 120,000 jobs that helped bring down the unemployment number.
The US economy has created almost 3 million jobs in the last two years.
That means we only need another 7 million to get back to where we were in 2007
John Mauldin, 4 Februay 2012
Look at the graph of the total numbers of jobs in the country, as of last month. (From the St. Louis Fed FRED database)
Chart here
---
US Unemployment
The participation rate declined to 63.7% and the employment population ratio was unchanged in January at 58.5%.
There are a total of 12.8 million Americans unemployed and 5.5 million have been unemployed for more than 6 months.
CalulatedRisk 3 February 2012
Full text with excellent graphs
---
Nästan en fjärdedel av svenska ungdomar under 25 år saknar arbete.
Det är en siffra som placerar Sverige i botten bland länderna i EU, enligt Eurostat.
Problemet delar Sverige med större delen av västvärlden.
Hög arbetslöshet tycks ha blivit ett kroniskt tillstånd, och det gäller inte bara bland unga.
Andreas Cervenka, SvD Näringsliv 9 okt 2011
Undersökningsföretaget Gallups ordförande Jim Clifton menar i en aktuell bok The coming jobs war att fler arbetstillfällen är en av mänsklighetens absolut viktigaste framtidsfrågor med kraft att lösa de flesta av våra problem.

Om världen lyckas trolla fram fler bra jobb väntar fred, välstånd och harmoni, om det misslyckas hotar kaos och revolutioner, upplopp och misär, enligt Jim Clifton.
Faktorprisutjämning, eller Globaliseringm med ett gladare ord
---
US jobless rate stuck around 9 percent or higher since April 2009.
People who've been out of work more than half a year largest since the Great Depression.
Ronald Reagan is the only U.S. president since World War II to win re-election with a jobless rate above 6 percent
Bloomberg 7 september 2011
The first sustained decline on record of the labor force,
which fell to 139.6 million last month from about 145 million in August 2008,
reflecting a larger number of people who have given up on looking for work.
I sådana svåra tider måse väl också staten spara (OBS Ironi)
---
---
America added 44 million jobs in the 1980s and '90s,
when both parties showed they had learned from past mistakes.
The lessons have been forgotten.
John B. Taylor, WSJ 21 July 2011
This month marks the two-year anniversary of the official start of the recovery from the 2007-09 recession.
But it's a recovery in name only: Real gross domestic product growth has averaged only 2.8% per year compared with 7.1% after the most recent deep recession in 1981-82.
The percentage of the working-age population that is actually working has declined since the start of the recovery in sharp contrast to 1983-84.
With unemployment still over 9%, there is an urgent need to change course.
Mr. Taylor, a professor of economics at Stanford and a senior fellow at the Hoover Institution, is the author of "Getting Off Track: How Government Actions and Interventions Caused, Prolonged and Worsened the Financial Crisis" (Hoover Press, 2009).
---
The US March employment report was below expectations
with only 120,000 payroll jobs added.
CalculatedRisk on 4/07/2012
The Labor Force Participation Rate decreased to 63.8% in March (blue line).
This is the percentage of the working age population in the labor force.

The participation rate is well below the 66% to 67% rate that was normal over the last 20 years, although most of the decline is due to demographics.
The economy will need to add 200 thousand jobs per month to hold the unemployment rate steady.
Det är finanspolitiken, inte räntan, stupid
Rolf Englund blog 9 april 2012
---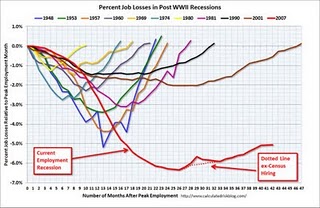 The employment population ratio fell to 58.2%, matching the lowest level during the current employment recession.
U-6, an alternate measure of labor underutilization that includes part time workers
and marginally attached workers, increased to 16.2%, the highest level this year.
CalculatedRisk 8 July 2011
---
Specter of Years of Stagnating Wages Haunts the Globe
Median male real US earnings have not risen since 1975
Average real Japanese household incomes after taxation fell in the decade to mid-2000s
And those in Germany have been falling in the past 10 years.
Chris Giles, Financial Times, 28 Jun 2011, via CNBC
---
A widely forecast year of US take-off is once again in danger of faltering before it happens.
US job creation since November has averaged 116,000 a month
– well below escape velocity
Edward Luce, FT 9 February 2014
---
Developed world cannot thrive at 'stall speed'
Bill Gross, FT July 20, 2011
Debt is the disease – growth is the cure, but as the latter falters, economies and their associated financial markets hang in the balance.
Like a black hole, 25 basis point interest rates suck 2- and 5-year rates down with them, producing shockingly low returns that cannot possibly cope with the higher inflation they produce.
---
The End of the World, Part 1
Rich Yamarone (Bloomberg Chief Economist) points out, when GDP year-over-year drops by more than 2%, we have always had a recession.
Last week I finally stopped being wishy-washy (with my 50-50% chance of a recession call) and said
the US would be in recession within 12 months
John Mauldin 27 August 2011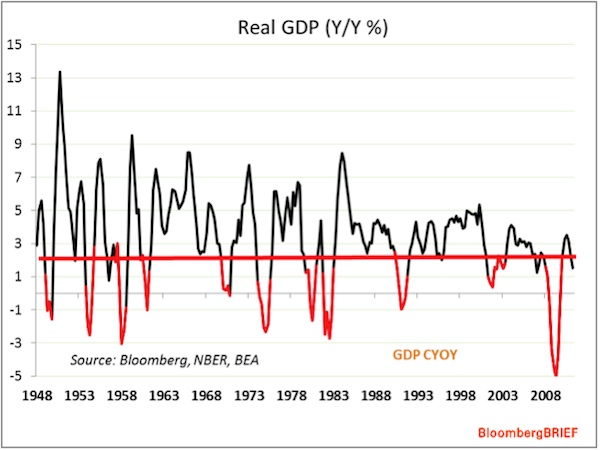 Top of page
---
Good, bad really, charts showing US Employment and Unemployment
John Mauldin 9 July 2011
Let's look at a few charts from David Rosenberg.
First is the average duration of unemployment, which has risen to an all-time high.
Even worse, 44% of those unemployed have been so for at least six months, again close to an all-time high.
Just one more chart, which shows how bad things really are.
When Greece defaults there will be a domino effect; you can count on it. And you could actually see a banking crisis before we get actual sovereign defaults.
Gentle reader, you need to understand that the market does not get it. Neither in Europe nor in the US. When someone says the market has already priced in a default, go back and ask them how well the market priced in a crisis in the spring of 2008.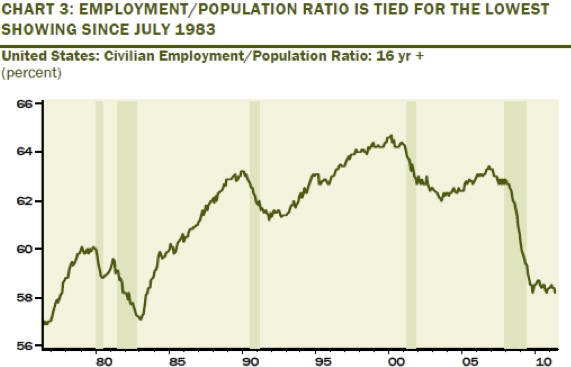 Click here for full article with all the horrible charts
---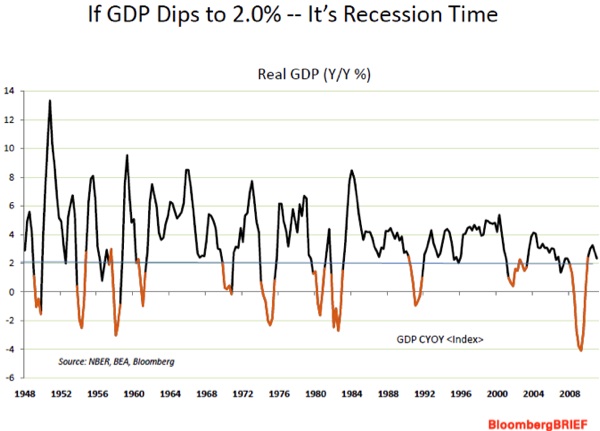 Stall speed
Richard Yamarone notes that if year-over-year GDP growth dips below 2%, a recession always follows.
John Mauldin 2 July 2011

The problem with a slow-growth economy that is basically at stall speed is, if there is any type of "exogenous" shock, the economy can easily tip over into recession. There are several potential sources of a shock coming from the outside the US.

The first is from Europe. And it is not just Greece. After Greece is dealt with, the Eurozone must deal with Ireland and Portugal.

And as I noted last week, when Greece defaults, and they will at some point, the contagion to other countries will be quick and severe. And Spain will be included. The Italian bank index has been in free fall of late.

Money is flying out of Greek banks. Indeed, deposits in all the peripheral countries are falling.

It is quite possible we get a credit or banking crisis in Europe before we get a sovereign default crisis.

And quoting Bridgewater (one of the more brilliant sources of information in the world):


"While the focus is for the moment on the question of bridging Greece's immediate funding need, it's important not to lose sight of the bigger picture, which is that indebtedness is not the periphery's only problem, and is in many way only a symptom of the structural imbalances (extremely negative current account and budget deficit) that plague it. No amount of funding will change the fact that the periphery continues to be extremely uncompetitive; that in order to become competitive, it needs to become much cheaper; and that as long as it continues to be a member of the euro, the only way to achieve this is through sustained wage cuts and deflation that would need to be dramatically more extreme than the adjustments they've experienced thus far."
---
Harvard economist Larry Summers created a stir earlier this month when he suggested that
the world economy may be entering a period of "secular stagnation,"
where aggregate demand fails to recover and sustain growth on anything like the pre-crisis trajectory.
Darrell Delamaide, MarketWatch, 20 November 2013
---
Bill Gross, manager of the world's largest bond fund for Pimco, has admitted that
it was a mistake to bet so heavily against the price of US government debt.
CNBC 30 August 2011
Mr Gross emptied his $244 billion Total Return Fund of US government-related securities earlier this year in a high-profile call that has backfired as the bond market has rallied. As of Monday, Pimco's flagship fund ranked 501th out of 589 bond funds in its category.
"Do I wish I had more Treasurys? Yeah, that's pretty obvious," Mr Gross told the Financial Times last week, adding:
"I get that it was my/our mistake in thinking that the US economy can chug along at 2 percent real growth rates. It doesn't look like it can."
---
Bill Gross: Can capitalism function efficiently at the zero bound? No.
The reason nominal growth is critical is that it allows a country, company or individual to service their debts with increasing income, allocating a portion to interest expense and another portion to theoretical or practical principal repayment via a sinking fund.
Without the latter, a credit-based economy ultimately devolves into Ponzi finance, and at some point implodes.
Watch nominal GDP growth. In the U.S. 4-% is necessary, in Euroland 3-4%, in Japan 2-3%.
Bill Gross, Janus 3 August 2016
---
The Stall-Speed Syndrome
Collectively, the annual growth rate in the major developed economies averaged a little less than 0.7% in the first half of 2014.
Stephen S. Roach, Project Syndicate, 27 August 2014
The world's major developed economies are not suffering from cyclical deficiencies in aggregate demand that are amenable to a monetary cure. As the Bank for International Settlements correctly points out, they are still struggling in the aftermath of wrenching balance-sheet recessions.
Europe faces a desperate need to build pan-European institutions to ensure banking and fiscal union, and to address serious competitiveness problems in France and Italy.
The fixation on monetary accommodation leaves slow-growth, balance-sheet-constrained economies stuck at stall speed, increasing the risk of yet another global growth relapse.
Jag tycker det är skriande uppenbart att räntan världen över är för låg och att en större del av stimulanserna borde ske via finanspolitiken.
Rolf Englund, senast 28 augusti 2014
---
What is the "stall speed" of an economy?
Unemployment tends to rise when GDP growth falls below about 2.5-3 per cent
Gavyn Davies blog June 15, 2011
The stall speed is the critical growth rate below which an economic upswing turns first into a period of much slower growth, and then shortly afterwards into a recession.
In the US, unemployment tends to rise when GDP growth falls below about 2.5-3 per cent (under Okun's Law, explained in this blog).
The Fed study suggests that the stall speed for US output growth might be around 2 per cent
Fed's Jeremy Nalewaik has recently published a detailed paperon the topic.
Okun's Law Wikipedia
RE: Detta förefaller mig vara en omformulering av Marian Radetzkis enkla men viktiga påpekande:
Tillväxt i BNP minus ökning i produktivitet minus ökning i arbetsstyrkan = förändring i arbetslösheten.
Marian Radetzkis bok "Klarspråk om arbetslöshet", 1996
Much like Joseph Stiglitz
The U.S. economy must grow at least 3 percent to create enough jobs for new entrants into the labor force
Dec 2009
RE: And when unemployment rises everybody becomes more pessimistic and therefore spends less, voila!
More about Stall Speed/Esacape Velocity
---
Something has gone badly wrong in the American labour market in recent years.
Once the envy of the developed world, US unemployment has risen much more sharply than in other economies since 2008,
and this has come after a prolonged period in which the number of jobs in the economy has been considerably less responsive to GDP growth than used to be the case.
So what has changed?
Gavyn Davies FT blog 6 May 2011
---
Sleepwalking through America's Unemployment Crisis
The scope and composition of unemployment in America – a problem that is yet to be sufficiently recognized
for its increasingly detrimental impact on the country's social fabric, its economic potential, and its already-fragile fiscal position and debt dynamics.
Mohamed A. El-Erian, ProjectSyndicate, 2011-05-01
Mohamed A. El-Erian is CEO and co-CIO of PIMCO, and author of When Markets Collide.
---
The chart shows US real median household income since 1967
Real median income will not have grown for almost 14 years
Can You Say Jobless Recovery?
John Mauldin 2/4 2011
Nice charts
---
What's wrong with America's economy?
The biggest dangers lie in an area that politicians barely mention: the labour market.
The Economist print April 28th 2011
The recent decline in the jobless rate has been misleading, the result of a surprisingly small growth in the workforce (as discouraged workers drop out) as much as fast job creation.
A stubborn 46% of America's jobless, some 6m people, have been out of work for more than six months.
The weakness of the recovery is mostly to blame, but there are signs that America may be developing a distinctly European disease: structural unemployment.
Youth unemployment is especially high, and joblessness among the young leaves lasting scars. Strong productivity growth has been achieved partly through the elimination of many mid-skilled jobs.
And what makes this all the more worrying is that, below the radar screen, America had employment problems long before the recession, particularly for lesser-skilled men.
---
the economy will need to add 200 thousand jobs per month to hold the unemployment rate steady.
The economy gained a mere 54,000 jobs in the month
The unemployment rate worsened to 9.1% from 9% in April
CNN June 3, 2011
---
As an example, if the working age population grows 2.5 million per year and the participation rate rises to 65% (from 64.2%) over the next two years, the economy will need to add 200 thousand jobs per month to hold the unemployment rate steady.
Here is a repeat of the graph showing the US participation rate, unemployment rate, and employment-to-population ratio.
CalculatedRisk 3/4 2011 with, as usual, excellent charts
---
Were it not for people dropping out of the labor force,
the US unemployment rate would be over 11%
Mish 1/4 2011
Nice charts
---
A strange thing has happened to policy discussion: on both sides of the Atlantic,
a consensus has emerged among movers and shakers that nothing can or should be done about jobs.
Paul Krugman 29 May 2011
Instead of a determination to do something about the ongoing suffering and economic waste, one sees a proliferation of excuses for inaction, garbed in the language of wisdom and responsibility.
---
The disappointing economic data on US activity in recent months has brought a key policy debate back into focus.
The Keynesian side of this debate has been well served, with frequent outstanding contributions from Paul Krugman, Brad DeLong and others.
But I have had more trouble finding serious economic contributions from the classical school, even though they seem to be gaining ground in political and policy circles on both sides of the Atlantic.
For that reason, I was particularly interested in the recent lecture on the US recession given by the University of Chicago's Robert Lucas.
Lucas is universally recognised as an intellectual giant, and his lecture gives a neat synopsis of what the classical school currently thinks, straight from the horse's mouth.
Gavin Davies FT blog 31 may 2011
---
Three years after we entered the worst economic slump since the 1930s, a strange and disturbing thing has happened to our political discourse:
Washington has lost interest in the unemployed.
There are almost five times as many unemployed workers as there are job openings; the average unemployed worker has been jobless for 37 weeks, a post-World War II record.
Paul Krugman 17/3 2011
here's my 1998 paper on the liquidity trap.
You can see, among other things, how I took on both monetarism and arguments that zombie banks were the problem.
---
Payroll employment is still 7.7 million below the pre-recession peak,
and if the the U.S. adds 2.5 million payroll jobs per year it would take 3+ years to return to the pre-recession peak.
And that doesn't include population growth
CalculatedRisk with nice charts, as usual, 6/2 2011
---
All western governments face severe difficulties in the years ahead
House prices have fallen and interest rates are low, but in Britain a mortgage of three times earnings will not buy a home on the edge of
a provincial city for even a relatively high-income family on say, £60,000 a year.
Max Hastings, FT October 15 2010
---
Non-farm payrolls increased 103,000, below economists' expectations for 175,000.
The unemployment rate fell to 9.4 percent, the lowest since May 2009, from 9.8 percent in November.
CNBC 7/1 2011
The economy usually needs to create at least 125,000 jobs a month to keep the unemployment rate from rising, but a faster pace might be needed now since so many discouraged workers are sitting on the sidelines. As job growth picks up, these workers could re-enter the labor force, keeping upward pressure on the jobless rate.
---
The number of unemployed Americans rose to 15.1 million
The unemployment rate rose to 9.8 percent,
Payrolls increased 39,000, less than the most pessimistic projection of economists surveyed by Bloomberg News,
The jobless rate rose to a seven-month high, while hours worked and earnings stagnated.
Bloomberg Dec 3, 2010
The number of unemployed Americans rose to 15.1 million last month, including a record 6.4 million women.
---
Rep. Mike Pence, a Republican from Indiana
"The Fed can print money, but they can't print jobs,"
"Printing money is no substitute for sound fiscal policy
CNN December 3, 2010
---
Suppose that the U.S. economy were to grow at 4 percent a year
Even with that kind of growth the unemployment rate would be close to 9 percent
at the end of this year, and still above 8 percent at the end of 2012.
Even with pretty good growth, are unemployment rates that not long ago would have been considered catastrophic — because they are.

Behind those dry statistics lies a vast landscape of suffering and broken dreams.
And the arithmetic says that the suffering will continue as far as the eye can see.
Paul Krugman NYT 2/1 2010
---
Fantastiska diagram från den lysande siten CalculatedRisk
Highly recommended
---
Är friheten hotad i USA?
15 miljoner arbetslösa
Rolf Englund blog 4/12
I dag läste jag en artikel i Newsweek av Evan Thomas, Editor at Large of Newsweek sedan September 2006, som sände kalla kårar längs min ryggrad.
- Can the United States go the way of Germany in the past—a great society undone by terrible social turmoil?
---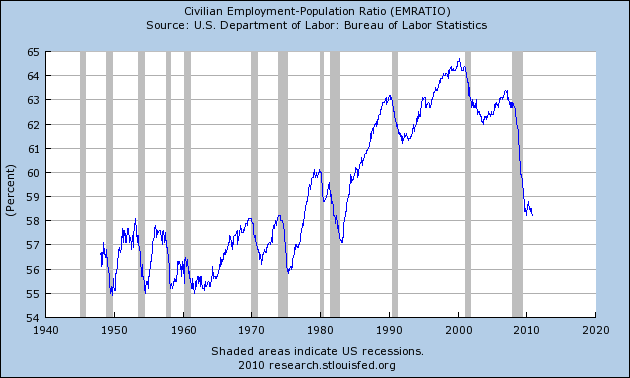 ---
Unemployed Americans have collected $319 billion in jobless benefits over the past three years
Heated debate in Congress in coming weeks over whether to extend this safety net for the fifth time this year.
Lawmakers must act by Nov. 30 or two million people will start losing extended benefits next month.
CNN 17/11 2010
---
Of the 1.2 million workers at risk of losing federal benefits, 387,000 are workers who were recently laid-off and are now receiving the six months (26 weeks) of regular state benefits.
After exhausting state benefits, these workers would be left to fend for themselves
in a job market with just one job opening for every five unemployed workers
and an unemployment rate that has exceeded nine percent for 17 months in a row.
CalculatedRisk on 22/10 2010
Rolf Englund: Men jag har läst att lägre a-kassa minskar utanförskapet. Vad skall man tro?
---
At the current rate of job creation, the nation would need nine more years to recapture the jobs lost during the recession. And that doesn't even account for five million or six million jobs needed in that time to keep pace with an expanding population. Median house prices have dropped 20 percent since 2005. Given an inflation rate of about 2 percent — a common forecast — it would take 13 years for housing prices to climb back to their peak, according to Allen L. Sinai, chief global economist at the consulting firm Decision Economics. Commercial vacancies are soaring, and it could take a decade to absorb the excess in many of the largest cities.
New York Times 13 Oct 2010
---
The government currently estimates that 2.2 million jobs were lost from April of 2009 through March of this year,
a significant portion of the 7.8 million jobs lost since the start of 2008.
a little-noticed note at the bottom of September's jobs report, the Labor Department said it now appears there were 366,000 additional jobs lost during the 12 months that ended in March
CNN October 12, 2010
That revision isn't as bad as last year's -- when the Labor Department said that an additional 902,000 jobs were lost. But it is still the second largest downward adjustment in nearly 20 years.
---
The U.S. jobless rate was flat at 9.6 % in September,
but the government's broader measure of unemployment rose even more to 17.1 %,
the highest rate since April and down just slightly from the October 2009 high of 17.4 %.
WSJ OCTOBER 8, 2010
The comprehensive gauge of labor underutilization, known as the "U-6? for its data classification by the Labor Department, accounts for people who have stopped looking for work or who can't find full-time jobs.
The key to the rise in the broader unemployment rate was due to a 612,000 jump in the number of people employed part time but who would prefer full-time work. Meanwhile, the number of discouraged workers and those who classify themselves as "marginally attached" to the labor force also increased.
---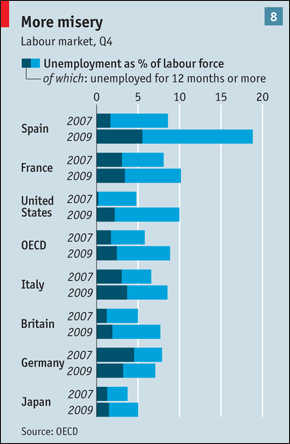 What made the biggest difference was companies' response to the crisis. In most rich countries they cut hours more than bodies.
German firms last year reduced working time by the equivalent of 1.4m full-time employees.
The Economist Oct 7th 2010
At its best, then, the American labour market does not dispose of its workers; it recycles them. Sadly, the market is now far from its best. For every 100 people unemployed in the autumn of 2009, only 24 had escaped their predicament within a month, an historic low. The harder it is to escape joblessness, the longer people remain unemployed; and the longer they remain unemployed, the harder they find it to escape. Mr Elsby and his co-authors fear that America will be stuck with a "persistent residue of long-term unemployed workers with relatively weak search effectiveness, depressing the strength of the recovery". Students of Europe's stubborn unemployment in the 1980s call this "sclerosis", an accumulation of scar tissue that makes the market more rigid.
---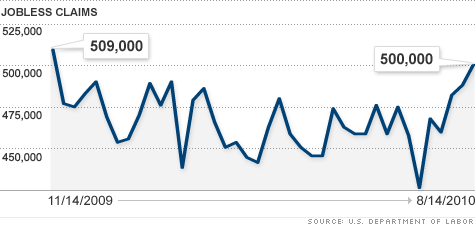 'Just a bad trend' - 500,000 jobless claims
"You can sometimes dismiss a big number and say , 'Oh, it's just one week,'" Quinlan added. "But with the four-week moving average continuing higher, you can see this is just a bad trend."
CNN August 19, 2010
---
Englund's Q
How come that unemployment is rising when the recession is over?
It is the productivity, Stupid
For employment to rise GDP must increase more than Productivity (P), of course
ΔGDP/ΔP gives a nice Q
Rolf Englund 4/12 2009
I have been thinking about this since I read Marian Radetzki in 1996.
Of course it is obvious. But the important thing is to understand its importance.
Tobin's q
Wikipedia
---
She is just 57.
But four years after losing her job she cannot, in her darkest moments,
escape a nagging thought: she may never work again.
New York Times 20 sep 2010
---
Long-term unemployment
It is unprecedented in post-World War II U.S. history to have 3% of the labor force unemployed for over a year,"
Narayana Kocherlakota, president of the Federal Reserve Bank of Minneapolis, said in a recent speech.
Fortune 13/12 2010
---
High and long-lasting unemployment represents a risk to the stability of existing democracies
Dominique Strauss-Kahn, the IMF's chief, said a double-dip recession remains unlikely
but stressed that the world has not yet escaped a deeper social crisis.
Ambrose Evans-Pritchard, 13 Sept 2010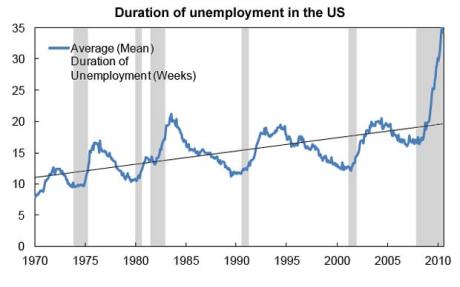 A joint IMF-ILO report said 30m jobs had been lost since the crisis, three quarters in richer economies. Global unemployment has reached 210m.
"The Great Recession has left gaping wounds. High and long-lasting unemployment represents a risk to the stability of existing democracies," it said.
The Challenges of Growth, Employment and Social Cohesion
http://www.osloconference2010.org/discussionpaper.pdf
---
The number of Americans who have been out of work for more than 6 months now stands at 6.5 million,
compared to peaks of only about 2 million in the previous two recessions.
Gavyn Davies, FT blog September 3, 2010
As Martin Wolf points out in his FT column this week, the clock is ticking. European experience in the 1980s and 1990s clearly suggests that long-term unemployment tends to leak more and more into structural unemployment as time passes, because these workers effectively become irrelevant to the active labour market.
---
Is America facing an increase in structural unemployment?
When an economy experiences a severe recession associated with a sharp decline in aggregate demand, we should not begin by asking whether structural unemployment is the problem.
Instead, we should first try to see how much of the unemployment can be explained by nominal shocks.
Structural unemployment is a sort of residual; it represents those long-term unemployed that would be without jobs even if aggregate demand was on target.
Scott Sumner The Economist July 25th 2010
---
Helping the long-term jobless in a prolonged recession is generally a bipartisan issue,
but this time, Republicans argued that the measure will add too much to the national debt.
Heidi Shierholz, Washington Post, July 25, 2010

It's a discussion that gets bogged down in myths about how to assist the long-term unemployed, and the economy, at the same time.

---

Jon Kyl of Arizona, the second-ranking Republican in the Senate, was asked the obvious question:
if deficits are so worrisome, what about the budgetary cost of extending the Bush tax cuts for the wealthy, which the Obama administration wants to let expire but Republicans want to make permanent? What should replace $650 billion or more in lost revenue over the next decade?
His answer was breathtaking:
Paul Krugman, New York Times July 15, 2010
---
The number of unemployed Americans fell by 350,000 - and the unemployment rate fell to 9.5 per cent.
But consider that this was mainly due to a reduction in the civilian labour force of 652,000 workers.
FT blog Moneysupply July 2, 2010
Basically, many of those Americans who started searching for jobs in the Spring, hoping that the tide was turning in their favour, are now discouraged again. That loss of confidence is surely the ugliest part of this report
---
Mats Svegfors har i sin betraktelse (98-03-14) i SvD förundrats över att det är så gott om jobb i USA och så ont om jobb i Sverige.
Svegfors äldsta dotter har nämligen haft en utbytesstudent från USA hos sig. Den unga damen har förundrats över att det är så ont om jobb i Sverige, medan det är så gott om jobb i USA.
Svegfors delar denna förundran.
---
Heidi Shierholz, an economist at the Economic Policy Institute in Washington, estimates
about 2.4 million "missing workers" either left the labor force or did not enter it in the last 28 months.
That is on top of the 15.3 million people who are officially counted as unemployed.
New York Times, 4 Jun 2010
---
GDP report: Sharp slowdown in economic growth
Revised sharply lower to an annual growth rate of 1.6%
The initial reading had been for a 2.4% growth rate in the period
CNN August 27, 2010
...
The important question is whether growth is fast enough to bring down sky-high unemployment.
We need about 2.5 percent growth just to keep unemployment from rising,
and much faster growth to bring it significantly down.
Yet growth is currently running somewhere between 1 and 2 percent, with a good chance that it will slow even further in the months ahead.
If unemployment rises for the rest of this year, which seems likely, it won't matter whether the G.D.P. numbers are slightly positive or slightly negative.
All of this is obvious. Yet policy makers are in denial.
Paul Krugman, New York Times, August 26, 2010
---
Nobel Prize-winning economist Joseph Stiglitz
The U.S. economy must grow at least 3 percent to create enough jobs for new entrants into the labor force
CNBC 21 Dec 2009
See also Bloomberg
---
U.S. Economy Lost 216,000 Jobs in August
after falling by a revised 276,000 in July and 463,000 in June.
Total loss of jobs since the recession began in December 2007 - 6.9 million.
RGE Monitor 2009-09-07
Remember, it takes 150,000 jobs per month (or so) simply to maintain the employment rate, due to growth in the population.
John Mauldin's Weekly E-Letter February 8, 2008
---
Many of the jobs lost during the recession are not coming back.
For the last two years, the weak economy has provided an opportunity for employers to do what they would have done anyway:
dismiss millions of people — like file clerks, ticket agents and autoworkers — who were displaced by technological advances and international trade.
New York Times 13 May 2010
The phasing out of these positions might have been accomplished through less painful means like attrition, buyouts or more incremental layoffs. But because of the recession, winter came early.
---
Since the start of the Great Recession in December 2007, the U.S. economy has shed 8.4 million jobs
and failed to create another 2.7 million required by an ever-larger pool of potential workers.
Robert Reich 12/4 2010
What's likely to slow the jobs recovery most, however, is the indubitable reality that many of the jobs that have been lost will never return. The Great Recession has accelerated a structural shift in the economy that had been slowly building for years.
The likelihood, therefore, is that as the economy struggles to recover and today's jobless begin to find work, the median wage will continue to fall—as it did between 2001 and 2007, during the last so-called recovery.
Factor-price equalization - Faktorprisutjämning
---
The US Job Numbers for September
263,000 more jobs lost in September, and unemployment now at 9.8 percent
The only reason the numbers don't look worse is that 571,000 workers dropped out of the labor force.
Remember that the economy needs about 125,000 new jobs every month just to keep up with a growing population.
Robert Reich 2/10 2009
---
Meredith Whitney an Optimist? There Has to Be a Catch
CNBC 21 Mar 2011
The notion that she finds anything positive in her outlook is striking, considering her history both recent — her much maligned call for a hundred or more municipal defaults — and not as recent.
Whitney is the godmother of the financial crisis, having issued beforehand a now-famous report saying Citigroup was in huge trouble because of all the toxic financial junk corroding its financial picture.
The crisis launched her career as a rock-star analyst, and her proclamations now garner huge attention.
---
Meredith Whitney says unemployment will rise again
So, retail sales are up. Unemployment is down. And the Dow is near 11,000.
That doesn't mean that all is right with the world.
CNN Money April 8, 2010
The analyst who brought down the bank stocks in 2007–by shining the light on their capital shortfalls–came by Fortune's offices Wednesday afternoon to explain why she's still a bear. I asked her: Will unemployment, now at 9.7%, likely go back up? "I think it has to," she told us.
Pointing out that banks are still cutting credit lines (to the tune of $2.7 trillion by 2011, she predicts) and states are strapped financially (implying tax increases and service cuts to come), Whitney is betting against a bona-fide recovery.
Meredith Whitney, whose research note on Citigroup in late October triggered a $369bn sell-off in global equities........
Meredith Whitney
Wikipedia
---
Nearing Retirement and Unemployed or Underemployed
One of the groups seriously impacted by the great recession is the "pre retirement" generation - currently the "Baby Boomers" - the workers between the ages of 45 and 64.
CalculatedRisk 13/3 2010
---
Federal Reserve chairman Ben Bernanke:
"Indeed, more than 40 percent of the unemployed have been out of work six months or more, nearly double the share of a year ago,"
CNN February 24, 2010
---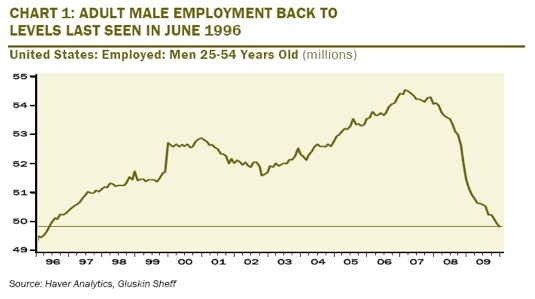 ---
The economy shed 36,000 jobs last month
With the latest monthly tally, 8.4 million jobs have been lost since the recession began in December 2007.
Another 2.7 million jobs needed to absorb new workers were never created, leaving the economy bereft of 11.1 million jobs.
New York Times editorial March 5, 2010
To fill that hole, while keeping up with a growing work force, would require more than 400,000 new jobs a month for three years
Employers are unlikely to make new hires until they restore current workers to full time. In the private sector, just restoring hours cut during the recession will be like adding 2.8 million jobs, without a single hire.
Full text
---
The unemployment rate for teenagers remains at 26.4 percent, while 15.5 percent of African Americans and 12.4 percent of Hispanics can't find jobs.
Seventeen states, along with the District of Columbia, still have jobless rates well in the double digits, and the fate of the long-term unemployed is terrifying.
Newsweek 4 June 2010
Forty-six percent of the 15 million people out-of-work in this country has been unemployed for 27 weeks or more (quick math: that's more than six months). That number—the worst since the Great Depression—shows no signs of subsiding.
"We're still in a tremendous labor market hole," says Lawrence Katz, a professor of economics at Harvard University. "It will take four-and-half more years of consecutive months of job growth to get back to where the labor market was before the downturn."
Even then in 2007, Katz points out that the labor market was hardly rosy. Unemployment had not yet skyrocketed, but workers put up with stagnant wage growth.
---
At the level of the early 80s.
A very nice graph shows the employment-population ratio;
this is the ratio of employed Americans to the adult population.
Calculated Risk 5 March 2010
The Labor Force Participation Rate increased slightly to 64.8% (the percentage of the working age population in the labor force). This is at the level of the early 80s.
---
The US unemployment rate fell unexpectedly from 10 percent to 9.7 percent in January,
as black unemployment remained high at 16.5 percent.
/thedailyvoice.com febr 2010
Total job loss from the start of the recession to 8.4 million.
Tim Iacono 2010-02-05
"USA har ryckt åt sig ett stort försprång och har världens mest framgångsrika ekonomi"
Klas Eklund på SvD:s ledarsida 2000-08-11
---
U.S. payrolls fell but the unemployment rate dropped
The number of "discouraged job seekers" rose to 1.1 million in January from 734,000 a year ago.
CNBC 5 Feb 2010
Full text
---
The US long-term unemployed now make up roughly 40% of all unemployed.
That's more than six million people
BBC 5 February 2010
Take the problem of long-term unemployment. In the eyes of the Bureau of Labor Statistics, which does the counting, the long-term unemployed are people who have been unemployed for more than six months.
They now make up roughly 40% of all unemployed. That's more than six million people who have been out work since last summer at least.
Unemployment is always nasty. But it's even worse when it's accompanied not just by stress and anxiety but by real deprivation. That is the experience of increasing numbers of Americans as unemployment benefits run out before the next job can be found.
Whether they're "unemployed," "marginally attached" or "discouraged," they're all still suffering in what President Obama's economic advisor Larry Summers recently called the "human recession".
And while their lack of a job may not be counted in the headline numbers, come the November mid-term elections, their votes will be.
Full text
Står USA inför en revolutionär situation?
Rolf Englund blog 2010-01-26
Kommentar av RE: Ja, jag är väl för tidigt ute, som vanligt.
---
The curse of long-term unemployment
Only about 400,000 more Americans were employed in December 2009 than in December 1999,
while the population grew by nearly 30m.
The Economist print Jan 14th 2010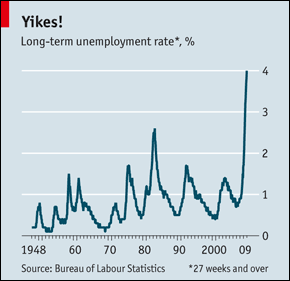 Around four in every ten of the unemployed—some 6m Americans—have been out of work for 27 weeks or more. That is the highest rate since this particular record began, in 1948.
---
Unemployment in the eurozone 10 per cent for the first time since the introduction of the single currency. Despite extraordinary measures to protect the labour market during the downturn, 4m have lost jobs across the 16 countries that use the euro, according to the European Commission's statistical arm.
FT January 8 2010
---
"The actual unemployment rate is higher than shown by the official numbers,"
Had the labor force not decreased by 661,000 last month, the jobless rate would have been 10.4 percent
Bloomberg 2010 Jan. 9
The so-called underemployment rate -- which includes part-time workers who'd prefer a full-time position and people who want work but have given up looking -- rose to 17.3 percent in December from 17.2 percent.
The number of discouraged workers, those not looking for work because they believe none is available, climbed to 929,000 last month, the most since records began in 1994.
---
"Det är mycket annat som inverkar på om anställningarna skall öka, däribland konjunkturutvecklingen.
En väntad nedgång i USA blir märkbar också i svensk ekonomi."
Att få ut fler som aktivt söker arbete är förhållandevis enkelt.
Svårare är att få arbetsgivare att anställa fler, utöver vad de ändå hade gjort
Johan Schück, DN Ekonomi 23/9 2006
---
Lösgör den ekonomiska politiken från EMU-reglernas tvångströja
Det sista momentet i det ändamålsenliga programmet mot arbetslösheten gäller den makroekonomiska politikens utformning. Restriktiv ekonomisk politik och därav betingad begränsning i totalefterfrågan utgör en bidragande orsak till arbetslösheten i Västeuropa under 1990-talet.
Det råder förstås delade uppfattningar om graden av restriktivitet i de ekonomiskt-politiska åtgärderna. Mellan 1992 och 1995 redovisar EU-länderna ett genomsnittligt offentligt budgetunderskott på 5,7 procent av BNP (IMF, 1996). Med traditionella keynesianska mått utgör detta en utomordentligt kraftfull stimulans för efterfrågan i makroekonomin.
Budgetunderskottet är ohållbart stort och måste minskas, för att förhindra en explosion av statsskulderna.
Ekonomiska stimulanser från finanspolitiken blir därför möjliga enbart genom omstrukturering av offentliga inkomster och utgifter, inte genom att man ökar budgetunderskottet.
Följaktligen är det främst lättnader i den otvetydigt restriktiva penningpolitiken som är genomförbara.
De önskvärda effekterna av återhållsamhet i penningpolitiken måste vägas mot den ytterligare arbetslöshet som sådan sådan politik skapar.
Insiktsfulla bedömare, särskilt från andra sidan Atlanten, (Dornbusch, 1994; Krugman, 1996), anser att Västeuropas regeringar blivit alltför trollbundna av EMU-kraven, och att den höga arbetslösheten motiverar mera expansiva åtgärder på det penningpolitiska området, nu när inflationen fallit till efterkrigstidens lägsta nivå.
Jag delar denna uppfattning.
De tidigare diskuterade åtgärderna i programmet är i själva verket en förutsättning för att det ska gåp att släppa loss den ekonomiska politiken i expansiv riktning, utan risk för inflation.... Med en flexibelt fungerande arbetsmarknad minskar denna risk betydligt.
------
Dornbusch, R.(1994) "Is There a Role for Demand Policy"?, Swedish Economic Policy Review, vol. 1, nr 1-2
Krugman, P. (1996) Pop Internationalism, MIT Press, Cambridge, Mass.
---