Rolf Englund IntCom internetional
---
Home - Index - News - Krisen 1992 - EMU - Economics - Cataclysm - Wall Street Bubbles - US Dollar - Houseprices
---
---
In the 12 months that ended June 30, nearly 25% of all homes sold nationwide fetched less than sellers originally paid,
CNNMoney August 13, 2008
More than $200 billion in adjustable rate mortgages are scheduled to reset during the second half of 2008.

There is also about 11 months of inventory at the current rate of sales.
"With $3.9 million unsold homes on the market, prices will have to come down even more before the market stabilizes," said Zillow's Humphries.
---
Prime mortgages are starting to default at disturbingly high rates
CNNMoney August 12, 2008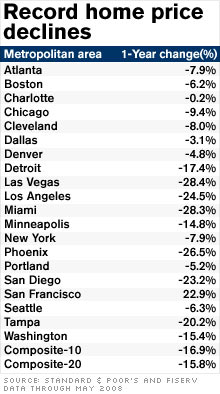 Prices are already off nearly 20% from their 2006 highs,
according to the S&P/Case-Shiller Home Price index.
Prime loans are just the latest class of mortgages to suffer a spike in failure rates.

The first lot to go bad was, of course, subprime mortgages, whose problems set the housing meltdown in motion.

Next were the Alt-A loans, a class between prime and subprime loans
"that doesn't require strict documentation of a borrower's assets or income".
Full text
---
---
The /banking/ insolvency crisis will come to an end only as home prices in the US begin to stabilise Home prices will stabilise only when the absorption of the huge excess of single-family vacant homes is much further advanced
Alan Greenspan, Financial Times, August 4 2008
---