Home - Index - News - Krisen 1992 - EMU - Cataclysm - Wall Street Bubbles - Huspriser
Dollarn - Biggles - HSB - Löntagarfonder - Skuldkrisen - webtips - Links - Contact
---
Households in Latvia and Romania have developed so much enthusiasm for borrowing in yen that the trend has provoked surprise – and unease – from central bankers half a world away in Tokyo
Why the yen borrowing game could end in players taking a tumble
Peter Garnham and Gillian Tett, Financial Times 15/2 2007
House buyers in eastern Europe have recently developed a taste for exotic home finance. Bankers say a significant slice of new mortgages in Hungary are being issued in Swiss francs. Meanwhile, households in Latvia and Romania have developed so much enthusiasm for borrowing in yen that the trend has provoked surprise – and unease – from central bankers half a world away in Tokyo.
The obvious attraction is the interest rate. Switzerland and Japan have among the lowest money market rates worldwide, giving investors a discount on their mortgages worth as much as 5 percentage points a year.
Home buyers may not be aware that in taking out such an attractive loan they are becoming global "carry traders", rubbing shoulders with hedge fund managers and bond dealers who have made tremendous profits borrowing in currencies where interest rates are low and investing in those where they are high.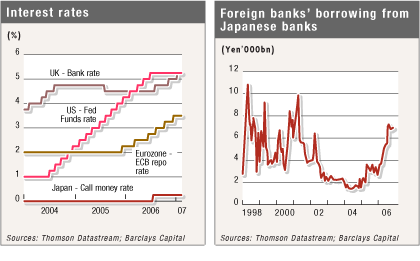 In the global financial markets as a whole, the carry trade has been a key factor behind the high levels of liquidity that have enabled investors around the world to purchase assets ranging from simple equities to emerging market instruments and complex credit products.
---
If the Financial Times' Gillian Tett were hit by a bus, I'd be in a lot of trouble.
With all due respect to her colleagues, she is the best source of financial news.
naked capitalism blog, August 13, 2007
---
But if the carry-trade Cassandras are right...
Guy de Jonquières, Financial Times 15/2 2007
The other main complaint is that the weak yen has sustained the "carry trade" made possible by low Japanese interest rates, posing a threat to financial markets if the currency strengthens abruptly and positions are unwound. However, since nobody knows how large (or small) the carry trade is, it is hard to be sure whether the risk is worth worrying about.
But if the carry-trade Cassandras are right, their argument is odd. The action they urge to push up the yen would increase the chances of precipitating the market turmoil they warn against.
Since when was it the job of European finance ministers to shelter informed international investors from the consequences of their actions?
---