Rolf Englund IntCom internetional

nejtillemu.com
Secular Stagnation
---
The idea of secular stagnation is that the private economy — unless stimulated by extraordinary public actions especially monetary and fiscal policies
and, or, unsustainable private sector borrowing — will be prone to sluggish growth caused by insufficient demand.
Lawrence H. Summers, FT 6 May 2018
---
Grundbultsfrågan: Hur blir S = I ???
Savings and investment, being different activities carried on by different people
Man återkommer ständigt till Keynes och Hayek. Har den ekonomiska "vetenskapen" inte kommit längre?
Rolf Englund blog 8 juli 2014
---
The Myth of Secular Stagnation
There are many lessons to be learned as we reflect on the 2008 crisis, but the most important is that the challenge was – and remains – political, not economic:
there is nothing that inherently prevents our economy from being run in a way that ensures full employment and shared prosperity.
Secular stagnation was just an excuse for flawed 8economic policies.
Joseph E. Stiglitz Project Syndicate 28 August 2018
---
US consumers' behaviour is altered by seismic events — Americans now save more and spend less
Rana Foroohar, FT 26 May 2017
---
Understanding Today's Stagnation
Ever since the "Great Recession" of 2007-2009, the world's major central banks have kept short-term interest rates at near-zero levels.
Why is all this economic life support necessary, and why for so long?
Robert J. Shiller, 23 May 2017
The fact that people are willing to tie up their money for ten years at such low rates suggests that there has been a long trend toward pessimism, reflected in the recent popularity of the term "secular stagnation" to describe a perpetually weak economy.
Although secular stagnation became a meme five years after the 2008 financial crisis, the term itself is much older.
It first appeared in Harvard University economist Alvin Hansen's presidential address to the American Economic Association, in December 1938, and in his book published the same year.
---
An Extraordinary Time: The End of the Postwar Boom and the Return of the Ordinary Economy
Book by Marc Levinson, formerly finance and economics editor of The Economist
Stagnant wages. Feeble growth figures. An angry, disillusioned public.
The early 1970s witnessed the arrival of the problems that define the twenty-first century.
---
Whatever happened to secular stagnation?
Gavyn Davies FT 26 February 2017
Why has secular stagnation lost its mass appeal, and has it disappeared forever?
Was it all a case of crying wolf?
---
Secular Stagnation Forever?
Monetary policy is supposed to moderate the boom-and-bust cycle and lift the economy out of recessions within a reasonable period.
On that point, monetary policy has failed miserably.
We're seven years out of recession and have yet to see GDP growth break above 3%.
John Mauldin 19 December 2016
---
Monetary policy in a low-rate world
Martin Wolf, FT 13 Sepptember 2016
---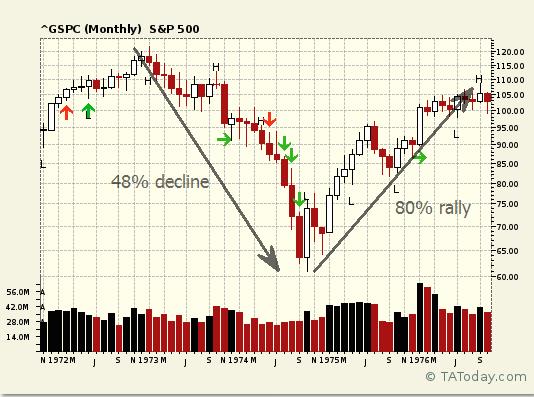 Rather than inflation creating stagnation, we have deflation dragging the economy to stagnation.
Back then, a 37% and 49% decline in equity prices wasn't called a crash but instead a bear market.
Don't expect a crash — expect a continued bleed.
L.A. Little, MarketWatch Feb 21, 2016
---
If in 2016 there is no shift from monetary to growth policies, the future envisioned by Profs Summers and Rogoff could prove more likely:
sluggish growth; currency conflicts; and populist politics and fights over distribution — punctuated by mini-crises as struggling economies falter
Robert Zoellick,a former president of the World Bank and US trade representative, FT 18 January 2016
ZIRP and QE were terrible mistakes
Rolf Englund blog 4 January 2016
---
A malign external outcome of China's unsustainable growth model is that returns in many industries have been depressed
because of the Chinese contribution to global excess capacity.
That is an undermentioned factor in the low levels of investment by industry in the US and much of Europe since the financial crisis.
John Plender, FT 23 December 2015
---
The core idea behind secular stagnation was that the neutral real rate had for a variety of reasons fallen and might well be below zero
In more technical economic language, secular stagnation is the hypothesis that the IS curve has shifted back and down so that the real interest rate consistent with full employment has declined.
More straightforwardly, if you see weaker growth despite lower real interest rates that tends to confirm the secular stagnation idea.
Lawrence Summers, FT 22 December 2015
Here is a transcript of a lecture (along with the associated power point) given at the Bank of Chile Research Conference that updates my thinking on secular stagnation.
---
The argument for an interest-rate rise now is not a compelling one
Just because it seems inevitable does not mean it is a good idea.
FT editorial December 15, 2015
The Federal Reserve's Open Market Committee, which on Wednesday announces its decision on interest rates, has widely telegraphed that it will raise borrowing costs for the first time since 2006 after seven years on hold.
Asset price bubbles and Central Bank Policy
---
Solid growth is harder than blowing bubbles
The world economy has lost its last significant credit-fuelled engine of demand - China.
The result is almost certain to be a further boost to the global "savings glut" or, as Lawrence Summers calls it, "secular stagnation" — the tendency for demand to be weak relative to potential supply.
Martin Wolf, FT October 13, 2015
---
Supporters of the secular-stagnation hypothesis, it seems, have identified the wrong problem.
From a truly secular and global perspective, the difficulty lies in explaining the pre-crisis boom.
More precisely, it lies in explaining the conjunction of three major global developments:
a surge in growth (not stagnation), a decline in inflation, and a reduction in real (inflation-adjusted) interest rates.
Arvind Subramanian Chief Economic Adviser at India's finance ministry, Projct Syndicate 19 April 2015
Any persuasive explanation of these three developments must de-emphasize a pure aggregate-demand framework and focus on the rise of emerging markets, especially China.
---
De som tror på varaktig stagnation har enligt min mening påverkats alltför mycket av de senaste tio årens utveckling.
Min gissning är att både resursutnyttjande och tillväxt i de mest utvecklade länderna inom några år återgår till mer normala tal.
Lars Calmfors, DN 24 mars 2015
---
Lawrence Summers, veteran policy maker and serial holder of strong opinions.
The thesis that the world is approaching a lasting period of low growth has decisively moved into the mainstream conversation about economics.
Alan Beattie, FT 10 April 2015
Bernanke doubts secular stagnation is a big issue at all, arguing the slow recovery of the US economy can be explained by temporary headwinds including a battered financial system and weakness in the housing market. The implication is that America is recovering, aided by the Fed's monetary stimulus, and that normal service will soon be resumed.
A substantial programme of public investment would seem appropriate. That means adding to already high sovereign debt burdens. But with long-term interest rates so low, the balance of risk and reward strongly favours more infrastructure.
If secular stagnation is a false alarm, not much harm will have been done. If not, public investment may help save the world economy from a persistent and damaging blight.
---
Conundrum
How would the Fed react if long-term US Treasury rates fail to rise after it has started lifting policy rates?
The topic was debated by the economics commentariat at considerable length last year, as the yield curve flattened
and at one point there was a strange, unprecedented fall in correlation between 5-year and 10-year yields
Cardiff Garcia, FT Alphaville 2 April 2015
---
US hiring slows, adding 126,000 jobs in March
BBC 3 April 2015
---
On Secular Stagnation: A Response to Bernanke
Lawrence H. Summer 2015
Ben Bernanke has inaugurated his blog with a set of thoughtful observations on the determinants of real interest rates (see his post here) and the secular stagnation hypothesis that I have invoked in an effort to understand recent macroeconomic developments.
I agree with much of what Ben writes and would highlight in particular his recognition that the Fed is in a sense a follower rather than a leader with respect to real interest rates – since they are determined by broad factors bearing on the supply and demand for capital – and his recognition that equilibrium real rates appear to have been trending downward for quite some time.
His challenges to the secular stagnation hypothesis have helped me clarify my thinking and provide an opportunity to address a number of points where I think there has been some confusion in the public debate.
---
Why are interest rates so low? The best answer is that the advanced countries are still in a "managed depression". This malady is deep. It will not end soon.
The fact that vigorous programmes of monetary stimulus have produced such meagre increases in output and inflation indicates just how weak economies now are.
The explosions in private credit seen before the crisis were how central banks sustained demand in a demand-deficient world. Without them, we would have seen something similar to today's malaise sooner.
Martin Wolf, FT March 17, 2015
---
The aging of the boomer generation should "severely cut U.S. stock values in the near future,"
reducing the P/E ratio of the S&P 500 index by more than half over the next decade.
MarketWatch 29 December 2014
---
Gavyn Davies, The very long run equity bull market and
Lawrence Summers and Paul Krugman on secular stagnation
Gavyn Davies, FT blog, Nov 09 2014
---
Ultimately, economic progress depends on creativity.
That is why fear of "secular stagnation" in today's advanced economies has many wondering how creativity can be spurred.
One prominent argument lately has been that what is needed most is Keynesian economic stimulus – for example, deficit spending.
After all, people are most creative when they are active, not when they are unemployed.
Robert J. Shiller, a 2013 Nobel laureate in economics, Professor of Economics at Yale University, Project Syndicate 18 november 2014
---
Today's most important economic illness: chronic demand deficiency syndrome.
David Cameron "red warning lights are once again flashing on the dashboard of the global economy".
Martin Wolf, Financial Times 18 november 2014
---
A specter is haunting dismal scientists,
an economic nightmare with an ugly name. It's secular stagnation
Bloomberg 22 October 2014
The proposition that the slow growth plaguing developed economies may be permanent.
If true, it means busts won't turn to booms, tried and true growth policies won't work, lost jobs won't be regained.
And here's the really scary part:

Future economic expansion may be inseparable from the reckless financial practices that caused the problem in the first place.
Economics may be dismal, but it is not a science
---
Secular stagnation
Eurozone policy makers face three choices.
First, they can transform the eurozone into a political union, and do whatever it takes:
a eurobond, a small fiscal union, transfer mechanisms and a banking union worthy of its name.
Second, they can accept secular stagnation.
The final choice is a break-up of the eurozone.
Wolfgang Münchau, FT October 19, 2014
---
Forward-looking credit swaps already suggest that
Fed will not be able to raise interest rates next year, or the year after, or ever, one might say.
Put another way, it is possible that the world economy is so damaged that it needs permanent QE just to keep the show on the road.
Ambrose Evans-Pritchard, 15 October 2014
---
Geneva Report warns record debt and slow growth point to crisis
Predicts interest rates across the world will have to stay low for a "very, very long" time
to enable households, companies and governments to service their debts and avoid another crash.
By Chris Giles, FT Economics Editor September 28, 2014
A "poisonous combination" of record debt and slowing growth suggest the global economy could be heading for another crisis, a hard-hitting report will warn on Monday.
The 16th annual Geneva Report, commissioned by the International Centre for Monetary and Banking Studies and written by a panel of senior economists including three former senior central bankers.
Report Deleveraging? What Deleveraging? Geneva Reports on the World Economy 16
---
Parallels to 1937
Now, as then, people have been disappointed for a long time, and many are despairing.
They are becoming more fearful for their long-term economic future.
Robert J. Shiller, a 2013 Nobel laureate in economics, Project Syndicate, 11 September 2014
---
"secular stagnation"
Why inflation remains best way to avoid stagnation
Tim Harford, FT, August 21, 2014
---
Prof Sims, who won the Nobel Prize in 2011 for studying "cause and effect in the macroeconomy",
says monetary policy cannot do the trick either once interest rates have dropped to zero.
He dismisses the monetary effects of quantitative easing as trivial.
At best, he says, QE is a bluff intended to show resolve and change psychology.
Ambrose Evans-Pritchard, August 21st, 2014
---
How to Survive a Secular Stagnation
Mohamed A. El-Erian, AUG 19, 2014
Are the U.S. and Europe suffering from more than the aftermath of a major financial crisis?
Might they be stuck in an unusual and prolonged equilibrium, in which frustratingly slow economic growth is the norm?
These are the crucial questions addressed in a new e-book from the Center for Economic Policy Research
that I would recommend to policy makers, academics and investors alike.
---
Larry Summers has a new ally — Fed Vice Chairman Stanley Fischer.
Fischer says Summers could be right about secular stagnation
MarketWatch 11 August 2014
In a speech overnight in Sweden, Fischer said that the global recovery was disappointing.
The International Monetary Fund said last month that Summers might be on to something important.
---
Secular stagnation in today's economy.
A rise in global savings and a lack of profitable and safe investment projects in advanced economies
Grégory Claeys and Zsolt Darvas, Bruegel 18th June 2014
BIS
Investment by businesses is the key ingredient to cut our reliance on debt-fuelled current expenditure by consumers or the state
But there is a deeper issue to be tackled:
why does the economy have to be stimulated in artificial ways through the boosting of lending
Roger Bootle, Telegraph 6 July 2014
US vs UK median real wage growth since 1988
FT Alphavillle, 29 April 2014
---
Secular stagnation
There's something more significant going on in the industrialised global economy than the effects of a banking crisis per se
The financial intermediation industry loses its raison d'etre in such an environment
Izabella Kaminska, FT Alphaville 17 April 2014
---
It is now nearly seven years since the start of the financial crisis,
yet despite growing evidence in America and Britain of a return to relative normality,
something remains profoundly broken at the heart of the world economy.
Low interest rates in the US and Greece are not a sign of recovery,
but a warning of permanent stagnation, creating the potential for future financial instability
Jeremy Warner, 10 Apr 2014
---
Kanske jag inte vet vad jag talar om?
Häromdagen lyssnade jag på en föredragning om världsekonomin
Det var fina ord och fina diagram. Men när jag lyssnade fick jag känslan av att
vare sig han eller jag riktigt förstod vad det är som pågår.
Rolf Englund blog 11 april 2014
---
Faber notes that "the market is slowly waking up to the fact that the Federal Reserve is a clueless organization."
The Fed "have no idea what they're doing. And so the confidence level of investors is diminishing,"
and that means we will see a major decline.
Marc Faber, Tyler Durden, zerohedge, 10 April 2014
Internet and Biotech sectors (growth stocks) are "highly vulnerable because they're in cuckoo land in terms of valuations,"
---
"secular stagnation"
What the world must do to kickstart growth
The IMF in its current World Economic Outlook essentially endorses the "secular stagnation" hypothesis
Lawrence Summers, FT April 6, 2014
---
IMF published a fascinating chapter in its latest World Economic Outlook (WEO) on global real interest rates,
showing that the global real rate has fallen from about 6 per cent in the early 1980s to about zero today.
Gavyn Davies, FT blog April 6, 2014
Highly recommended
---
Yellen said recovery still feels like a recession to many Americans,
which is why the central bank will keep its "extraordinary" support for the economy for "some time to come."
MarketWatch, 31 March 2014
---
Janet Yellen starts off with a problem that affected none of her predecessors:
the Fed has run out of ammunition.
Moreover the one remaining weapon the Fed thinks it has – the hocus-pocus of "forward guidance" – is a gun that fires blanks.
Edward Luce, FT 9 February 2014
---
Keynes, Krugman, Secular Stagnation and The Death of the Rentiers
Izabella Kaminska, FT Alphaville, 23 January 2014
---
I'm pretty annoyed with Larry Summers right now.
His presentation at the IMF Research Conference is, justifiably, getting a lot of attention. And here's the thing: I've been thinking along the same lines, and have, I think, hinted at this analysis in various writings.
But Larry's formulation is much clearer and more forceful, and altogether better, than anything I've done
Paul Krugman, November 16, 2013
---
Summers on bubbles and secular stagnation forever
Larry Summers' speech to the IMF Research Conference on November 8, the video of which started circulating at old fashioned money multiplier rates this Sunday.
Izabella Kaminska, FT Alphaville 18 November 2013
---
Secular stagnation
Since the start of this century, annual US gross domestic product growth has averaged less than 1.8 per cent.
The economy is now operating nearly 10 per cent – or more than $1.6tn – below what was judged to be its potential as recently as 2007.
And all this is in the face of negative real interest rates for terms of more than five years and extraordinarily easy monetary policy.
Lawrence Summers, Financial Times, January 5, 2014
---
Investors assume that the global financial crisis is now ancient history and normality has returned.
But while financial markets are buoyant, the real economy remains moribund, stuck in a "secular stagnation" of low, volatile growth,
high and rising debt, slow investment, overcapacity, high unemployment, low income growth and negative real interest rates.
Satyajit Das, MarketWatch, Dec. 12, 2013
---
The implications of secular stagnation
November 17, 2013 by Gavyn Davies
One week ago at the IMF Research Conference, Larry Summers delivered a remarkable speech about secular stagnation, which he suggested might be the defining issue of our age.
The term secular stagnation, coined by American Keynesian Alvin Hansen in the late 1930s, has always had a polarising effect among economists, and the same will certainly be true again this time.
But whatever one thinks about the argument, the Summers speech, at 16 minutes long, is a tour de force that demands to be watched.
---
Larry Summers, Paul Krugman, Gavyn Davies
Utan bubblor kollapsar ekonomin
Andreas Cervenka, SvD Näringsliv 19 november 2013
"We should not dismiss the possibility, raised by Larry Summers
that we may need negative real rates for a long time"
I interpret this as IMF chief economist Olivier Blanchard saying,
as clearly and straightforwardly as his office allows him to,
that in his judgment the 2% per year inflation target is past its sell-by date and rotted,
and that the North Atlantic economies need to move to a 4% per year inflation target
in order to reduce the risk of another 1932, or another 2010.
Brad DeLong, November 20, 2013
---